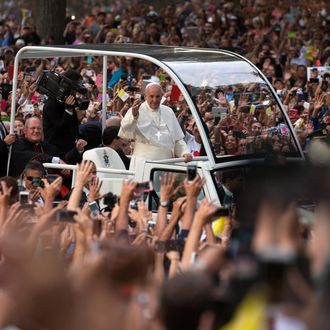 Photo: Carl Court/Getty Images
On his way back to Rome after a busy week abroad, reporters aboard the papal plane asked Pope Francis to sum up his trip. 
"I was surprised by the people's warmth," he said. "They were so friendly, it was beautiful." No one misbehaved, he marveled. "No provocations, no challenges. They were all well-behaved, normal. No insults, nothing bad."
He then described the people of each city he visited. "In Washington, it was a warm welcome, but a bit more formal … In Philadelphia, very expressive. Different ways, but the same welcome."
He struggled for a moment to find the right word to capture his stop in New York. According to the Associated Press, he just ended up inventing a new one: stralimitata. "In New York, a bit 'beyond all limits.'" The New York Times translated his quote as, "New York was a bit exuberant."
The Pope was also asked to comment on several issues that he didn't touch on during his trip — like the case of Kim Davis, the county clerk in Kentucky who refused to give out marriage licenses because of the Supreme Court's decision on same-sex marriage. Reporters never mentioned her name — and it wasn't clear if Pope Francis was familiar with the incident, but he did offer a comment on the issue writ large. 
"I can't have in mind all cases that can exist about conscientious objection but, yes, I can say that conscientious objection is a right that is a part of every human right," he said. "And if someone does not allow others to be a conscientious objector, he denies a right. Otherwise we would end up in a situation where we select what is a right, saying: 'This right has merit, this one does not.'"
When asked specifically about government workers, he said, "It is a human right and if a government official is a human person, he has that right. It is a human right." During his stop in D.C., Pope Francis visited the Little Sisters of the Poor, the nuns who are trying to get an exemption from the federal contraception-coverage requirement. His spokesperson told reporters that the unscheduled visit was "a sign of support for them."
"As for women priests," he added later, "that cannot be done. Not because women don't have the capacity. Look, in the Church women are more important than men, because the Church is a woman. It is la Church, not il Church. The church is the bride of Jesus Christ. And the Madonna is more important than popes and bishops and priests."
During his remarks at St. Patrick's Cathedral in New York, Pope Francis gave a shout-out to the nuns in the audience. "To you, religious women, sisters and mothers of this people, I wish to say thank you, a big thank you … and to tell you that I love you very much … What would the Church be without you?"
However, this wasn't the first time that Pope Francis had said that there was little room for more advancement for women in Church leadership. "That door is closed," he said on an earlier in-flight interview when asked about the possibility of women being ordained.