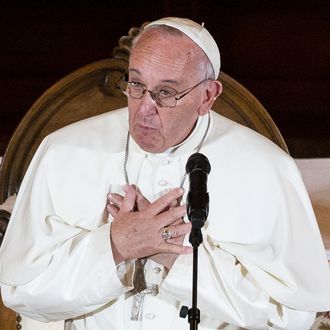 Photo: Drew Angerer/Getty Images
In a private meeting Sunday morning near Philadelphia, Pope Francis met with five adults who suffered sexual abuse as children, including at the hands of church clergy, the first time he has met with such victims outside of Rome. The Washington Post reports that Francis spoke and prayed with the survivors, and expressed his pain and shame over what had happened to them, particularly those who were abused by members of the church. Later, addressing a gathering of bishops at St. Charles Borromeo Seminary, Francis said, "I have in my heart the stories of suffering and pain of the minors who were sexually abused by priests. And it continues to overwhelm me with shame that the people who were charged with taking care of these tender ones violated that trust and caused them a profound pain. God weeps." He also indicated that anyone found to have abused children would be punished adding, "The crimes and sins of the sexual abuse of children must no longer be held in secret. I pledge the zealous vigilance of the church to protect children and the promise of accountability for all."
Pope Francis has apologized before for the Catholic Church's failure to protect children from sexual abuse, and also met with six sex-abuse victims in Rome last year, but many survivor-group activists remain unimpressed with Francis's progress on the issue. Survivor John Salveson, president of the Foundation to Abolish Child Sex Abuse, is one of them. He told the Post that the Vatican still has much it can and should do to combat the abuse, but has resisted. Such steps include identifying priests who have been defrocked for abusing children, working with police in those cases, firing bishops who participated in cover-ups, and extending the statute of limitations on clergy sex abuse so that all survivors can have a chance to see justice served — whether that means prosecuting the clergy who committed the abuse or the bishops who helped cover it up. Francis didn't impress survivors like Salveson earlier in this U.S. trip, either, when he made remarks expressing sympathy and admiration for how clergy have weathered the scandal, which critics claim demonstrated both Francis's and the Vatican's inadequate concern for the victims themselves. 
Another survivor the Post spoke with said Francis's approach to the sex-abuse scandal feels like a "side note," while another pointed out that helping victims heal is useful, but nowhere near as important as actions to prevent future abuse and punish past abuse. Anything short of that, activists insist, is just a public-relations strategy. As part of an in-depth look at this area of Francis's papacy, The Guardian's Stephanie Kirchgaessner adds:
[F]or many victims of sexual abuse, who have lived through years of cover-ups and denials by the church, the pope's meeting and apology [on Sunday] was a hollow gesture. Even independent Vatican experts suggest that the sex abuse scandal — which has severely tarnished its reputation and cost $3bn in settlements in the US — is a "weak spot" for a pope otherwise seen as a moral voice for the world.