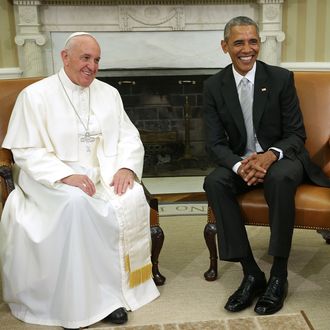 Pope Francis and President Obama, in happier times.
Photo: Alex Wong/Getty Images
As Pope Francis made his way to the United States he denied claims that he's a liberal, saying, "I am certain that I have never said anything beyond what is in the social doctrine of the church." Republicans probably doubted that when the pope praised the Obama administration's effort to combat climate change during an arrival ceremony at the White House on Wednesday, then urged American bishops to be welcoming to immigrants during a service at the Cathedral of St. Matthew the Apostle in Washington. But later in the day, he evened the score. After making a passing reference to the "innocent victims of abortion" while addressing the bishops, Pope Francis made a previously unannounced visit with the Little Sisters of the Poor, the group of nuns who went to court to fight the Affordable Care Act's requirement that employers provide health insurance that covers birth control.
Vatican spokesperson Father Federico Lombardi said Pope Francis made a short stop at the sisters' Washington convent, which is next door to the Basilica of the National Shrine of the Immaculate Conception, where he celebrated Mass and made 18th-century Spanish missionary Junípero Serra a saint. "This is a sign, obviously, of support for them" in their legal case, Lombardi said.
The nuns, along with other religious groups, argued that Obamacare's contraception mandate forced them to violate their belief that life begins at conception. After the Supreme Court ruled in 2014 that private businesses could be exempted from the law, the Obama administration provided an accommodation for those with religious objections that would allow them to notify the government of their opposition and require the insurer to provide the coverage instead. The Little Sisters of the Poor pressed the issue in court, saying requiring them to opt out was still a violation of their religious freedom. In July, the U.S. Tenth Circuit Court of Appeals rejected that argument, and the nuns have appealed their case to the Supreme Court.
Stay tuned to find out which political group Pope Francis ticks off during Thursday's speech at the Capitol.