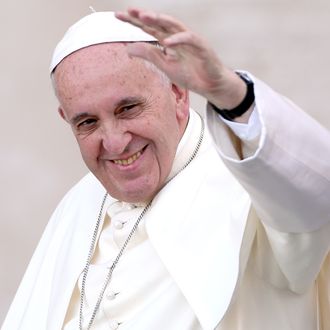 Photo: Franco Origlia/Getty
Like so many tourists visiting from Europe, Pope Francis has added a trip to Central Park to his two-day New York itinerary when he comes to the United States for the first time at the end of September. The city confirmed Tuesday that the Popemobile will be taking a (very slow) jaunt down the western side of the park September 25. But do not expect to catch a glimpse of His Holiness on your daily jog: Tickets will be required to attend the procession, which the city will award via random lottery. New York State residents can apply for two tickets between Thursday, September 3, and next Monday, September 7. 
The Pope will be in New York between September 24 and September 26 for the second stop on his five-day trip along the East Coast, which will begin in Washington, D.C., and end in Philadelphia. In New York, the Pope will give Mass at St. Patrick's Cathedral, speak at the United Nations, host a multi-religious service at the National September 11 Memorial, and stop by a school in East Harlem. His cruise down Central Park — the only event where the general public still has the possibility to snap a papal selfie — will happen on his way to Mass at Madison Square Garden. 
The city hasn't confirmed the total number of tickets available, but all New Yorkers will be blessed with the opportunity to sit forever in traffic thanks to heightened security and papal gridlock.