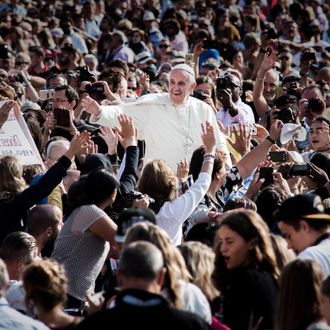 Photo: Massimo Valicchia/NurPhoto/Corbis
Pope Francis arrives in New York City in a mere ten days, which means it's time to start really thinking about all of the stress his presence is going to cause.
On Monday afternoon, Mayor de Blasio and Police Commissioner Bill Bratton held a press conference to discuss Francis's two-day visit, which just happens to coincide with the United Nations' General Assembly (featuring President Obama and roughly 180 other world leaders). Bratton called the situation "the largest security challenge the department and this city have ever faced."
But don't worry: The New York Times reports that no fewer than 48 local and federal agencies are working together to ensure that Francis's scheduled activities — including a trip to a Harlem school, a visit to the 9/11 memorial, Mass at Madison Square Garden, and a drive through Central Park — go smoothly. (Speaking of the Central Park procession: De Blasio took the opportunity to join Cardinal Timothy Dolan and Senator Chuck Schumer in condemning the entrepreneurial souls who have been scalping tickets to the event, saying that the profit-making "goes against everything Pope Francis stands for.") This morning, dozens of officials met at Police Headquarters for something called a "multi-agency coordination group tabletop exercise," where they reviewed contingency plans for a wide variety of undesirable (and unlikely!) events, such as two active gunmen (in two separate locations), a power outage, and a building collapse.
Thousands of extra NYPD officers will be on duty for the duration of Francis's stay, as will the Secret Service. CBS 2 reports that "the airspace around New York City will also be restricted. The Federal Aviation Administration also has enacted a no-fly zone in parts of Manhattan and Queens. FAA regulations will make it illegal to operate a drone anywhere in the city between Sept. 24 and Sept. 30. There will also be a flotilla of security boats on the Hudson and East rivers." Per NBC New York, "Surveillance technology will be used, including cameras and explosives and radiation detection devices," as well as K-9 units and some stuff the average person won't be aware of.
New Yorkers can also look forward to vehicle checkpoints, as well as hellish traffic and transit delays resulting from this long list of street closures and altered train schedules. So, good luck to everyone, from those preparing to spend hours waiting for a glimpse of the Popemobile to those who, for their own sanity, are planning to stay as far away from Francis as humanly possible. Nice guy that he is, we're sure he's sorry for all the trouble.