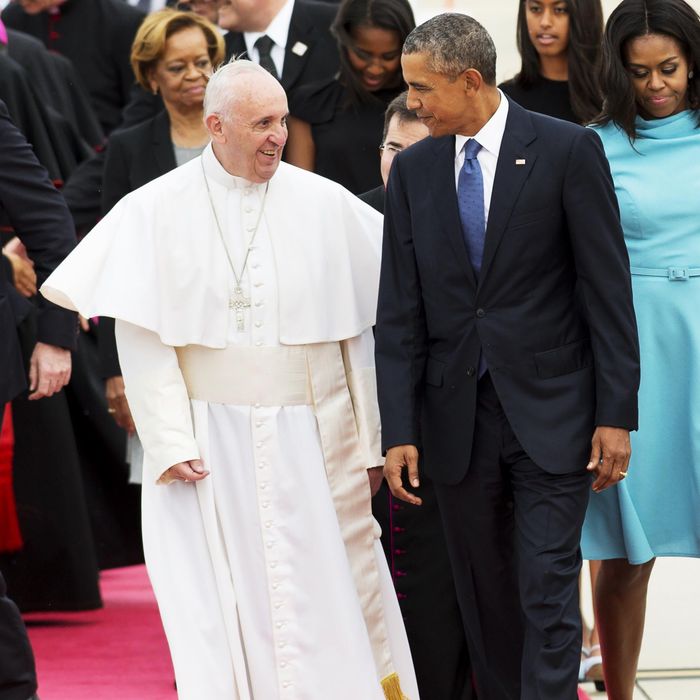 They are so excited!
Photo: Saul Loeb/AFP/Getty Images
Everyone's new favorite pontiff arrives in the U.S. for the first time on Tuesday afternoon — which means that residents of New York, Washington, D.C., and Philadelphia should get their Netflix queues ready for a few days of never going outside. For those dead-set on trying to get a glimpse of Pope Francis, or at least intent on following his escapades on TV, here's a guide to where he'll be, what roads to avoid, and where to buy a lifesize cutout to keep you company while you watch the pope channel. 
THE POPE'S ITINERARY
Pope Francis arrives in Washington, D.C., on Tuesday — after a weekend in Cuba — and plans to hang out at the White House, lead a parade down Pennsylvania Avenue, give a speech to Congress, meet with the poor at Catholic Charities, and hold Mass at the Basilica of the National Shrine of the Immaculate Conception. 
While the pope is in town, Congress will also be trying to figure out how to avoid a government shutdown. Conservatives are trying to prevent the government from being funded unless federal Planned Parenthood funding is eradicated. Congress also considered a 20-week-abortion-ban bill this week — which did not pass. Republican lawmakers tied the pope's visit to their abortion-related demands. Democrats will also unveil pope-themed legislation dealing with climate change this week; it is also unlikely to pass — although the Francis-inspired discussions of both issues are likely to continue unabated all week. 
The pontiff arrives in New York on Thursday night, and plans to head straight to St. Patrick's for evening prayer. On Friday, he'll go to the United Nations, attend a service at the World Trade Center, visit a school in East Harlem, lead a procession through Central Park, and top it all off with a blockbuster Mass at Madison Square Garden — where the pope will use Billy Joel's lights (the singer's Friday performance was postponed). The service at the 9/11 Memorial and Museum will be a multireligious service, and Pope Francis will be accompanied by Buddhist, Protestant, Greek Orthodox, Hindu, Jewish, Muslim, and Sikh leaders, according to The Wall Street Journal.
After that, Pope Francis heads to Philadelphia for the end of the World Meeting of Families, a weeklong Catholic celebration. He'll lead an outdoor Mass on Sunday that is expected to attract around 3 million people — and make the roads anywhere nearby impassable. The director of traffic operations at the New Jersey Department of Transportation told The New Yorker, "I'd equate it to a Super Bowl and Hurricane Sandy rolled into one."
He will also meet with inmates at the Curran-Fromhold Correctional Facility in Philadelphia. The prisoners who get to greet Pope Francis will be chosen by the chapel and social-service officials at the prison. Around 80 percent of those being held at the correctional facility have not been convicted of a crime, and are instead being held because they cannot pay bail, according to The Guardian. The New York Times notes that Pope Francis may privately meet with sexual-abuse survivors, too. 
NYC'S IMPENDING TRAFFIC ARMAGEDDON
If you don't have pope-related plans on Thursday or Friday, you might want to stay home. According to the New York Post, the worst moment will occur at 1 p.m. on Friday, when 83 blocks in Manhattan will be closed. "This is closures of biblical proportions," former traffic commissioner Sam Schwartz told the Post. 
Here's a complete list of all the roads that will be closed — and when to avoid them.
Because of the road closures, many buses will be rerouted; the subway will be the safest bet for delay-free travel for those intent on getting to Manhattan on Friday. The city plans on making more subway and commuter trains available during the pope's stay — but Governor Andrew Cuomo has said that all those who can stay out of Manhattan on Friday should. 
If you hope to travel through Penn Station on Friday night, be warned — the pope's presence at Madison Square Garden is going to make midtown a mess. 
If that wasn't enough to deal with, the United Nations will also be holding its 70th General Assembly on Friday, which means that President Obama and hundreds of other important people will also be in town.
The head of New York's Straphanger Campaign told the Los Angeles Times that he hopes the pontiff takes a spin on public transportation — something that the NYPD and Secret Service, along with all the commuters who think that the subway is their last hope to get to work on time, pray doesn't happen. "And if he does," Police Commissioner Bill Bratton notes, "he better pay the fare."
Things will get even more complicated if the pope decides to get out of his Americanized Popemobile — a modified Jeep Wrangler — and starts walking around Central Park, something he has been known to do. 
EXTREME SECURITY MEASURES
Since the pope is making it especially difficult for the NYPD and Secret Service by traversing nearly the whole length of Manhattan in a single day, authorities have been busy — and will be on high alert the entire trip. "We will sweep every tree and bush and frisk every squirrel," one law-enforcement official told the Post. The Secret Service has been doing practice runs in a replica Popemobile around Central Park to prepare for the big day — more than 80,000 people are expected to attend the event in the park — and Catholic officials have timed exactly how long it takes to walk through the 9/11 Museum (five to seven minutes, according to the New York Times).
"This is the single largest and most complicated security undertaking in the history of the NYPD," John Miller, NYPD deputy commissioner of intelligence and counterterrorism, told the Today show. 
Outside of the NYPD preparing to be stressed out, the city is also sprucing itself up. As the New York Times points out, St. Patrick's Cathedral is looking pretty snazzy lately after a $177 million restoration project. 
The Freedom From Religion Foundation is not pleased with all the money the city government is spending on the trip and a free ticket giveaway for the chance to see the pope in Central Park. The group wrote a letter to Mayor Bill de Blasio noting that "In this case the city of New York is showing favoritism to one religion, Catholicism, over all minority religions and nonreligions. … NYC appears to be endorsing Pope Francis's sectarian message."
POPE-THEMED SWAG

Once you get to the official Pope Francis event of your choice, you will probably want to be wearing as much Vatican swag as possible. Aramark is the official retailer for the weeklong extravaganza, and is selling memorabilia priced for every budget. Silver crosses cost $500, while commemorative pins will only set you back $5. The pope "pop-up" is also selling tote bags, latte mugs, pint glasses, bobbleheads, polos, onesies, hoodies, stuffed dolls, holiday ornaments, ties, and a "My First Rosary" featuring an orange plastic cross that's "perfect for teething."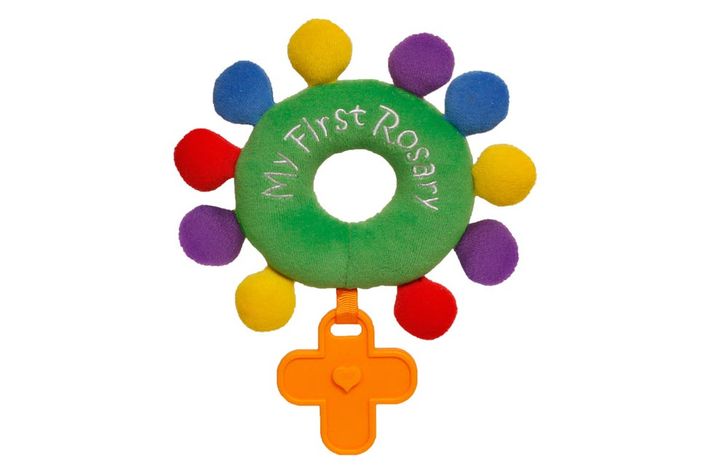 If you're looking for something a little more original to commemorate Pope Francis's trip, local businesses have found ways to celebrate the moment — and capitalize on the fact that millions of people will be descending on these cities looking for the complete pope experience. 
One woman in Philadelphia is selling a toaster that burns the pope onto bread; Pastificio Homemade Pasta Co. is selling pope-shaped mozzarella for $20 a pop. There are T-shirts that portray the pope as an Eagles fan. Mayor Michael Nutter announced that "we expect to serve Pope Francis a Wawa hoagie of his choice" while celebrating the grand opening of a new outpost of the convenience-store chain. 
Steubenville, Ohio–based Catholic to the Max is selling a $160 lifesize Pope Francis cutout on its online Papal Visit store. The company's marketing director told the New York Post that "They've been selling very well, very well indeed." 
There are also many pope-inspired libations. Manayunk Brewing Co. in Philadelphia brewed up some Papal Pleasure — the water in the beer was blessed by a priest. Cape May Brewing Company in New Jersey has #YOPO — You Only Pope Once. Philadelphia Brewing has Holy Wooder, Crime & Punishment has Jesus Wept, 2nd Story Brewing Company has Pater Noster — and there are at least a handful of other beers being brewed for this very occasion.
In New York, the Pope Cookie is making a triumphant return; Artuso's in the Bronx first made the cookie in 2008 when Pope Benedict XVI gave a Mass in Yankee Stadium. They have gotten tens of thousands of orders for the treats.
The more creative merchandising options are too much for some gift purveyors; Catholic to the Max's owner told The Wall Street Journal, "We don't make bobbleheads, we don't make face masks, we don't make pope soap-on-a-rope. That's not our game. Our game is to use our talents in the service of the Lord."
DOES THE POPE LIKE PIZZA?

As the pope has noted repeatedly, the thing he misses most about being normal and not beloved by millions of Catholics is going to eat pizza. Getting it delivered to the Vatican doesn't count; he needs to eat it in a pizzeria. And Pope Francis told his friend Father Hernan Paredes, who teaches at the St. Ignatius Loyola School on the Upper East Side, that he is incandescently excited about the chance to eat New York pizza.
In other words, you have one job, New York. Give this man some pizza. 
If Pope Francis is looking for a customized pizza experience, Ribalta, near Union Square, is now selling a Pope Pizza — which anyone can order through the end of the year.
The Garlic Knot Pizzeria has pizza boxes featuring the pope with the Philadelphia skyline. At least one pizzeria turned down the chance to use the boxes; New Jersey pizzeria owner Anthony Marino told NBC10, "I'm a Roman Catholic, so when I saw his face on the box, to me it seemed this is a guy who is not into that kind of stuff. And the fact is that not everybody is a Roman Catholic."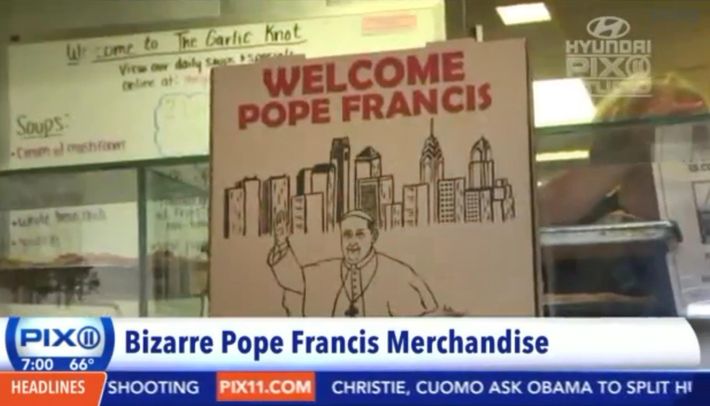 WHAT DO I SAY IF I MEET THE POPE?
First of all, you probably won't meet the pope — thousands of other people will be attending his Mass at Madison Square Garden or lining up on sidewalks to catch a glimpse as he drives by. 
However, if you are one of the lucky few, you probably will want to say more than "Hey" — although Pope Francis seems far less concerned with papal greeting etiquette than his predecessors. You will want to call him "Your Holiness," according to NPR's guide to meeting the pope, and maybe kiss his ring if you're Catholic — unless you are Joe Biden, then you should just give him a handshake. The pope can speak Italian, German, Spanish, English, French, Latin, and Portuguese, so you should probably learn to say "Here is the pizza I brought for you" in one of those languages. 
Whatever you do, don't bring an umbrella, drone, or selfie stick to any place where the pope might be, or the Secret Service will take it away.
WHERE CAN I GET 24/7 POPE NEWS?

Planning on staying in Brooklyn on Thursday and Friday but still interested in watching people freak out when they get the chance to meet the leader of Catholicism? Time Warner Cable is running a 24-hour Pope Channel during the visit, which will be available on Channel 199 for New York subscribers. And yes, it will feature color commentary for those who consider papal visits their favorite sport. NY1 will also air many of Pope Francis's planned addresses. When the pope isn't doing anything of note, the Pope Channel will run repeats.
The pope will probably be tweeting up a storm during his trip as well, and updates will likely be added to the Pope App regularly.