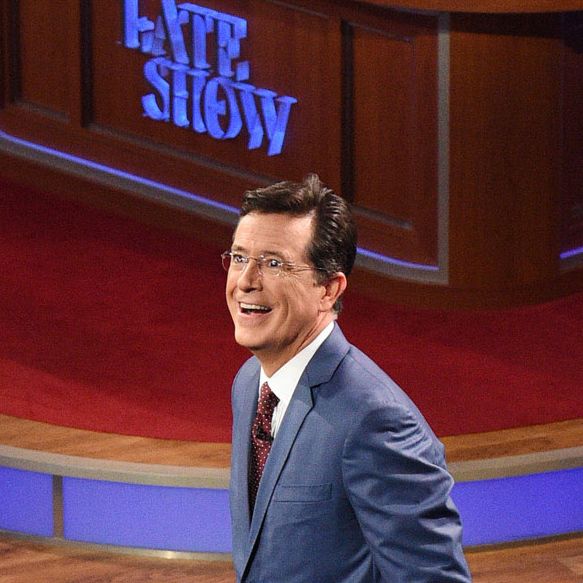 Photo: Jeffrey R. Staab/CBS
Most weeks, New York Magazine writer-at-large Frank Rich speaks with contributor Alex Carp about the biggest stories in politics and culture. This week: Stephen Colbert's debut on CBS.
After more than six months away from the studio — mostly — Stephen Colbert unveiled his version of The Late Show last night. Among other adjustments in the leap from basic cable to CBS, it required that he replace the fictional "Stephen Colbert" of The Colbert Report, a blowhard conservative talk-show host, with a new character: Stephen Colbert, actual talk-show host. How did he do?
There's no way to judge Colbert's great leap on the basis of a single show, particularly since it's safe to say that his show a year from now will look much different from the premiere. The 200 or so Late Shows in between will tell the tale. Can a genuinely versatile performer — Colbert can sing, kind of dance, and conduct actual, truthiness-free interviews, as well as be brilliant at comedy — find his own niche and a large, loyal audience in what's arguably the most competitive time slot left in old-school entertainment television?
Episode No. 1 told us a few things. The most significant is that, liberated from the straitjacket of the Report, Colbert can turn up the full wattage of his considerable charm. Despite all the pressures of an overstuffed debut, he conveyed the sense that he's having fun. He has also made the decision not to reinvent the wheel. Yes, they've elaborately overhauled the Ed Sullivan Theater, but The Late Show is still adhering to the Old Testament format laid down by Steve Allen and his early peers at the dawn of network television: an opening monologue, a desk, celebrity guests who sit on a couch, goofy skits, a band, product placements, and an alternately contemptuous and sycophantic attitude toward the big bad network that feeds it. (The CBS godfather, Les Moonves, participated in a pro forma gag from the audience on opening night.) All that was really missing was at least some vulgar dollop of sex and a second-banana sidekick, though it's presumably possible that the show's house-band leader, Jon Batiste, will evolve into the Ed McMahon role much as Paul Shaffer did with Letterman.
That's a good call. A late-night talk show is a late-night talk show, and the familiarity of its DNA breeds bedtime reassurance and network longevity, not contempt. The one essential the first Colbert Late Show did not have in abundance, though, is the most important after an engaging host: a lot of laughs. It was almost 20 minutes in before Colbert scored big — with a barrage of Donald Trump jokes, wrapped in a smart Colbert Report–style package of irony and featuring as a slapstick prop a package of Oreos. Of course the comedy quotient of a show like this will always vary from night to night, and no doubt there will be very funny shows to come, perhaps as soon as tonight. But the shortfall in episode one did make me ask if there was some underlying cause beyond the hit-and-miss batting averages that always rule in comedy, especially when it has to be produced by the yard on a daily basis.
And that led me back to the issue of Colbert's persona. Who is the real Stephen Colbert? We may never know, and we don't have to know: Part of the allure of the two greatest practitioners of the genre, Johnny Carson and Letterman, is that their real offstage characters always remained tantalizingly out of reach of the audience. The men who came alive once on-camera at 11:35 p.m. were full-fledged comic creations, as much fictional as not, dreamed up by refugees from the blandest Midwest (small-town Iowa and Nebraska for Carson, Indianapolis for Letterman) who reinvented themselves for the bright lights and big city. Offstage they were something else, often darker, unknowable to even some of their closest show-business associates, and in Carson's case, at least, to his wives and children.
Colbert has taken a different tack. He may actually be trying to show us his real self — a likable, Sunday-school-teaching suburban New Jersey family man, raised in heartland South Carolina, who cares about far more than merely show business, let alone the celebrity it has afforded him. This is the profile that's been pounded out by a CBS promotional juggernaut that was as inescapable as a presidential campaign. (In some ways it overlaps NBC's carefully crafted image for Brian Williams, who had unsuccessfully pitched himself to CBS as Letterman's successor before he imploded.)
In an interview aired on the CBS Evening News last night, Colbert described his aspirations for the show as having "fun with my friends" and added that having fun includes "sometimes talking about things that we care about." He wasn't kidding. The show's concern about higher matters was baked in from the start: a sweet comic montage of the host singing "The Star-Spangled Banner" with a Benetton-worthy cross section of humanity at various all-American locales from sea to shining sea. On his new set, Colbert showed off the Martin Luther King Jr. pennant his mother brought home from the 1963 March on Washington. Both of the first show's guests, George Clooney and Jeb Bush, are middle-aged white guys who've devoted themselves in part to trying to make the world a better place.
That's all laudable, but it is more conducive to piety and sanctimoniousness than humor. No matter how hard he tried, there was no way Clooney could sit on that gaudy set in a deep tan talking about genocide in Darfur without looking like a parody of a Hollywood philanthropist-politician. (Bono, though not of Hollywood, has this same contextual problem.) And it didn't help that Colbert told Clooney it was "such an honor" to have him on the show when he didn't have a new movie to push. It didn't land because Clooney was pushing something — his own altruism — in a humble-brag manner reminiscent of the starlet played by Elaine May in her classic talk-show sketch with Mike Nichols of more than a half-century ago.
When Bush came on, he said "it's an honor" to be on the show, and Colbert said somewhat later he was "really honored" that Bush was there. (On The Late Late Show that followed, the host James Corden said he was "honored" to be following Colbert. Enough honor on CBS late night, already.) The talking points that Bush most wanted to get across in his rare foray into a "hip" venue were that he doesn't hate President Obama, that he believes in civility and bringing people together, and, as Colbert put it, that you don't have to portray your opponent as "the devil" in politics. It is not the role of a late-night talk-show host to ask "gotcha" questions when interviewing a presidential candidate, but all these bromides, left unchallenged, amounted to its own Sunday-school lesson. Surely America gets enough of these why-can't-we-get-along sermons from Starbucks's Howard Schultz when he's appearing on Morning Joe.
Well, Colbert's campaign to get to opening night of The Late Show is over. He has the top job. Now comes the hard part of governing, with all the collisions, rudeness, spontaneity, and, one hopes, comedy that that Herculean task will entail.