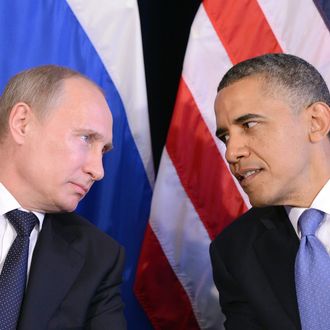 President Obama listens to Russian President Vladimir Putin after their meeting in Los Cabos, Mexico on June 18, 2012.
Photo: Jewel Samad/AFP/GettyImages
There's one thing the U.S. and Russia agree on: President Obama will definitely be meeting with his Russian counterpart Vladimir Putin when he's in New York for the U.N. General Assembly next Monday. What they can't seem to get straight, according to Reuters, is who called the meeting and what they're going to talk about.
While the Kremlin says the meeting was arranged "by mutual agreement," White House spokesperson Josh Earnest was quick to tell reporters on Thursday that Putin had requested it, claiming that the Russians were "more desperate" to talk to Washington now that American sanctions have taken a bite out of Russia's economy.
There's also some dispute over whether the two presidents' main topic of conversation will be Syria, where Moscow has recently been building up its forces in support of embattled dictator Bashar al-Assad, or Ukraine, where it has been backing separatist forces against the pro-Europe, anti-Russia government in Kiev for more than a year. To hear Putin spokesperson Dmitry Peskov tell it, the meeting is about Syria, and Ukraine may be discussed if time allows. Earnest sassily replied in his daily briefing on Thursday: "There will be time."
Going out of his way to be a little bit mean to Putin, the White House spokesperson also pointed out the Russian leader's slouchy appearance in a recent photo with Israeli Prime Minister Benjamin Netanyahu, suggesting that he is no longer projecting his trademark air of self-confidence. Despite the swagger, Earnest downplayed expectations of any major breakthroughs emerging from the meeting.
Obama and Putin have not had formal, face-to-face talks since June 2013. Since that time, relations have soured, Russia has gotten itself kicked out of the G8 over its violations of Ukraine's territorial sovereignty, and the contact between the two leaders has been few and far between.
Going into more detail, the New York Times reports that Obama intends to press Putin on fulfilling the terms of the cease-fire negotiated between the parties to the Ukraine conflict in Minsk, Belarus, in February, as well as to assess prospects for cooperation in the battle against ISIS in Syria.
For his part, Putin clearly wants the conversation to be about Syria, which observers also expect to be the theme of his address to the U.N. on Monday. He is likely to call for U.N.-sanctioned international intervention in Syria's four-year-plus civil war, and may also announce some new military operations.
Putin seems to hope that by taking the lead in the fight against ISIS, he can deflect Western attention away from his machinations in Ukraine and perhaps save Assad, who the U.S. insists must step down as part of any negotiated end to the Syrian conflict. If Obama's got his number, however, any such ploy is unlikely to succeed.