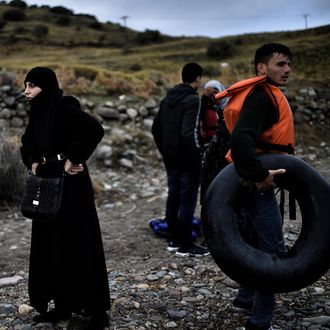 Refugees and migrants arrive on the Greek island of Lesbos after crossing the Aegean Sea from Turkey on September 29.
Photo: Aris Messinis/AFP/Getty Images
Last year, a record-breaking 219,000 migrants sailed to Europe, hoping to escape war and poverty. September isn't even over and that record has already been broken. According to the International Organization for Migration, 522,124 migrants and refugees traveled across the Mediterranean Sea and arrived in Europe this year. 
Nearly 3,000 migrants have died trying to get to Europe in 2015, drowning in overcrowded ships that capsize on the way to Greece or Italy. The numbers are horrifying, giving statistical weight to the fear those hundreds of thousands of refugees are fleeing from. However, many European leaders are also worried that the tallies keep climbing. In Bavaria, the southeastern part of Germany bordering Austria where most migrants enter the country, 169,400 migrants have arrived so far this month alone. Ten thousand people came on Monday.
As migrants keep arriving, Europe continues to figure out how to respond, a difficult task when the solution needs to happen as soon as possible — especially when everyone is still very conflicted about what a solution would look like. Germany is trying to make more efficient its asylum-application approval process — and make sure that the thousands of migrants arriving from Eastern Europe and the Balkans are quickly sent back home as quickly as possible. The New York Times reported on an "Arrival and Repatriation Facility" in Bavaria where hardly any of the signs are written in Arabic — because only people from Eastern Europe are sent there. Every single one of them is denied asylum; trying to escape economic hardship is not a compelling enough reason when the continent is dealing with hundreds of thousands of refugees from Syria. 
"My friends call me the bouncer of Germany," one of the interviewers explained to the Times, before adding that he felt bad about turning away all of these migrants excited about a new start. "There are often tears. But I have to apply the law."
Germany is considering legislation that would add Kosovo, Montenegro, and Albania to the list of EU "safe" countries. According to the BBC, nearly 40 percent of asylum applicants hail from the western Balkans. Many of the refugee centers in the country are becoming crowded. When several advocacy groups complained, Interior Minister  Thomas de Maizière responded, "We can't offer any luxury and we don't want to offer any luxury."
Further east, Austria is trying to figure out what it will do if Germany shuts its borders. "Then there will be a massive backlog here in Austria and therefore here we quickly need a European answer," Interior Minister Johanna Mikl-Leitner said. "Otherwise there will consequently be only two possibilities: either we carry on as until now, or there will be strict controls at the borders. But then we must presume that images of force will emerge, that the use of force will be necessary." More than 167,000 migrants arrived in Austria this month; most continue on to Germany. 
The Hungarian town of Szeged has closed 176 criminal cases involving migrants and refugees who tried to cross the country's new razor-wire border fence. No one has been acquitted since new legislation barring migrants from crossing the border passed on September 15. The United Nations is not too happy about Hungary's new policy — especially since most migrants don't know they are breaking the law by crossing into Hungary. "It is not a crime to cross a border to seek asylum," one U.N. official told Reuters. Hungary is already working to build another fence on its border with Croatia. 
Last week, the EU approved a plan to spread 120,000 refugees across all member nations. The Czech Republic, Slovakia, Romania, and Hungary all opposed the decision. 
Many leaders attending the U.N.'s General Assembly have addressed the migrant crisis. President Barack Obama said that "in the old ways of thinking, the plight of the powerless, the plight of refugees, the plight of the marginalized did not matter. They were on the periphery of the world's concerns. Today, our concern for them is driven not just by conscience, but should also be drive by self-interest. For helping people who have been pushed to the margins of our world is not mere charity, it is a matter of collective security. And the purpose of this institution is not merely to avoid conflict, it is to galvanize the collective action that makes life better on this planet."
"Let us not allow that injustice to continue," Mexican president Enrique Peña Nieto urged. "If each of us only looks after its own interests, we all lose out in the end," Swiss president Simonetta Sommaruga said. "The migrants lose out and the solidarity between states falls by the wayside. We will all be judged on how we respond to this dramatic humanitarian challenge."