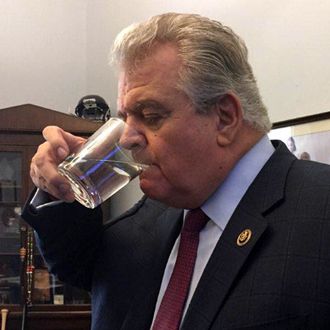 After Pope Francis said "God bless America" and vacated the House chambers for the next thing on his schedule on Thursday, Representative Bob Brady went all the way across the room and grabbed the pope's drinking glass from the lectern. He then took it back to his office and started to drink the pope's water. 
He drank it up. 
"How many people do you know that drank out of the same glass as the pope?" he told the Philadelphia Daily News, asking one of those rare questions that might have never been asked before in the history of humanity. Brady, who is Catholic, shared the Holy Father's H2O with his wife, mother, staffers, and fellow Pennsylvanian senator Bob Casey. The remaining swigs — molecules that may have also communed with the pontiff's lips — were poured into a bottle and will be used to bless his four grandkids.  
The glass is currently being kept safe in a paper bag, where it will stay until he takes it to the forensics team at the Philadelphia Police Department so they can dust it for fingerprints. He'll wait until Pope Francis heads back to the Vatican before asking for that favor, though. "They're pretty busy right now," he told the Daily News. Brady will also attend the pope's outdoor Mass in Philly. After the holy water receptacle is authenticated, he will perhaps put it next to his other used drinking glass — the one President Obama drank from after being inaugurated. They are currently the only two cups in his collection.
And no, he didn't drink from Obama's glass. That would be weird. He only took a sip from Pope Francis's cup. "Anything the pope touches becomes blessed," he told the Washington Post. "I think so and no one is going to change my mind."