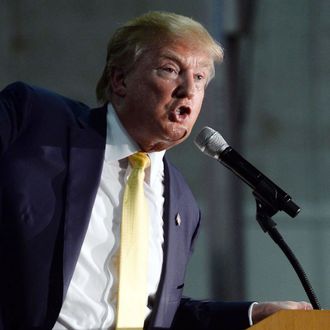 Donald Trump.
Photo: Darren McCollester/Getty Images
Feuding with the press is on trend this fall, if Donald Trump's recent behavior is any indicator. On top of his escalating conflict with Fox News, the leading Republican presidential candidate is now outraged at Associated Press photographer Mic Smith, who had the temerity to snap a photo of all the empty chairs at a campaign event in Charleston, South Carolina.


Pleading his case to the Daily Mail, Trump claimed that the room only looked half-empty because all his supporters had run up to surround him at the podium. "I was speaking from the podium," he said. "Everybody was wrapped around the podium. If they hadn't done that, there wouldn't have been an empty seat."
Smith was not the only journo to draw the billionaire's ire. On Thursday morning, Trump called into a CNN program to complain about the network's reporter Randi Kaye, who also covered the event hosted by the Greater Charleston Business Alliance and the South Carolina African American Chamber of Commerce, and who also reported that it was sparsely attended. Trump called Kaye an "absolutely horrible reporter."
Trump then lashed out on Twitter at New York Times reporter Jonathan Martin over his coverage of the event, as well as at Politico:
If only more media outlets were as classy, honest, and rich as he is.