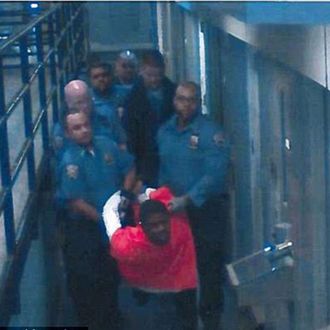 Photo: Department of Corrections
The New York Post reports Wednesday that Robert Hinton, an inmate in a cellblock at Rikers for mentally ill prisoners who was tied up and beaten to the point his nose broke and his eyes swelled shut in 2012, received a $450,000 settlement from the city this week. The beating went on for about ten minutes. An official told the Post that the settlement "was in the city's best interest." 
The five correction officers and captain who injured Hinton — and were later accused of trying to cover it up — were fired in January. At the time, the corrections commissioner said, "We must have a higher expectation of performance in situations like this, and while acknowledging how difficult the officers' job is, we must also accept the need to earn back the faith and trust of the community we serve."
A New York Times report from February found 62 instances of correction officers injuring inmates between August 2014 and January 2015. In 2014, guards used force against inmates more than 4,000 times. The Times wrote Tuesday about another case that happened at Rikers in 2013; surveillance video shows correction officers walking over an inmate who collapsed on the floor. He repeatedly asked for medical help, saying he was diabetic. Fifteen hours after arriving at the jail, he was dead. 
As New York Magazine noted in June:
In June, the city agreed to new reforms curtailing guards' ability to use force and a body-camera pilot program, among other changes.