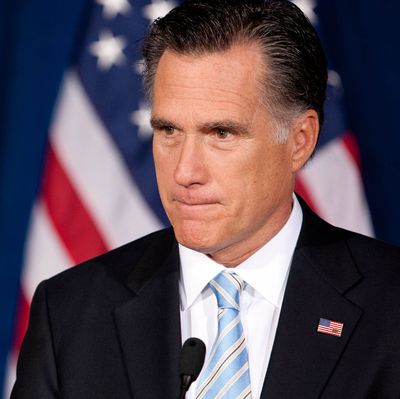 Donald Trump and Mitt Romney.
Photo: RD/Kabik/Retna Ltd./Corbis
As Donald Trump continues to dominate the Republican presidential race, frustration and panic have become high enough to make some inside the party Establishment pine for a candidate they roundly rejected as recently as January: Mitt Romney. Romney himself has become one of Trump's most vocal detractors inside the party. "He's someone to whom civility means a lot. The whole Trump thing really bothers him," a close Romney adviser told me — and some Romney-ites are only too happy to talk up the prospect of their man jumping into the race if the Establishment fails to stop Trump, whose support in Iowa and New Hampshire is currently greater than Jeb Bush's, Scott Walker's, Marco Rubio's, Chris Christie's, and John Kasich's combined.
"Mitt wants to run. He never stopped wanting to run," a senior member of his 2012 team told me. Other Romney-ites, watching this cycle's candidates falling short, feel a sense of vindication after all the attacks they endured after Romney's failed 2012 bid. "These guys like Walker and Perry, they were big deals in their states, but you get them onto the national stage and it's a different story," a former Romney adviser told me. "It's like they were in middle school, and now they're freshmen in high school and they're getting their faces slammed in the toilets." Another former Romney adviser complained about Bush's decision not to go all-in on New Hampshire, a state a moderate must win. "Romney did 100 town halls in New Hampshire from announcement to the primary. It's madness. Bush has done only 23."
In reality, the prospect of Romney jumping back into the race at this late date remains exceedingly slim — he's made no visible signs of reassembling his political operation. But he may be able to influence the race more indirectly from the perch he's begun carving out for himself as party elder.
It's a role that's surprising to many Republicans who openly mocked Romney's loss to Obama. (In his memoir, Unintimidated, Scott Walker wrote, "Reagan did not dismiss 47 percent of the country as a bunch of moochers," a reference to Romney's infamous assessment of the electorate.) But Romney's rehabilitation campaign began with his starring role in last year's documentary Mitt and continued with his charity boxing match against Evander Holyfield this spring. It turns out that Romney the noncandidate connects with the public in a way Romney the gaffe-prone plutocrat candidate never did. So much so that Romney openly flirted with a third White House run this winter. "When people were polling this stuff back in January, what was striking was not his popularity but the breadth of it," says Stuart Stevens, Romney's chief 2012 strategist. "Unlike a lot of candidates, his support wasn't siloed. The non-tea-party folks liked him, and the tea-party folks liked him. It's unique."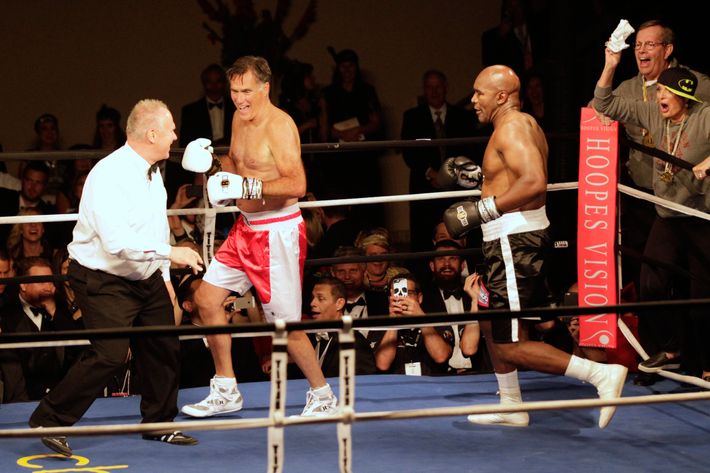 Today, Romney is the closest thing the Republican Party has to an elder statesman. After the Charleston church massacre in June, he was the first prominent Republican to call for removing the Confederate flag from the South Carolina statehouse. "To many, it is a symbol of racial hatred," he tweeted. Hours later, Bush and Rubio called for the flag to come down. Another sign of Romney's influence: All summer, Establishment candidates aggressively courted him. Over Fourth of July weekend, Christie and Rubio bunked down at his New Hampshire lakefront mansion. A few days later, Jeb Bush invited Romney to the Bush family compound in Kennebunkport. "He's like a counselor to these candidates," says a veteran of Romney's 2012 campaign, who noted that Kasich speaks with Romney as well. "No one has gone wire to wire, beginning to end two cycles in a row. He has a lot of knowledge to share."
Most important, he has money to share, lots and lots of it. Romney's vast donor network is a coveted asset, and Romney's finance wizard, Spencer Zwick, who raised $1 billion for him in 2012, remains unaffiliated with any campaign (Zwick now chairs the super-pac America Rising). "Mitt actually attracted new donor groups," says the Romney veteran. "They're in the Mormon community, the Bain Capital community, and the private-equity community. Most of them are not going to jump in for anyone else until they get guidance. Romney delivers them." This is why six GOP presidential contenders went west to prospect for millions at Romney's three-day Utah summit in June. "With Romney, it's just so bizarre," the veteran said, marveling at Romney's power to organize a cattle call. "Imagine Bob Dole. He's out of office and he says, 'I want all my donors to come to some hard-to-reach place.' That's just never going to happen."
The ultimate prize for winning the Romney primary, of course, is an endorsement. Romney has said he has no plans to throw his weight behind a candidate until the party selects a nominee. In private, he likes Rubio the most on a personal level, a close adviser told me. He's also said to enjoy Christie's company. With Bush and Walker, it's more complicated. While Romney remains friendly with the principals, relations between their camps are frayed. Walker's decision to slam Romney in his memoir particularly rankled. 
But during primary season, a Romney endorsement would likely just rile up the raging anti-Establishment base. Says one Romney-ite, "He's more valuable in a general."