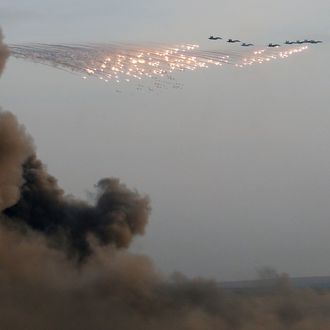 Planes drop bombs during Russia's large-scale Center-2015 military exercises at Donguzsky Range.
Photo: Sasha Mordovets/Getty Images
After a few days of arguing with the West over what should be done in Syria, Russia decided to begin conducting air strikes in the war zone on Wednesday. The airstrikes, which took place near the western town of Homs, were approved unanimously by Russian Parliament.
The United States and its allies have been conducting air strikes in Syria for months — however, unlike Russia, they aren't terribly enthused about the idea of Syrian President Bashar al-Assad remaining in power when the fight against ISIS is over. "Yes, realism dictates that compromise will be required to end the fighting and ultimately stamp out [ISIS]," Obama said in his United Nations speech on Monday. "But realism also requires a managed transition away from Assad and to a new leader, and an inclusive government that recognizes there must be an end to this chaos so that the Syrian people can begin to rebuild."
Putin disagrees. "We think it is an enormous mistake to refuse to cooperate with the Syrian government and its armed forces, who are valiantly fighting terrorism face to face," he remarked in his U.N. address. "We should finally acknowledge that no one but President Assad's armed forces and Kurds militias are truly fighting the Islamic State and other terrorist organizations in Syria." Assad reportedly asked Putin to help Syria militarily — and Russia has already begun spinning today's air strikes as the arrival of the only legitimate air strikes in the country. Western officials, on the other hand, are worried that Russia's involvement could extend the fight against the Islamic State in Syria, thanks to the country's determination to keep Assad in power. These concerns, however, are less important for Putin than his need to project more global power after being internationally chastised because of Ukraine — and his desire to make Russians forget about that whole episode — and maybe even be bolstered domestically by a very visible sign that the country is challenging the Islamic State. Many Russians have reportedly fled to Syria and Iraq to join the Islamic State — and their numbers could be growing.
On Wednesday, Putin said that the air strikes would be temporary, and that he still hoped some sort of international coalition could be formed to fight ISIS. Since Russia's participation in this coalition would depend on everyone's feelings on Assad, this development, at the moment, seems unlikely.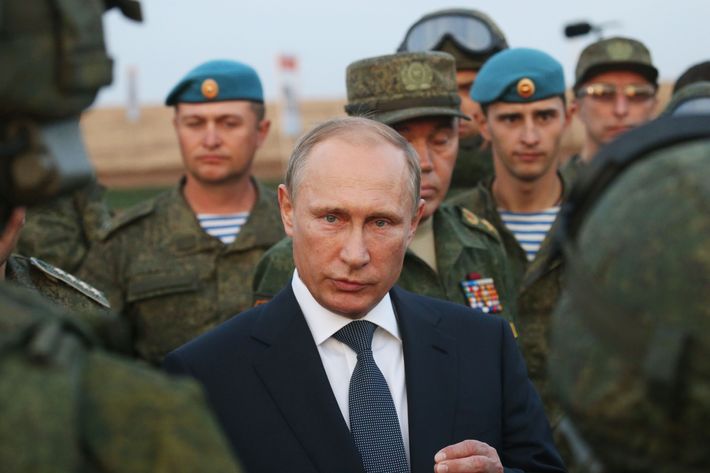 Obama and Putin spoke for 90 minutes on Monday, mostly talking about — or, rather, around — each other on Syria.
A few other leaders professed that they were less than impressed by Putin's speech — and suggested that he should do more than talk about how countries should band together like they were fighting Hitler. French foreign minister Laurent Fabius said that Russians "talk a lot," according to Reuters, "but as far as I can tell they haven't committed any planes against Islamic State. If it is against the terrorists, it's not abnormal to launch strikes against them" — words that seem to translate into a diplomatic triple-dog-dare.
Russia only plans to send its Air Force to Syria at this point — no ground troops.
The U.S. was warned that the Russian Air Force planned to enter Syria; based on the response from a defense official speaking to the BBC that the Obama administration didn't seem terribly pleased. "While we would welcome a constructive role by Russia in this effort, today's demarche hardly seems indicative of that sort of role and will in no way alter our operations," they said. "It also only underscores the need to begin having meaningful deconfliction discussions very soon."
"I'm not waiting for any reaction from the west," Evgeny Satanovsky, who heads the Russian Middle East Institute, told Russian television, according to the Guardian, "and I'm not particularly interested in it. There will be cries, hysterics, then there will be realpolitik and maybe understanding."