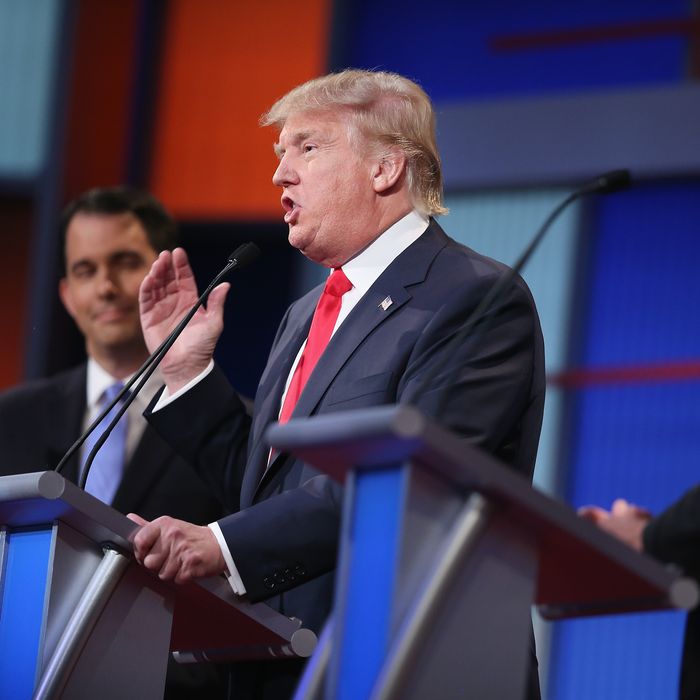 Donald Trump fields a question during the Fox News GOP debate on August 6, 2015 in Cleveland, Ohio.
Photo: Scott Olson/Getty Images
The first Republican debate of the 2016 campaign was just as huge as we were promised, but can Donald Trump and the Not Ready for Prime Time Politicians capture that magic once again? Well, CNN is going to try. The network has upped the stakes by placing the candidates in front of the actual Air Force One jet used by Ronald Reagan and promising to provoke them into arguing with each other — not that they need much encouragement. After enduring weeks of insults from Donald Trump as he pulled further ahead of the rest of the pack, many candidates are eager to pick a fight with the GOP's ultimate wild card. Here's a guide to get you up to speed on the Republicans' second showdown, and be sure to tune in tonight for Daily Intelligencer's liveblog and complete debate coverage.
When and where is this debate being held?
Wednesday, September 16, from 8 p.m. to 11 p.m. EST at the Ronald Reagan Presidential Library in Simi Valley, California.
I just remembered I don't have cable.
Not a problem. While the Fox News livestream was down for much of the last debate, CNN has vowed that everyone will be able to watch tonight's show online and via their apps, even if they don't have a cable subscription. "CNN will be live streaming the GOP debate … online and across CNN's mobile platforms without authentication. Users won't have to log-in to see the stream, it will be available as soon as they visit CNN.com or access one of our apps," CNN told Fortune.
The Fox News debate drew 24 million viewers, and after it was reported that CNN is asking 40 times its usual rate for ads during the debate, Donald Trump sent a letter to CNN asking that they donate the profits to veterans' groups. He claimed, probably correctly, that "this tremendous increase in viewer interest and advertising is due 100 percent to 'Donald J. Trump,'" — though he added, "I refuse to brag." CNN has declined to comment on his request.
Which moderator will Republicans be angry at after this debate?
Probably conservative radio talk-show host Hugh Hewitt. Jake Tapper and Dana Bash will get some flak if they pursue a Megyn Kelly–esque line of questioning, but Republicans have lower expectations for the CNN journalists. Hewitt, who refers to his show as "Na­tion­al Pub­lic Ra­dio for con­ser­vat­ives," is known for asking Republicans tough questions, but he's already tangled with the front-runner. When Trump was unable to answer Hewitt's questions about the leaders of Hamas, Hezbollah, Al Nusra, and ISIS earlier this month, he accused the host of asking "gotcha questions" and later called him "third rate."
I'd like to see more of Chris Christie and Rand Paul shouting at each other.
CNN is trying to make that happen. "What the team and I have been doing is trying to craft questions that, in most cases, pit candidates against the other — specific candidates on the stage — on issues where they disagree, whether it's policy, or politics, or leadership," Tapper said. "Let's actually have them discuss and debate."
Great. Who are Donald Trump's potential targets?
It's the same lineup as the Fox News debate — Donald Trump, Jeb Bush, Scott Walker, Ben Carson, Ted Cruz, Marco Rubio, Mike Huckabee, Rand Paul, John Kasich, and Chris Christie — plus Carly Fiorina. Following her impressive performance in the undercard debate last month, Fiorina lobbied CNN to let her move up to the main event. The network changed its criteria earlier this month, ostensibly because there were fewer available polls than expected. Fiorina just happened to be the only additional candidate who qualified under the new rules.
Eleven candidates doesn't sound sufficiently ridiculous. Aren't you forgetting somebody?
Rick Santorum, Bobby Jindal, George Pataki, and Lindsey Graham will be in the so-called "kids' table" debate from 6 p.m. to 7:45 p.m EST. Rick Perry was invited to participate, but he ended his campaign last week. Jim Gilmore was excluded this time because he's polling below one percent, which would be sad if he were actually campaigning.
What are the ground rules?
Candidates will have one minute to answer each question and 30 seconds for a rebuttal if they're mentioned by another candidate. CNN may use video clips from the undercard debate, like Fox News did last month.
Has CNN come up with some flashy visual gimmick?
As far as we're concerned, no CNN event is complete without a hologram, but President Reagan's Air Force One is a pretty good consolation prize. CNN built the debate stage on scaffolding so the airplane — which you can tour if you visit the Reagan Library — serves as the backdrop for the debate. Start working on your tasteless "missing plane" jokes now!
Can I see some footage of CNN employees explaining the debate stage in excruciating detail?
Sure. Here's a video of Anderson Cooper and CNN political director David Chalian touring the set and geeking out over potential fights between the candidates.
How are the candidates preparing?
While Trump advisers are going to help him brush up on military and foreign-policy issues, he claims, once again, that he isn't cramming for the debate. "I've been prepping for 30 years," he told The Wall Street Journal.
As for the rest of the field, they've vowed to be more aggressive this time around, since it's now clear that Trump is more than the GOP's summer fling. The New York Times reports that Jeb Bush has been holding "rigorous practice sessions" and preparing snappy retorts to Trump's most frequent insults, such as his claim that Bush is "low energy." "If someone comes at me, bam! I'll come back at 'em," Bush said on the campaign trail this week. "I'll campaign hard."
Rand Paul, who was quick to confront Trump during the last debate, told CNN he plans to note that Trump disagrees with the rest of the GOP on eminent domain, Obamacare, and tax issues. "When Americans know that, when conservatives know that, they're going to run away with their hair on fire," Paul said.
Just in case Paul doesn't get called on this time, he also bought ad time during the debate. This spot will run in Iowa, New Hampshire, South Carolina, and Nevada:
Paul confirmed that the last line is a dig at Trump, telling the Times, "Do I expect there will be a discussion on whether Trump is a fake conservative? Yeah."
In a recent Tonight Show appearance, Chris Christie said he'll lose it if he isn't called on enough, which is a questionable plan for a well-known hothead. "There was one point where I went 20 questions in a row without being asked a question, and that's hard," Christie said. "By the way, stay tuned on September 16. We may be changing tactics if I get to like 15 questions in a row. Count them at home … You're gonna go, 'Uh-oh, he's gonna go nuclear now.'"
After a poor showing during the last debate, which led to a serious dip in the polls, this is seen as the night that could make or break Scott Walker's campaign. Sources in the Walker camp told Politico that this time Walker will be more aggressive, he won't stop talking before his time is up, and rather than simply answering questions, he'll pivot to promoting his story. "If Gov. Walker lays an egg, he better be prepared to bootstrap his campaign in the coming 3-5 months because his fundraising will dry up," a veteran campaign manager and GOP operative predicted.
How Reagan-y will this debate be, on a scale of one to going on an all-jelly-bean diet?
Almost unbearably Reagan-y. The former president and GOP saint came up 14 times in the last debate, when the candidates weren't standing in front of a 152-foot symbol of his presidency. In preparation, PolitiFact has released a list of common ways modern Republicans distort Reagan's positions.
The candidates have already started squabbling over who was closest to the former president. John Kasich makes a pretty persuasive argument in this video about campaigning for Reagan during the 1976 convention. (Marco Rubio has the best excuse for failing to back Reagan during that race, as he was only 5 at the time.)
In recent weeks, Trump has implied that he and Reagan were friends, saying, "I helped him. I knew him. He liked me and I liked him." But on Tuesday night The Wall Street Journal thoroughly refuted that claim. At the paper's request, Reagan Library officials searched their archives for any mention of Trump. The evidence shows that the Reagan White House kept Trump at arm's length, which makes sense since his entire family donated to Jimmy Carter's campaign in 1979. While there were invitations to White House functions (and donations from Trump) in Reagan's second term, in memos, administration officials referred to Trump's "large ego" and rejected a congratulatory telegram on the opening of Trump Tower saying, "Commercial. Don't do."
Worst of all, one of only two photos of Reagan and Trump shaking hands is stamped "To Donald Trump" and signed "Nancy & Reagan Reagan." A White House staffer noticed the error when the photo was published in Trump's The Art of the Deal and requested a new photo, saying, "It was obviously signed either in a rush or with a large batch."
Trump admitted to the paper, "I didn't know him well," but insisted that friends told him the president was a fan. "He felt very good about me," Trump said. "Frankly, he liked my attitude."
Sadly, Nancy Reagan is too frail to attend tonight's debate, so CNN won't be able to cut to her for reaction shots when candidates suggest they're essentially the second coming of Reagan.
Correction: An earlier version of this post said the main debate started at 9; the start time was moved up an hour to 8 p.m.