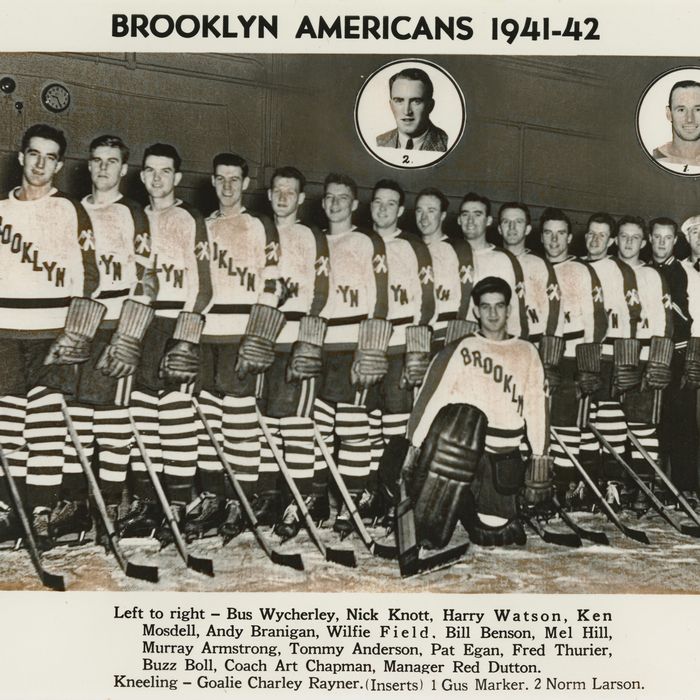 The 1941–42 Brooklyn Americans.
This season, the New York Islanders have relocated from Nassau County to the Barclays Center, and on October 9 they'll host the first-ever regular-season NHL game in Brooklyn. That's not to say a team hasn't tried to relocate there in the past. The New York Americans joined the NHL in 1925 and played their home games in Madison Square Garden. They proved so popular that the following season the owners of the Garden would bring in a second NHL franchise — this time one they owned themselves. That team, the Rangers, would eventually overshadow the Americans, who by the late 1930s decided to build their own arena in Brooklyn.
Those plans would be sidetracked by World War II. Still, the team began practicing in Brooklyn and even changed their name to the Brooklyn Americans for the 1941–42 season, even though they continued to play their home games at the Garden in Manhattan. The organization hoped to revisit its plans for a Brooklyn arena after the war, but the team didn't survive that long: Service enlistments wreaked havoc on its roster, and the Rangers wanted them out of the Garden. The NHL's owners voted the franchise out of the league after one season with its new name, and the Brooklyn Americans were no more.
In honor of the NHL coming to Kings County (for real this time), the Brooklyn Historical Society has created an exhibit titled "Brooklyn Americans: Hockey's Forgotten Promise," which opened this week and runs through March 27. Here, some images from that exhibition.