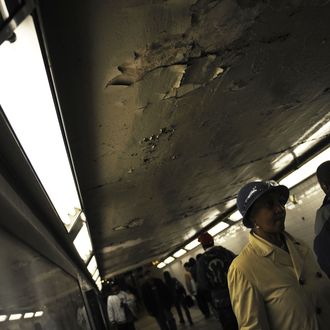 Find money, fix this.
Photo: Emmanuel Dunand/AFP/Getty images
Oh, good. Capital New York is reporting that the MTA's capital-funding plan is working out, and we should have every subway station in the system renovated and in good shape … by 2067. It will have taken a mere century to bring the system back from its 1970s nadir. Woohoo.
It doesn't have to be this way. Other parts of the city that went to rot in those years, like Central Park, have been transformed by public-private partnerships like the Central Park Conservancy. Many midtown neighborhoods have been spruced up by their local Business Improvement District groups, which are similar consortia of local stores and restaurants and the like. In both cases, donors benefit directly: People who live near Central Park get to enjoy its improvements, and local businesspeople receive better services and cleaner streets. Yes, these partnerships leave poorer neighborhoods behind, but they're better than nothing.
Meanwhile, every giant glass tower that goes up in midtown adds a few hundred occupants (at least) to the grid. Each building increases the load on city services: water, sewer, electrical, transit. Setting aside the big transfer points like Times Square, a local midtown subway stop serves about 20,000 or so riders on a weekday. Add ten new apartment buildings in the neighborhood, and that number of users will go up by a significant percentage. If those buildings' developers are relying on city systems, they should pay for their improvement. Every giant new tower, or group of towers, should be matched with a renovated station down the block.
You can't realistically compel that. The real-estate business is numbers-driven, and if the spreadsheets don't show enough green, the developers will take their money to Vegas or Atlanta. So here's an offer that the state and city can make. You want an extra eight stories on your supertall tower, giving you an extra quarter-billion dollars in apartment sales? Or you want it a little wider than the standard formula, so you can get an extra bedroom onto each floor? Sure, we'll give you the zoning variance — if you renovate the subway station on the corner. Realistically, the change to a neighborhood caused by a 78-story building is not much different from that of a 70-story building, and having a station that works properly for the next six or seven decades would, for the locals, vastly outweigh any downside. (And let's not hear the argument that the very rich people who buy these apartments don't ride the subway; some of them in fact do, and certainly their housekeepers, messengers, florists, tutors, cooks, secretaries, and other staff will.)
The MTA could even sweeten the deal by throwing in a lease on some of its own wasted real estate. Some of the giant mezzanine spaces of the A-C-E stations, for example, could easily garage a few shops. Chipotle and Starbucks probably wouldn't want to be in the grimy stations that exist now — but in fresh, bright renovated ones? Why not? In exchange for building out the stores, the developer would get a share of the rental revenue for, say, a decade.
Chicago has tried this, on a small scale. The North/Clybourn station was, in 2010, spruced up by Apple when it opened a store next door. Apple got all of the ad space on its walls, and the company redid the interior plus the plaza out front. It was not a super-fancy glass-staircase Apple kind of rehab, and some locals grumped that it was not particularly respectful of the building's historic details. But it was straightforward, and the result looks far, far better than 99 percent of our subway stations. Apple paid about $4 million, which it probably regards as a rounding error on a rounding error.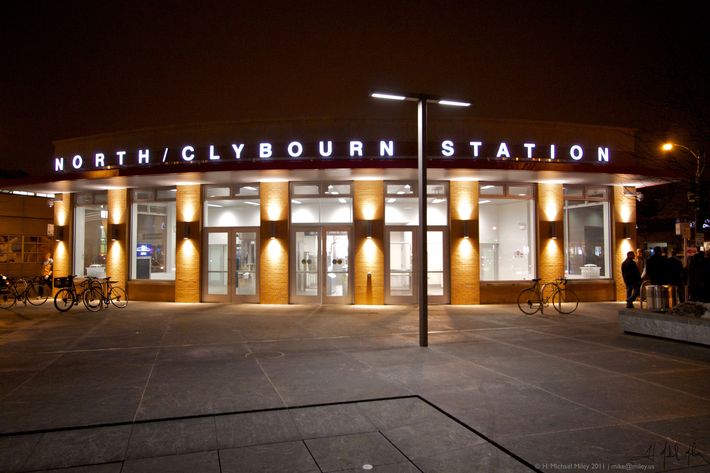 Right now, we work this angle almost backward, spending money to spur development. The 7-train extension has vastly increased the price of real estate on the far West Side, and will continue to do so. Surely the speculators and developers who bought up all of that land, and are planning the building that's going to take place in and around Hudson Yards, ought to have helped build the train line that serves their interests. It's too late to get them in on the financing of that project, but let's not make that same bad agreement again.

In short: Developers want height. We want to stop commuting in squalor. Let's make a deal.

Addendum: Although I was thinking about residential development, office towers present similar opportunities, and a representative of the Department of City Planning has written to note that the builders of One Vanderbilt, the very tall building going up next to Grand Central Terminal, have entered into a promising arrangement along these lines. They're involved in $220 million worth of improvements to Grand Central's subway stop. Details can be found here.