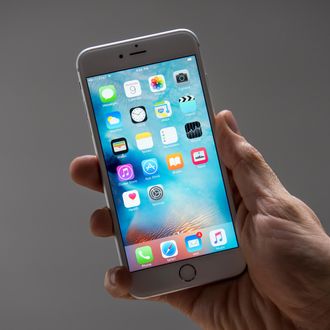 Update time!
Photo: David Paul Morris/Bloomberg via Getty Images
With today's worldwide release of Apple's newest operating system, iOS 9, for iPhone and iPad, the company is taking further strides toward full-on lifestyle management. While this won't usher in singularity, at least we'll hear even more from Siri. Here's an explainer of the subtle, but in certain ways drastic, shifts in user experience that iOS 9 brings to your sweaty fingertips.
iOS 8 was buggy. Should I wait to download iOS 9?
To prevent another glitchy rollout from reoccurring, Apple released iOS 9 Beta this past June. Five versions later, we're hoping this crowdsourced troubleshooting will have dealt with the initially reported problems like apps deleting after installation, software updates that don't exist, and frozen Wi-Fi.
What is "low-power" mode? Is it anything like being "low-energy"?
Apple claims the new iOS will squeeze out three extra hours when in low-power mode. In this setting, automatic refreshing will be paused and mail won't be fetched. Visual effects and graphics will diminish. Placing the phone facedown will switch off light-up notifications, just as it does with Jeb Bush.
What are the new features I'll use for the first week and then forget about?
There are a slew of new ways for users to interact with apps, as well as for apps to interact with each other: Slide-over, picture-in-picture, and split-view absolutely promise to ruin the ability of human beings to focus on a single item in space at any given moment.
When you're working in two apps at once, like in split-view, or attempting to FaceTime while pulling up directions, as picture-in-picture lets you, don't forget that it's okay to feel overwhelmed.
What about Notes?
For those of you who have a PhotoScroller full of Maps screenshots, comparative pictures of Friday night outfits, passages from books or articles, and other forms of visual note-taking, iOS 9's upgrade to the Notes app is next-level. Now you can take photos from the app and annotate them, draw on them with your finger — remember Microsoft Paint? Pick a color, choose a pen-tip size! — or erase the doodles and stick to typing.
What's the deal with Apple News?
Apple's skeuomorphic Newsstand, where publisher apps went to die, is reborn as a single app called Apple News, and with it, mobile media consumption might be radically altered. Apple's partnership with publishers (like us) should speed load times and, with curated feeds and offline content, help, among other things, spell perhaps the end of third-party readers like Feedly, Pocket, et al.
What is this Content Blocker going to block, exactly?
Apple didn't exactly say much about Content Blocker. Discovered by bloggers in developer notes for the iOS, it's Safari's most interesting feature in terms of speeding load times. And it could spell the end for a few other things, too — or so content creators who are advertising-dependent (yes, like us) worry. It blocks things like banner ads, which slow your phone and drain your battery.
Has Apple Maps finally found its way?
Apple Maps has been such a, uh, success to date that Google Maps is the eighth-most-downloaded app of all time worldwide. Apple may be finally catching up, though, with late-arriving and rather obvious features like What subway line, exactly, goes to that stop on the map? And other less obvious but useful features, like When will the next train arrive? (Warning: It doesn't work with the G train.)
Is Siri still the creepiest function in iOS?
Hopefully, you don't know anyone who makes "Hey, Siri" jokes anymore. But if you do, remind that Siri is always on now (even in Airplane Mode she'll tell you to connect to the internet). So be careful. Surprisingly, this isn't even the creepiest function of iOS 9.
Proactive is.
Apple's attempt to one-up Google Now in the "lifestyle management" department is based on their understanding of your habitual patterns in usage. Modeled after the personal-assistant app Cue, which Apple bought for $40 million back in 2013, Proactive Siri will suggest friends to call or even songs to listen to based on your habits. Same with apps. You'll never be lonely again!