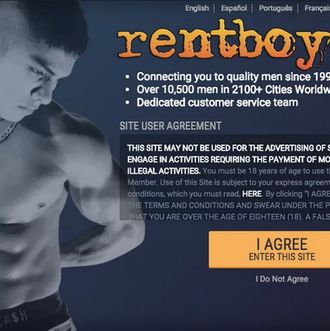 On August 25, the feds shut down Rentboy.com, declaring it an "internet brothel." The website, which was founded in 1996, featured the paid profiles of male escorts and enabled potential customers to contact them directly. It made escorting more entrepreneurial, more private, and almost certainly less dangerous, since it didn't involve frequenting shady locations to attract clientele or payoffs to anyone pimplike. Other sites, like Rentmen.com (which, unlike Rentboy, is based outside the U.S., putting it out of the feds' reach), do basically the same thing. But Rentboy, which was based in New York but matched clients and escorts in cities worldwide, had the most cachet. It also provided community and harm-reduction workshops for its advertisers, and sponsored the Hookies, a tongue-in-cheek (ahem) industry awards ceremony. Many in the LGBT community, noting that the site had nothing to do with human trafficking and doubting whether there are any victims in this criminal activity, have rallied around the site, even starting a legal-defense fund for its operators.
A month on, how has it affected the Rentboys' ability to hustle? We talked to six of them (all of whom used their work names or requested anonymity) on what it's like to try to hook without the site behind the Hookies.
1. Devin, 31, Brooklyn
How did you use Rentboy?
I advertised on Rentboy on and off for six years … Last year I made an extra $12,000. I used it to move here from Atlanta.
What's this work like?
It's not as bad as a lot of people make it out to be — otherwise I wouldn't have done it for six years. A lot of guys out there need companionship.
I love New York. Here I get mostly businessmen and Park Avenue guys, whereas in Atlanta I always got some dude who really saved up $200 and wouldn't have $200 again for a long time … Sexually, I don't do water sports, which is very popular. I prefer to be the dominant guy. I like doing bondage.
I've gone on several dates where you expect you're going to have a hookup, but it's guys who want to go to dinner and talk to someone, knowing that when I leave, what happened between us is nobody's business.
How has the bust affected you?
One of my friends made a cool video talking to an escort who depended on that income to take care of his boyfriend who was handicapped in a really bad accident. The shutdown has definitely affected my business with new clients, but thankfully I have regulars. I'm still advertising on Rentmen.com, but I haven't had any new clients. I've lost about half my average monthly income of $2,000. I have an outside full-time job as a hairstylist, so escorting was supplemental to me. But I can't shop like I want to.


2. Rusty McMann, 52, Las Vegas
How did you use Rentboy?
I advertised on Rentboy because they were the highest-end site. The individuals there were always very nice to me and very supportive of my being an alternative-market escort. I'm 50 years old and 30 pounds overweight and don't have a ten-inch dick. Prior to escorting, I worked in nonprofit PR in Manhattan for 20 years before I lost my job. I'd been thinking about escorting for a long time for a variety of reasons. I have red hair and red pubic hair, and that's a fetish. Once, a guy I met online whom I wasn't interested in wouldn't take no for an answer and offered me money. I love sex and I was having a lot of sex. So I asked for what I thought was too much, $200, which I now know was way too low, and he met it. I walk into this L.A. mansion filled with blue-chip art, original Warhols in the lobby, and it turns out he'd hired me as a gift for his driver. It was great fun and I thought, Well, that was easy. That was around 2007.
What's this work like?
I was arrested in Vegas in a sting of two adjoining hotel suites, and I spent 48 hours in jail. That's never going to happen again. If anyone ever asks me, I say I charge for my time and companionship and anything else that happens is between consenting adults. Two weeks before I was arrested, I had a guy who I know was a cop sitting on the edge of my bed, waiting for me to agree with him to have sex for money. I wouldn't say it. He kept saying, "But I'm not a cop," which only a cop would say. I charge for my time, period. That's why I call myself an escort … Some days I love what I do. Like last night. The guy was just my type. I charge $150 an hour when I'm in New York because that's the right price for where I fit in the market, and that's what men who are interested in hiring a 52-year-old bear are willing to pay.
How has the bust affected you?
I haven't felt the effect of the site not existing. At most, 10 percent of my business came from Rentboy. There are dozens of these sites. I have my own website, and I advertise three or four other places. I make about $50,000 a year. I developed a gambling addiction after I moved to Vegas, so I'm still paying down those debts. Otherwise, I'd have a fat chunk of change right now … I'll do this for two or three more years at most. After? That's a really good question. I'm getting older, and I need to pay into FICA again. I'm as popular as I ever was as an escort. I also do porn and had four movies come out this year. I just got back from two weeks in France with a client. I'd rather not say how much I made. But I've gone on a ten-day river tour of the Danube and toured German Christmas markets. My normal fee for an overnight is $750.

 
3. Sailor, 43, New York and New Orleans
How did you use Rentboy?
I was a Rentboy advertiser since 2010. I first advertised on Rentboy during the recession. Prior to that I managed restaurants and bartended. I also built props and sets. But I had a really bad few months and wasn't getting paid for some gigs, and I needed money immediately. I thought, God knows you're a whore, so why don't you just get paid for it? I thought, Fuck it, if no one calls me, then they don't call. The Rentboy managers discouraged me. They definitely indicated that my look was beyond niche. I look like a hairy little Jewish Ewok.

But the first day I put up my pics I got calls. My first gig was with a Long Island construction-company owner in his 50s whom I had to meet in the South Slope. I rode my bike to a shitty hotel with burns in the sheets. He said he wanted to be with another masculine man and that I should bring cock rings and poppers. He couldn't have them in the house or his wife would find them. It was one and a half hours of dry-humping, then he shot his load and asked if he could deduct the $75 for the hotel room from my $200 fee, so I left with $125. I raised my fee $100 an hour after that since I felt like I should be competitive. Rentboy was big in big cities like New York, L.A., and London, but people outside of there haven't heard of it. It's just one site among many, but to pay enough to be in its top ten pages online can cost you an astronomical amount of money.
What's this work like?
My average gig is an hour. It involves me fucking them 90 percent of the time, sometimes leading up to it with dinner. I go to every gig expecting to give a pounding. I disengage from it and it becomes its own experience that I kind of enjoy. I go into it thinking I'm going to have fun, because that's the only way the client's going to have fun. Making clients happy became really important to me. It doesn't always work out. Some clients are overexcited or contrary or ornery, or they don't cut their nails, which makes me go mental. But I can't walk into a room and judge someone, or it won't work out. It could be a Vietnam vet or an Iraq vet with parts of himself missing. That's happened. He deserves whatever $250 to $300 would get anyone else. He wants a moment where he's not thinking about something.
Driving cross-country from California, I worked like a hooker from the Wild West. In Amarillo, 16 guys contacted me. A travel ad on Rentboy cost $30 a day. The escorts that make money are never home. I've seen escorts in every airport I've ever been to.

It's become so humdrum and day-to-day to me. I've had wads of cash and no idea what I've done with them. The first couple years I was making up to $80,000. Then I started to get radically more depressed and terrified of going out. You spend your days responding to bullshit emails and phone calls. Not that I didn't like it at the start. It was the thing that I'd been trying to figure out forever in terms of what to do with my life, because I was working in service since high school and had huge loans. After a few breakups, I didn't imagine myself having a relationship, so I was like, fuck it, why I am saving myself for some guy? Since then, I've dated on and off, but it never works out. Even if guys are initially into my being a Rentboy, it gets old. Escorting isn't easy on friends, either. You cancel every appointment, every movie date. Having a plan with a friend means you're gonna get a booking.

Now I make less. The wear and tear of opinions and reviews started to wear me down. The daily influx of hate mail, people writing how gross I am, bald, hairy, disgusting. I got a text in the middle of the night: "Are you sad that you never work?"
How has the bust affected you?
I think the raid might have affected my business last weekend slightly … I'll be in New York next month, and my regulars will book me for multiple hours or overnights, like $1,300. I have huge school loans, car payments, storage — a million things.
I don't think the shutdown will hurt me much. My regular clients want my sadness. What's made me good at my job is the physical connection. I'm willing to look you in the eye if that's what you want. The Hustlaball and the Hookies are like Tiger Beat — a bunch of boys who fake having sex. Good prostitutes are good because they're as lonely as the person who's hiring them … I've been slowing down lately anyway. I lost my lease in Brooklyn, so I've been trying to figure out where to settle next. I have to bow out of this at some point. In conjunction with my normal Jewish idiosyncrasies, all that attention to me and my body and my penis has aided in making me become a total recluse. It's all too fraught."


4. T., 25, New York City
How did you use Rentboy?
I was working at a start-up with shaky finances and making about $3,000 a month. I have a college degree and want to work in finance or business development, but I haven't found the perfect job yet, so escorting is a good second job for now. I started doing it last October. I had a friend who was doing massage, so I advertised on Masseurfinder. But some clients wanted more than a massage and didn't know how to discuss certain finer points, so I started advertising with Rentboy … I increased my income 30 percent through Rentboy. In February I did my first overnight with a client, then my first weekend trip.
What's this work like?
There's a certain enjoyment I get from doing this. You have to love sex, and I do — maybe to a fault. I also love good conversation, food, travel. There's an anthropological curiosity to it. That might sound hoity-toity, but it's quite nice to meet people in other age brackets and find out how they've come to that stage in their life.
I make about $2,000 a month from it, with anywhere from two to four gigs a week at at least $200 a gig. My clients are really across the board. Some don't say anything and just want the sex. Other times, it's "Hey, let's go grab dinner, see a Broadway show, maybe an overnight." Other guys like role play, like coach and athlete. They're fun. I gotta do my push-ups for them! One client wanted to get into a fetish that I'd rather not say except to say it's quite taboo, and there are certain precautions you have to take to do it right.

When I heard Rentboy was raided, I was a bit worried because of course they have my credit-card info with my actual identity. Hopefully the feds have bigger fish to fry.

I think it would take away a lot of the stigma if it were legal. A lot of my clients are just socially awkward guys who never knew how to love. You have to humanize them. Making it legal would make it safer and encourage more safe sex. But I don't think American society is ready for that. And I don't want to be more open about it myself. I only mention it to a few friends for my own safety, giving them addresses of where I'm going, checking in with them later, and to cope with my issues. I put my own intimate life on hold while I'm doing this because it's not a profession that anyone in a couple would want the other person to partake in.
How has the bust affected you?
Rentboy's closing hasn't really affected me. It's cheaper to advertise on Rentmen, and there's fewer escorts there. Rentboy would auction off certain prime ad space for ridiculously expensive amounts. It was overcrowded. You'd be in the back pages. Rentmen has better site functionality, too. Plus, it has fewer first-time clients, so you're getting more experienced guys who know what they want. I also have a nine-to-five temp job right now …


5. B., 28, San Francisco
How did you use Rentboy?
I'm a grad student … I started escorting around 2007. A few guys online had offered me money, so I charged them about $150, a lot lower than I'm making now, but I was looking to hang with most of these people anyway. Getting paid, I definitely was more concerned to see they were satisfied afterward. It was exhilarating and kind of fun. A year or two later, I started advertising on Rentboy for about $40 to $50 a month. I also started doing porn videos, and escorting became a way to advertise my porn career as well. Once I was a popular escort I went up to $300 an hour. Now I meet with two to three clients a month and make about $1,000. I'm on student loans, so I use the money to subsidize fun things or travel.
What's this work like?
I like doing it. I get to meet a variety of people, travel, explore different places. I tend to be more submissive and like to make sure people are satisfied. I'm more of a bottom. I don't like doing overnights, so I have a really high rate to deter them. The raid worried me. I've spoken with an attorney … Yes, I know that because I do porn as well as escorting someone could find me out in my future career. If I were asked to explain it? I'd say I had a very successful career in porn, which explains why I have a passion to work in media. I'm not embarrassed about it at all. I don't believe what I do is wrong, but since I'm seeking a professional career, it needs to be contained in some sense.
How has the bust affected you?
I'm a baby-daddy muscle pig. Definitely not a twink. Since the raid I've received less calls. Rentboy was the No. 1 name in the industry. Now people don't know where to turn for a safe, reputable place. I'm on other websites like Men4RentNow, and also meeting with regular clients. But I haven't met with a new client since the raid. I've had calls that haven't turned out to be serious. The raid may have scared a lot of people.


6. Knight, 30, New York City
How did you use Rentboy?
I started escorting six years ago. I have two master's degrees, but I couldn't find work to pay back my student loans. My parents were also out of work, and my brothers wanted to go to college, so I became the enabler for my family. I started advertising on another site but then went to Rentboy because it seemed safer and more professional, with more concern for the escorts' health and safety. The staff members there actually interacted with us and screened us, so there was a clear knowledge of who was and wasn't good. They provided a platform for us to meet with each other and communicate openly to avoid harm. They wouldn't permit minors. If they felt your age was questionable, they'd require confirmation.
What's this work like?
My look is bear, strong but no abs. I have a little belly. My first visitor was rather mundane. He asked me to wear some leather and didn't even stay the full time. One of my visitors is a CEO for a major company. I met him when he was 22, and he came to me for a session one hour before he had to meet a woman he was engaged to by an arranged marriage. A while later, he sat me down and said, "I broke off my engagement because I can't marry this woman if I never have feelings for her the way I have feelings for you." He's Chinese. He didn't come out to his parents because he's terrified of them, but he found the courage to make his own way in his own life. I was proud of what I was able to do for him.
I've had guys swoon at me for wearing stockings because I have big muscular thighs. What's sexy for me is to grant wishes for guys. Once I was with a DA with a big wrestling fantasy. He was gorgeous and beautiful, and we both had on these sexy singlets and played for three hours. At the end we were both sweaty and tired and I thought, Wow, this guy came and paid me for it. Why did someone gorgeous have to hire someone? Because escorts are generally reliable. I'm a good-looking guy, but when I go on Grindr or Growlr, maybe one in 600 interactions turns out passably satisfying. A pro knows what he's doing and will be there on time and make the caller the center of their world.

I've formed personal bonds with many of my visitors. After the raid, many called me and asked, "Are you okay? Can I help in any way?" One of my clients lost his job, so now I buy him lunch once a week.

If I can keep escorting respectfully and ethically, I'll do it my whole life. I have a friend who's 70 who's been doing it since he was 20. He's a good man who takes care of his husband. I'm continuing my education in the creative arts, so it's not like escorting is my only life. The connections I'm making are helping me advance.

I've been in a healthy, committed relationship for 12 years. My partner is fully aware of my job, and so are all my family members. Yes, I have to balance my time. I canceled a request for an overnight tonight so my partner and I could have date night. There's no such thing as a non-transactional relationship, anyway. Everyone puts money, time, and energy into relationships. A man buys a woman clothes, and she cooks for him.
How has the bust affected you?
I can't tell yet if the raid has affected my business because it happened in late summer, and then came the Jewish holidays. It's all been kind of quiet. Everyone's been seeing their regulars but no new clients. My co-workers said that their business stopped dead and they have no money. My friend Will is living out of his car now, and others are leaving New York or moving back in with parents. Rentmen.com is going to explode. Fortunately for me I have a good social-media presence, so I've been okay.
My next gig is in 90 minutes. This client likes to take me shopping, then we'll go back to his place and we'll go to dinner. He wants to pick me out a new pair of shoes at Paragon Sports. He has good taste, so I trust him.