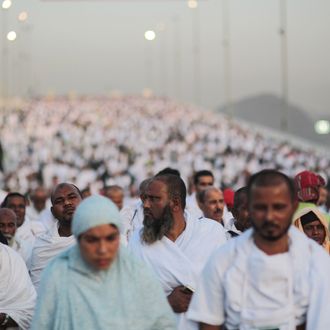 Hundreds of thousands of Muslim pilgrims make their way to cast stones at a pillar symbolizing the stoning of Satan, in a ritual called "Jamarat," the last rite of the annual hajj, on the first day of Eid al-Adha.
Photo: Mosa'ab Elshamy/Corbis
On Thursday morning, a stampede about two miles away from Mecca, Islam's holiest city, left more than 700 pilgrims dead. Millions of people are currently visiting the city for the annual Hajj pilgrimage, a trip that every Muslim is supposed to make at least once. 
The disaster took place on the third day of Hajj around 9 a.m., during a ritual reenacting Prophet Abraham's "stoning of the devil" in Mina on the first day of the Eid al-Adha festival. Pilgrims, accompanied by water bottles filled with pebbles, descended on a five-story building that looks like an escalator-equipped parking garage to do the ritual. The building was erected in 2009 to help prevent overcrowding. About 300,000 people can fit inside every hour. More than 850 people were injured during the stampede, which apparently took place at an intersection of two roads near where the ritual takes place; hundreds were being rushed to nearby hospitals. More than 4,000 rescue workers were dispatched to the scene. King Salman has asked that a committee be formed to investigate the tragedy, and Crown Prince Mohammad bin Nayef bin Abdulaziz called for an emergency meeting to coordinate Saudi Arabia's response. 
The city and nearby areas get so crowded during Hajj that it has become used to tragedies, especially stampedes. This incident appears to be the deadliest one to occur since 1990, when more than 1,400 pilgrims were killed during a stampede in a tunnel. In 2006, another stampede happened during the stoning ceremony. Thursday's stampede was not the first tragedy Mecca has seen this month; on September 11, more than 100 people died when a crane toppled into the Grand Mosque. Saudi Arabia was working to update and expand existing infrastructure — a project that cost billions — to better accommodate the crowds and prevent accidents from happening in the future.  
The Saudi health minister released a statement blaming "pilgrims who didn't follow the guidelines and instructions issued by the responsible authorities" for the tragedy. Khaled al-Falih later told a TV reporter, "If the pilgrims had followed instructions, this type of accident could have been avoided." He also said the death toll may rise. 
One pilgrim told the AFP that "[p]eople were already dehydrated and fainting" before the stampede even happened. Another survivor told the Associated Press, "It was terrible, it was really, really terrible."
The post has been updated throughout.