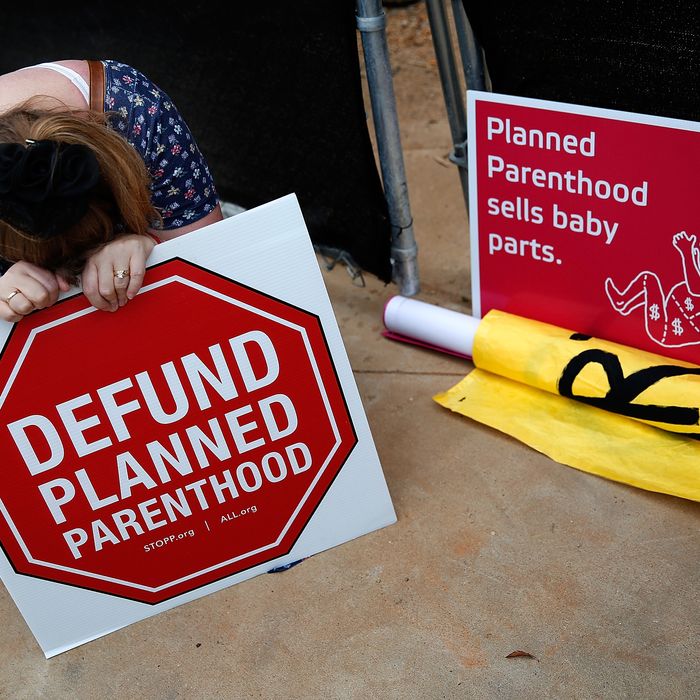 Anti-abortion protester Linda Heilman prays during a sit-in in front of a proposed Planned Parenthood location on September 21, 2015 in Washington, D.C.
Photo: Win McNamee/2015 Getty Images
Of the 11 states investigating Planned Parenthood's alleged mishandling of fetal remains, seven have concluded in a whimper. In a statement released Monday, Missouri's Attorney General announced that there was "no evidence whatsoever to suggest that Planned Parenthood's St. Louis facility is selling fetal tissue." The findings came after an audit of every procedure performed by the state's only authorized abortion facility over a 30-day span.
Pennsylvania, Georgia, Massachusetts, South Dakota, Indiana, and Florida have also been unable to prove that fetal remains are sold by the health-care provider for profit, as the highly edited undercover videos from anti-abortion group the Center for Medical Progress purport. Ongoing investigations in Arizona, Texas, Ohio, and Louisiana have yet to find the singular smoking gun that has Republican congressional leaders mulling a government shutdown in order to defund the group. (In a signature move from Louisiana governor Bobby Jindal, he ordered an investigation though Planned Parenthood's lone abortion clinic in the state hasn't even opened yet.)
Even if Republicans were successful in freezing out the organization, the Congressional Budget Office concluded in a report last week that cutting off federal funds to Planned Parenthood would cost taxpayers approximately $130 million over ten years. 
Alabama and Utah, however, have skipped over the symbolic statewide investigation effort taken by more "moderate" states, opting instead to embrace pure hysterics by suspending all funding toward the organization. The attempts to cut the flow of Medicaid dollars to the organization have provoked a stern warning from the Department of Health & Human Services.
Planned Parenthood responded swiftly by filing suit Monday against Governor Gary Herbert of Utah, on the heels of their suits against Jindal and Governor Robert Bentley of Alabama. Planned Parenthood's victory in the suits is likely. A motion filed by the U.S. Department of Justice in the suit against Jindal argues that the state of Louisiana's effort is "wholly without merit," a sign of yet another losing battle for vigilant anti-abortion states nationwide.