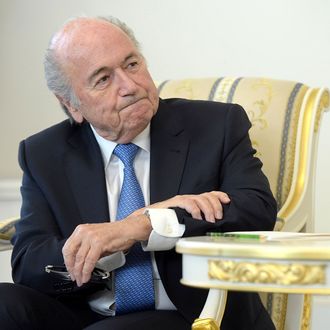 Sepp Blatter.
Photo: Dmitri Azarov/Kommersant Photo via Getty Images
Swiss investigators have opened criminal proceedings against FIFA president Sepp Blatter, another major development in the ongoing investigations into top officials from the organization. The Swiss attorney general's office announced the proceedings on "suspicion of criminal mismanagement" and "misappropriation." Part of the case involves a contract Blatter is said to have signed that gave control of Caribbean Football Union World Cup television rights to Jack Warner, an indicted former FIFA official. FIFA awarded the rights to the 2010 and 2014 World Cups for $600,000. Warner, in turn, licensed those rights for $20 million. The charges accuse Blatter of violating his fiduciary duty to FIFA by signing a contract that investigators call "unfavorable to FIFA."
The Swiss also said that Blatter is suspected of making what they call a "disloyal payment" of 2 million Swiss francs to UEFA president Michel Platini, now the leading candidate to take over for Blatter as FIFA president when a special election is held in February. The attorney general's office says the payment "was allegedly made for work performed between January 1999 and June 2002; this payment was executed in February 2011."
Swiss prosecutors have searched Blatter's office and seized data, and also interrogated him after a meeting of the FIFA executive committee in Zurich earlier today. Platini was also asked to provide information.