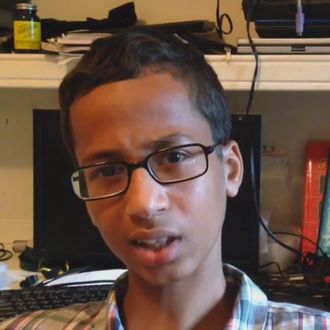 Ahmed Mohamed had just started high school in Irving, Texas, and wanted to impress his teachers with his ability to take circuits and wires and make them into familiar objects — something he had loved to do in robotics club in middle school. "Here in high school, none of the teachers know what I can do," Mohamed explained to the Dallas Morning News. 
So he built a clock in a pencil case with a tiger hologram on it, and brought it to school on Monday. The 14-year-old proudly showed his handiwork to an engineering teacher, who said he shouldn't show the clock to anyone else. An English teacher told him that it looked like a bomb, and took the clock away. He was later sent to the principal's office, where the police were waiting. When Mohamed walked in the room, one officer said, according to the ninth grader, "Yup. That's who I thought it was."
Everyone quizzed him about the clock, telling him it looked like a movie bomb. He was eventually taken to a juvenile detention center
— while wearing a NASA T-shirt — and charged with making a hoax bomb, although police acknowledge that the bright student never told anyone the gadget was anything but a clock. He was fingerprinted and handcuffed, and has been suspended from school for three days. His clock remains in an evidence room.
The Dallas Morning News story ends with Mohamed vowing "never to take an invention to school again."
"It made me feel like I wasn't human," he said. "It made me feel like a criminal." 
The Council on American-Islamic Relations is currently investigating the case. The police report lists three teachers who filed complaints against Mohamed on the "hoax bomb" charge. The Irving Independent School District sent a statement to an NBC affiliate in Dallas-Fort Worth, noting:
School officials have been cooperating fully with the police investigation, and while privacy laws prevent us from sharing specific details about student discipline, we can assure everyone that school administrators are handling the situation in accordance with the Irving ISD Student Code of Conduct and applicable laws.
Twitter was filled with people supporting the precocious kid on Wednesday — including the president of the United States.
This post has been updated throughout.