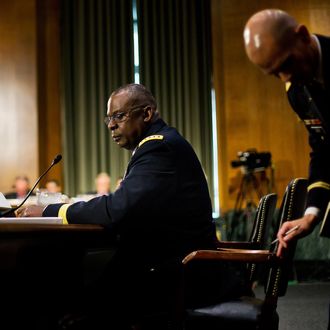 General Lloyd Austin III, center seated, looks back to his military aide while testifying on Capitol Hill.
Photo: Pablo Martinez Monsivais/AP/Corbis
In a Senate hearing today, U.S. Central Command admitted that just "four or five" U.S.-trained rebel fighters remain active in the Syrian conflict. The $500 million rebel training program, authorized last spring and projected to produce 5,400 fighters by this stage in the conflict, isn't even living up to the very low expectations set for it.
Devastating casualties — due to unexpected skirmishes with Al Nusra rebels — along with a high dropout rate, contributed to the skeletal ranks of the unit, known as the "New Syrian Army Front." If you do the math, like Tim Mak at the Daily Beast did, the price tag of the remaining fighters comes out to $7,200,000 per man.
Despite facing the squirm-inducing wrath of the Senate Armed Forces Committee, who characterized the training efforts as a "joke" and a "total failure," the Pentagon requested another $600 million to continue the program — presumably to train at least a busload of fighters.