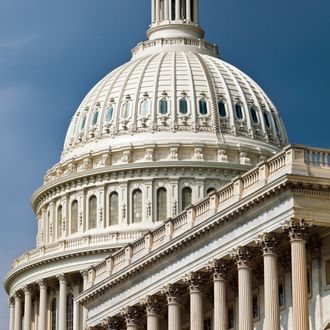 Photo: Tim McGuire/Corbis
Republican Senate candidates campaigning in 2014 had a great advantage; since it was a midterm election, potential voters leaned conservative and were mostly unimpressed with the current Democratic president. As a result, Democratic senators who were elected in 2008 — a year with some impressive Democratic coattails — had an exceptionally difficult time getting reelected. So many Republicans ended up winning close races that the GOP ended up taking over the whole Senate.
Now the tables have turned, and Republican senators elected in 2010 — the year when tea-party Republicans marked their first big wins and Democrats lost the House — will now be playing defense on 24 Senate seats during a presidential election year where voters will be far less conservative, especially in blue states. Ten Democratic Senators are up for reelection or retiring.
Endangered GOP senators have begun to prepare by getting very miffed at the colleagues who don't seem to appreciate the situation they're in. Next week, the government could shut down thanks to conservative demands concerning Planned Parenthood's federal funding, which these soon-to-be-campaigning senators think is very stupid. 
Senator Kelly Ayotte, running for reelection in New Hampshire, gave a speech on the Senate floor yesterday about her frustrations: "I'm tired of the people on my side of the aisle who have been pushing this strategy, even though they know they don't have the votes to pass it in the United States Senate, and they certainly don't have the votes to override a presidential veto," she said. "We all know what it's going to take to keep the government open, and I think we should have that vote now instead of continuing to have to have the political show votes that show people where we know the votes already are on this issue. And that means a clean funding bill now so that we aren't wasting time."  
The Democratic Senatorial Campaign Committee is running digital ads against Republican senators Mark Kirk of Illinois, Rob Portman of Ohio, Pat Toomey of Pennsylvania, Richard Burr of North Carolina, Ron Johnson of Wisconsin, John McCain of Arizona, Rand Paul of Kentucky, Roy Blunt of Missouri, and Ayotte, all up for reelection next year. The ads ask the officials to help avoid a shutdown. Kirk's campaign told the St. Louis Post-Dispatch that the senator "continues to answer the call for independent leadership by breaking from his party to support women's access to health care and opposing efforts to shut down the government." Portman appeared fearful that his party would mess up his campaign earlier this year, too — in February, he debuted the End Government Shutdowns Act. Portman's Senate opponent, former Ohio governor Ted Strickland, is sending out fund-raising emails featuring the potential shutdown. 
Kirk and Senator Lisa Murkowski of Alaska, also up for reelection, along with moderate Senator Susan Collins, wrote a bill to try to appease both sides of the Planned Parenthood debate; it would only get rid of federal funding for the handful of clinics that have sold aborted fetal tissue for research — the issue that has conservatives incensed in the first place. 
Toomey, who announced his reelection bid earlier this month, said, "I don't think it's a good idea to shut down the government" over Planned Parenthood. McCain has said he would like to defund Planned Parenthood, but doesn't want to think of shutting down the government again. "Too much damage was done [last time]. Overwhelmingly the people rejected the shutdown of the government. They don't like the government but they don't want it shut down." Senator Chuck Grassley in Iowa has said he is confident that he'll be reelected — but he is also willing to vote for a clean funding bill without a measure to defund Planned Parenthood in it. 
After the 2013 shutdown, 53 percent of Americans blamed Republicans in Congress for causing it. Seventy-seven percent of respondents said Republicans are more interested in doing what is best for them politically instead of what's best for the country. On the other hand, Americans also voted many Republicans into office the following year. 
Senator Ted Cruz, the once and future government-shutdown architect who is not up for reelection, seems less worried about what mayhem a shutdown may cause electorally. Although Republicans writ large became super unpopular after the last shutdown, Cruz became far more popular among tea-party Republicans — who happen to be the voters Cruz is trying to court for his as-of-yet-tepid presidential bid.