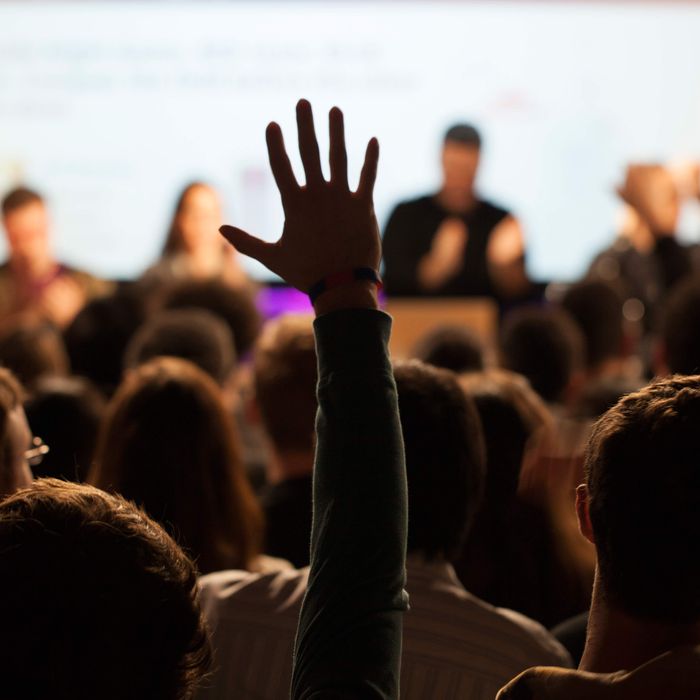 Photo: Courtesy of Quirky
One of the start-up world's favorite words, in addition to disrupt, pivot, and on-demand, is community. Kickstarter identifies as "a community of people committed to bringing new things to life." "The heart and soul of Etsy," begins the About Etsy page, "is our global community." Airbnb calls itself "the world's leading community-driven hospitality company." You're not, in other words, just joining a platform where you can fund your screenplay, or hawk your hand-knit iPhone koozies, or rent your apartment — no, you're belonging to something bigger than yourself.
But back in 2009, perhaps before the word had lost all meaning, a small-time-invention start-up called Quirky built a community that really acted like one. It told the first-world-problem solver in all of us — the one who thought up single-serve French-fry-makers and foldable coffee mugs and musical footballs while out walking the dog — that she no longer had to innovate in a vacuum. Anybody could join. On Quirky's website, users would assess and workshop each other's inventions. The most successful ideas, as determined by a vote, would be designed and built by the company. In some cases, the inventors made a lot of money. And it is for that tiny dreamer that the company's recent death spiral feels like a true loss.
It all came to a head on what seemed like a typical Thursday evening this July, during the weekly Quirky ritual known as Eval. A studio audience of about 100 people gathered in the company's former-rail-car-terminal headquarters in Chelsea. Lit by webcams from above and a bank of futuristic equipment behind, Quirky's 28-year-old founder, Ben Kaufman, stood at a lectern in his usual black V-neck tee and announced a panel of product-evaluation experts by nickname: Anna "Make a Buck" Buchbauer, Justin "J-Bomb" Seidenfeld, Aaron Dignan, a.k.a. El Presidente. Ideas submitted and voted on by the Quirky community — watching the livestream from their living rooms — were presented via pitch videos and commentary from Kaufman: a voice-activated lightbulb, a paper-thin Bluetooth speaker that fits in your back pocket, an on-the-go beverage carbonator. The masterminds who won majority approval would hear the rallying mantra "Congratulations, you're a Quirky inventor!" and have the chance to be like fellow Eval winner Garthen Leslie, a 63-year-old IT consultant from Columbia, Maryland. Leslie came up with the idea of a smart air conditioner during his morning commute, uploaded a rough diagram of the idea to the Quirky platform, and found the community waiting to help him refine it, suggesting additional features and weighing in on the sizing, specs, and the name, which would be Aros. And keeping with Quirky's leave-the-rest-to-us business model, the company then patented, manufactured, marketed, and sold the unit into Walmart and Amazon, returning 10 percent of the profits to the inventor and those that played Watson to his Graham Bell (in this exceptional case, that's amounted to more than $400,000 for Leslie and more than $200,000 for the community).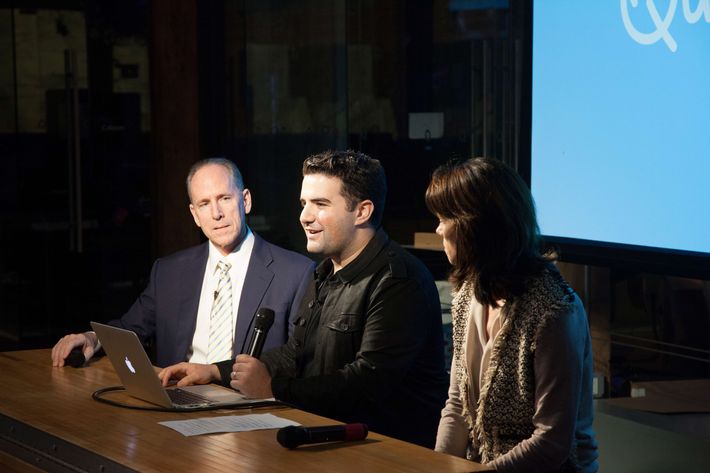 But this Thursday, July 16, it would turn out, was not an ordinary Eval. In fact, it would be the next to last one Kaufman ever did. Following the broadcast, he tacked on what he called an "after-party" — a.k.a. a crisis-management session aimed at addressing recent bad press that the company had gotten. In June, in a sweaty interview onstage at the Fortune Brainstorm conference, Kaufman admitted the company was all but "out of money," which had once amounted to $185 million in funding from investors like Andreessen Horowitz and GE. In July came the news that nearly the entire New York City staff would be laid off. By August 1, Kaufman would officially step down from the company he started at age 22. It so happened that for every Aros-type success, the community had waved in many more duds like the Beat Booster, a wireless speaker with a built-in charging station that by one account cost the company $388,000 to develop but only sold about 30 units.
It's not surprising that Kaufman used the word transparency no fewer than three times in the first five minutes of that after-party, the bottom line of which was that he frankly didn't know if the company would survive — Quirky's fate was in the investors' hands. Because, for all the aspirational, rarefied Bushwick-bar vibes telegraphed by the Evals, Quirky was, of course, all about being real. Its cluster of a million members included folks like — to cite some of the most recent inventors featured on the website — Tony Lytle, a welder and proud grandfather from Larwill, Indiana, who'd dreamed up the Pawcett, a step-on drinking fountain for dogs; and Hadar Ferris, a licensed cosmetologist in Oceanside, California, responsible for decorative muffin-top molds called Bake Shapes; and Pennsylvania-based Navy veteran Jason Hunter, who gave birth to the Porkfolio app-enabled piggy bank. (In the age of artisanal everything, just as we want to know where our pickles were brined and our former-church-pew coffee tables were carved, here, too, was the meaningful personal backstory behind your magnetic bottle opener.)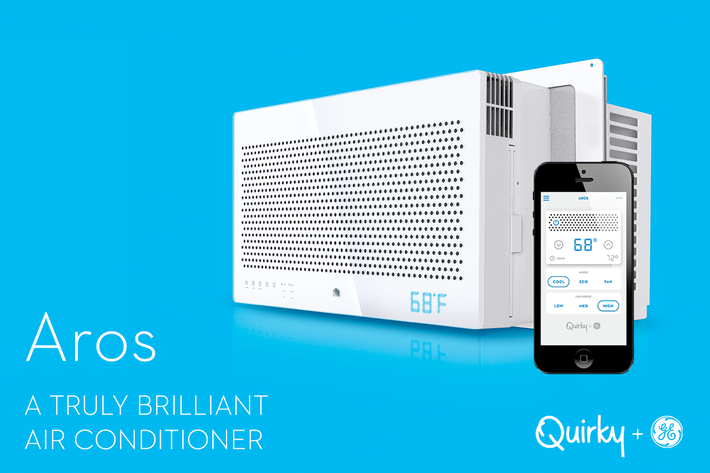 A few weeks after he was ousted, Kaufman emailed with me from his first-ever personal email account: "It's weird waking up one day and not even having an email address," he later said on the phone. "This had been my whole life." He was a small-time inventor himself at first, for a range of iPod accessories he started in high school that went on to become the company Mophie. At the 2007 Macworld Expo, he handed out pens and sketchpads and asked people to help design Mophie's 2007 product line (sound familiar?) and then held a vote for the top three ideas. That same year, he sold Mophie, reappropriated the Macworld crowdsourcing schtick, and tried to launch a similar concept to Quirky. What helped Quirky finally get off the ground in 2009 was the recession-driven push for alternative incomes (no coincidence that Kickstarter as well as the entrepreneur-competition show Shark Tank, another bastion of scrappy innovation, also launched in 2009). Plus, there was more of a universal comfort with the practice of online sharing: We were now very used to telling our Facebook friends what we ate for breakfast, and by extension, we might as well tell the Quirky forum about our concept for a better egg-yolk extractor. Our notion of community, then, was evolving, and Kaufman — Mark Zuckerberg wrapped in a teddy-bear build, with the mischievous smile of your son or younger brother (depending on where you fell in Quirky's wide-ranging age demographics) — was a relatable leader.
On the consumer end, seeing these ordinary tinkerers immortalized on the shelves of the Container Store (a big Quirky perk was that inventors' names and faces appeared on their products' packaging) was like watching the Spanx lady on QVC for the first time in the early aughts — a humble fax-machine salesperson from Clearwater, Florida, who just wanted to wear control-top pantyhose without the hose. Inventors were just like us! And now everybody could be the Spanx lady (albeit for only a tiny fraction of the profits), because unlike her, we didn't have to side-hustle all alone. Next it could be my cousin in Westchester, who had four kids but no one to help her prototype her idea for a mother-baby bath towel. Next it could be my semi-retired father, who was in a private war with his never-shuts-properly pantry door and needed a constructive, supportive outlet for his aggression. Next it could be my friend Sarah, who was full of lightbulb moments — an Oreo-dunking robot claw, a universal key for all your locks — but was too stoned to sort through the mechanics by herself.
Quirky was catnip for the press: The Sundance Channel produced a short-lived reality show on the company in 2011. Kaufman appeared on Leno. This magazine featured it as a Boom Brand of 2013, noting, "It's a pretty rare company that's so hippieish — Let's have everyone get a say! — yet so purely free-market." The Times devoted several thousand words to a piece called "The Invention Mob, Brought to You by Quirky" just last February (by then its financially unsustainable business model had given way to a pivot — a smart-home subsidiary called Wink — that was too little too late).
Another Times piece, from this past April, cited Quirky as a springboard for the realest of all Real People: older people. "There's a boom in inventing by people over 50," John Calvert, the executive director of the United Inventors Association, told the paper. And indeed, Quirky had plenty of them in its hive — like 59-year-old Lorin Ryle, a full-time caretaker for her dementia-stricken mother. When her clip-on baby monitor for the elderly won at Eval, she says she cried, watching from her Hutto, Texas, home. It never actually made it to development (in fact, only about half of the Eval winners ever do), but for Ryle that didn't take away from the experience of "working with people to make something work," she says. "I've made lifelong friends on there." (Another Quirky boomer, Marc Rumaner, who came up with a nifty little wine-bottle anchor called Vine Stop, has even gone so far as to host barbecues for fellow community members in his Chicago area.)
Of course, the inmates didn't always like running the asylum. There was much talk in the forums that the Eval system seemed too democratic. "I failed to see how any of us could know what a product scout from a company like GE or Mattel could know," says one community member. And indeed, when you look at misfires like the Drift, a $200 wooden balance board that simulates snowboarding and surfing, or the $80 Egg Minder, an app-enabled egg tray that signals to your smartphone when you're running low on eggs, it would appear that the company's raison d'être was also the reason for its downfall, a colony of amateurs green-lighting unscalable solutions to nonexistent issues. Quirky brought more than 400 products to market in just six years.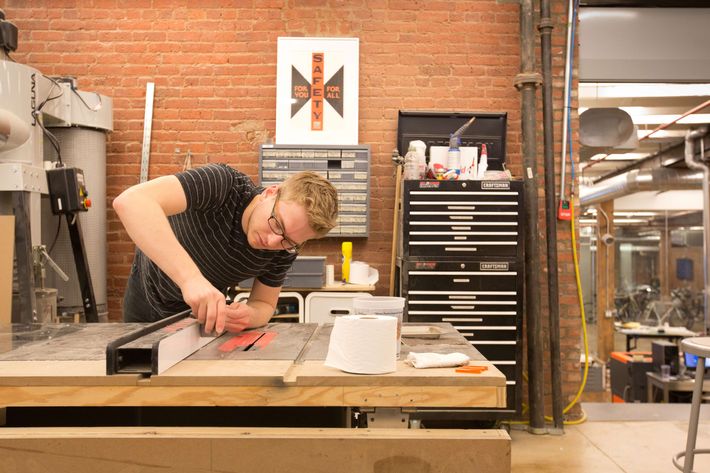 Yet Kaufman points out that the community had much less say than all the high-pressure voting would suggest; the real decisions were made when the cameras stopped rolling and he and the actual experts did the math on a product's marketability. (So, maybe not so much power to the people, after all.) But, he adds of Eval, "There had to be a thing to look forward to on a regular basis — otherwise how are you going to keep the community engaged?" Quirky steered the ship, you might say, but the community was still the North Star.
Steering the ship — handling all of the engineering, manufacturing, marketing, and retailing, even when you're taking 90 percent of the subsequent profits — was ultimately too expensive of a proposition, especially in comparison to other, less-handholding-oriented start-ups. "The reason why Kickstarter makes a ton of money is they don't have to do anything besides put up a website," Kaufman notes. After that, the failure (and let's face it, many Kickstarter-funded products go on to fail) is all on the individual. Which is not meant to be a dig, Kaufman clarifies. He won't confirm his next venture but says, "I love Kickstarter." And: "I will likely use it."