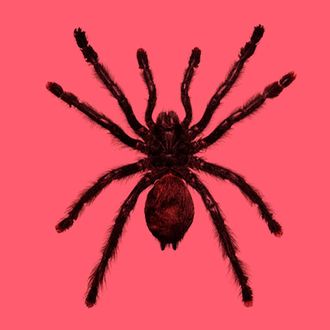 This September, it almost felt like the country was in the middle of a spree of spider-related crimes — depending on how you feel about arachnids, they could be labeled as spider-on-human or human-on-spider crimes. A man filling up his car in Detroit last Tuesday saw a spider on his gas tank and tried to kill it with a flame. As Fox 2 Detroit put it, "You don't have to be a rocket scientist to figure out what happened next." No one was hurt, and the only casualty was the now-destroyed gas pump — and probably the spider.
A week earlier, a woman in Indiana jumped from her car — her 9-year-old son was inside — when she saw a spider while backing out of a driveway. Her car ran right into a school bus after her son jumped into the driver's seat and tried to stop the car, instead accelerating it. 
This is not the first time in the past few years that people who think spiders are scary* have crashed cars, set things on fire, or have caused other strange problems for law enforcement. 
Here is a small sample, which is large enough to confirm that the only thing to fear are people who are deathly afraid of things, because they are very capable of making bad decisions — and that maybe it's a good thing that driverless cars are being tested. 
September 27, 2015: A tarantula gets out of the cargo hold of a plane about to leave Baltimore — all of the passengers are ushered off the plane and onto another delayed flight — and airport employees have to search to see if there are any other spiders wandering about. 
September 12, 2015: A man in a Spider-Man mask robs a Subway in Newport News, Virginia. 
September 4, 2015: Aragog, a tarantula named after the very large spider from Harry Potter, goes missing at the University of Massachusetts Lowell. A sign posted in the building where it disappeared warns that the spider is not dangerous — but does bite.
May 30, 2015: Police officers pull over an Ohio driver who is veering onto the other side of the road. There is a spider in the car; it is not driving the vehicle, but it has rendered the woman in the driver's seat unable to do so. 
May 4, 2015: A Pennsylvania man in a Spider-Man costume is arrested for allegedly robbing a bank. 
April 15, 2015: Police officers arrive at a hotel in Ohio where a loud fight has been reported. The guests causing the disturbance report that they were arguing about whether the insect on their bed was a spider or a bedbug. 
September 8, 2014: A man causes a car crash while trying to kill a spider in Oregon. 
August 6, 2014: A Kansas woman uses a cigarette lighter to set towels on fire — which then set her apartment on fire. She was trying to kill a spider.
July 27, 2014: NYPD arrests a man in a Spider-Man costume in Times Square. He is the third Spider-Man arrested in one year.  
October 24, 2013: An English woman calls the police to report a spider in her house. She informs the dispatcher that her mom was gone. When asked how old she is, the woman replies, "Well I'm nearly 48 but I've had to shut the bathroom window." The police officer notifies her it is a crime to call the number unless there is an emergency. "Well, I thought that was really." 
August 28, 2013: An Oregon teen calls the police for advice on how to kill a spider. "I know if I hit that spider and didn't kill it and it ran, we'd never find it," she later tells a reporter. A police officer arrives at her house and kills the spider with a rolled-up newspaper. 
* An earlier version of this post called spiders insects — which, of course, they are not. Daily Intelligencer promises to only call them arachnids from now on.