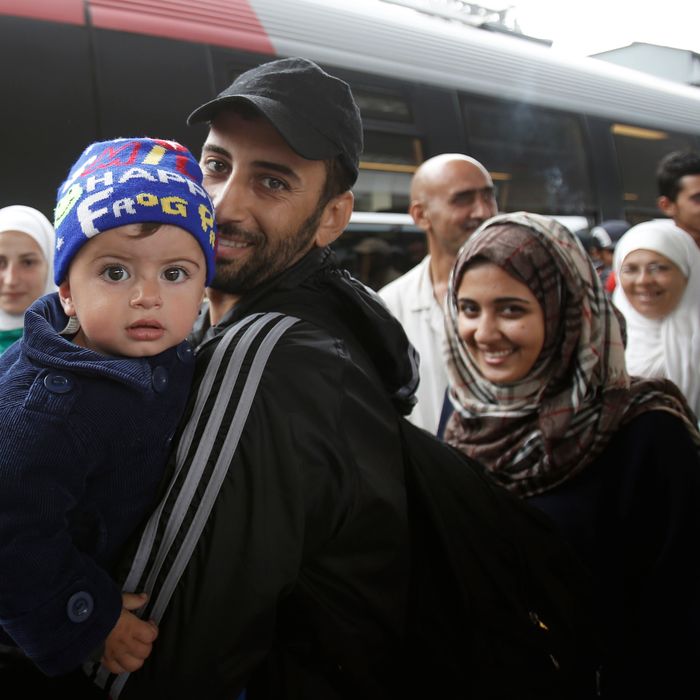 Migrants smile as they arrive at the Westbahnhof Station on September 5, 2015, in Vienna, Austria.
Photo: Alex Domanski/Getty Images
Thousands of migrants who had been stranded in Hungary have now reached Austria, according to Reuters, following a temporary breakthrough in which both Austria's and Germany's governments agreed to accept the refugees, and Hungary's typically anti-immigration, right-wing government agreed to help transport them. Many of the migrants had become stranded in Hungary after the overwhelmed government froze train service to the rest of Europe in an attempt to halt the flow of refugees throughout the country. Meanwhile, both Austria and Germany announced that they would temporarily waive the requirement that refugees to the E.U. register for asylum in the first European country they reach, thus fully and immediately welcoming the migrants who had been stranded in Hungary.
Throughout Hungary on Friday, hundreds of fed-up migrants simply broke out of their respective camps and starting marching toward Western Europe via highways and railroad tracks (some even using Google Maps on their phone to determine the way). Eventually, Hungary's government relented, opened the border with Austria to the migrants, and began bringing in buses to take what ended up being 4,500 people to the Austrian border last night, while another 1,000 have crossed into Austria on foot by this morning. In all, at least 6,500 migrants have already crossed into Austria over the last 24 hours, with thousands more on the way.
Once over the Austrian border, migrants have been greeted with assistance from charity workers, transported to an Austrian camp or to Vienna, and either allowed to apply for asylum in Austria or to continue traveling on to do so in Germany. One thousand of the migrants traveling through Hungary have now arrived in the German city of Munich since last night, and the German government is expecting as many as 9,000 more to arrive via special trains throughout the day. 
The organized, open-armed approach taken by Austria and Germany stands in stark contrast with the way migrants have been treated by authorities in Hungary, as aid workers are providing refugees with food, water, travel arrangements, and lodging. While Hungary's train service has been halted, Austria is adding extra train and bus service to accommodate the migrants, and the BBC reports that in Munich, local well-wishers even showed up to meet the arriving refugees and welcome them to their new home (migrants have been greeted similarly in Austria as well):
Meanwhile, back in Budapest, newly arriving migrants are already taking the place of those who just left at the city's Keleti train station, even though rail service is still canceled and the Hungarian government has said it will provide no more buses for migrants. Thus, some of the newly arrived refugees are already heading off for the Austrian border on foot. Though many ordinary Hungarians have reportedly sought out marching migrants to offer food, water, and even rides to the border, the country's government continues to mostly treat the migrants as a nuisance at best.
Elsewhere in the migrant crisis, another refugee child was found drowned on a Mediterranean beach today in Greece after the newborn's parents had attempted to reach the shores of the Greek island of Agathonisi by boat from Turkey. Most of the migrants in Hungary followed a similar route in their journey to Europe.
Sadly, the Associated Press reports that according to the International Organization for Migration, of the more than 2,700 people killed trying to reach Europe from the Middle East and Africa, only a third of the recovered bodies have ever been identified, leaving many relatives subsequently unable to confirm the fate of their missing loved ones.