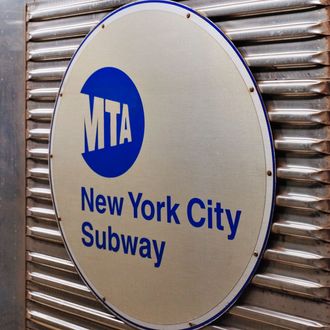 Photo: William Manning/Corbis
New York commuters interested in confirming suspicions about — or affirming admiration for! — their respective subway line(s) should direct their attention to the New York Public Interest Research Group Straphangers Campaign's 17th annual "State of the Subways" report, which was released on Thursday. The report, compiled with data from 2014, evaluates the city's 20 trains based on the following criteria: breakdowns, car cleanliness, chance of getting a seat, frequency and regularity of service, and accuracy and clarity of in-car announcements.
First, the most important question: Which subway line is actually the worst? This year it's a tie between the B and the 5!
According to the Straphangers Campaign, "The 5 performed with the worst regularity of service and was below average on two other measures: delays caused by mechanical breakdowns and seat availability during rush hour." That's despite "performing near average on frequency of scheduled service and subway car cleanliness" and — along with the 4 and the 2 — having the best in-car announcements in the game. 
The 5's brother-in-badness, the B, "performed below average on three measures: amount of scheduled service; delays caused by mechanical breakdowns; and subway car announcements," while doing an average job on cleanliness. It did earn above-average scores for regularity of service and the likelihood of finding somewhere to sit during rush hour, so at least B riders can rest their feet as they sit in a stalled car, struggling to understand the conductor's garbled explanation.
Meanwhile, the 7 was named the best line for the second year in a row. It earned that honor by being "the best in the system on frequency of service and subway car cleanliness - and also performed above average on two other measures: delays caused by mechanical breakdowns and seat availability at the most crowded point during rush hour." Still, the 7 has its weaknesses, performing below average on service regularity and announcements.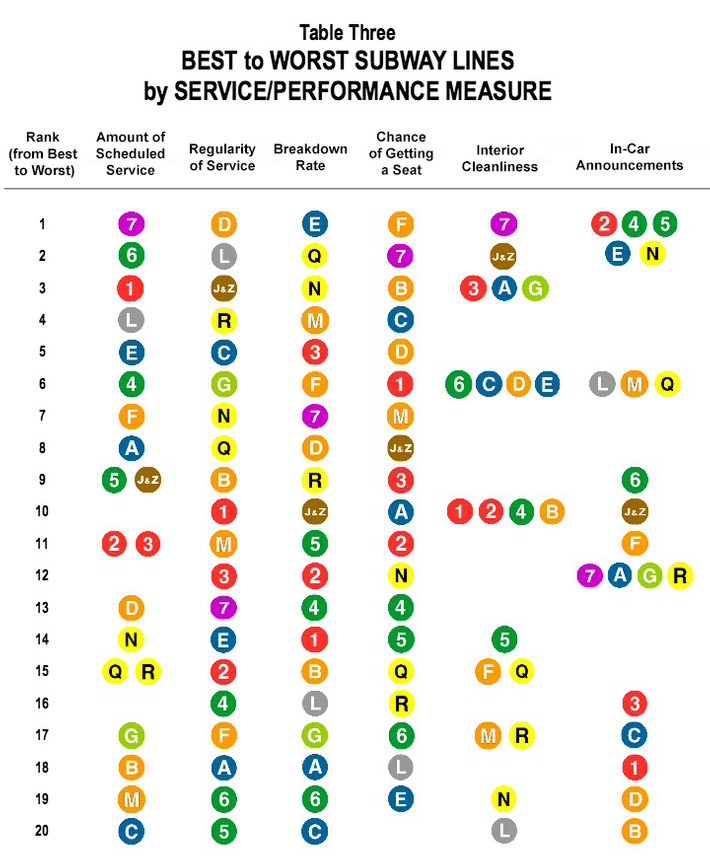 The report noted an increase in breakdowns throughout the subway system, with a 7.9 percent decrease in the average number of miles a train traveled without a mechanical failure. The general quality of in-car announcements declined by 1.1 percent. As with the year prior, the overall cleanliness rate was 92 percent — which sounds good but somehow seems not quite right.