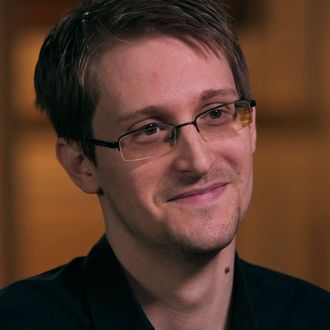 It isn't easy being a cable-news booker. There are so many talking heads in the Beltway! And sometimes their names get confused. But when you're looking for a prominent Twitter pundit to provide an earnest defense of NSA outlaw Edward Snowden, you probably shouldn't pick the guy whose handle is @fart.
On Wednesday afternoon, HLN anchor Yasmin Vossoughian wanted to provide some in-depth analysis of Snowden's recent decision to create a Twitter account. Earlier in the day, former New York governor and nominal GOP presidential candidate George Pataki tweeted:
To test the governor's argument, Vossoughian decided to run it by prominent Twitter user John Hendren. Unfortunately, her staff did not book John Hendren (@johnhendren), the Al Jazeera journalist, but rather Jon Hendren (@fart), comedian and troll.
The interview began auspiciously enough, with the cable-news host asking what makes Snowden not a terrorist. Hendren replied that the whistle-blower is actually a true patriot.
"Jon, Twitter shut down ISIS' account, why do you think Snowden is any different?" Vossoughian asked.
"He's a hero. He's doing what any one of us should have done in that situation," Hendren replied. "He's got a voice. He's been isolated for so long."
But when Vossoughian asked about the possibility that Snowden's leaks may have caused harm to American intelligence agents, the two started to talk past one another.
"Well, you know, to say he couldn't harm someone … well, absolutely he could," Hendren said. "But I think to cast him out, to make him invalid in society, simply because he has scissors for hands … I mean, that's strange. People didn't get scared until he started sculpting shrubs into dinosaur shapes and whatnot."
"All right. Well, now Snowden's living in Russia," the anchor replied, not realizing that NSA-Leaker "Edward Scissorhands" does not live in Russia, but in director Tim Burton's fevered imagination. 
"We're treating him like an animal, like someone who should be quarantined and put away," insisted Hendren, who, remember, uses the Twitter handle @fart. "Just because he was created on top of a mountain by Vincent Price, incomplete with scissors for hands and no heart. Edward Scissorhands is a complete hero to me."
"But what about the choice that he made to live in a country like Russia?" Vossoughian asked.
"I mean, where else is he going to go? You know?" Hendren said. "We cast him out. We got scared when he poked a hole in a waterbed with his scissor fingers, and that was unreasonable of us."
Unmoved and surprisingly unflustered, Vossoughian carried on with the sacred task of upholding the fourth estate: "Well, John, I appreciate you giving us your opinion."