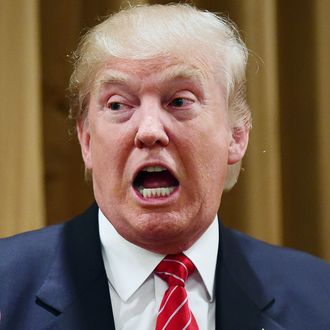 Donald Trump.
Photo: FREDERIC J. BROWN/AFP/Getty Images
Just five days after Donald Trump announced, for the third time, that he would stop doing interviews with Fox News because they're "treating me very unfairly," the network said the GOP front-runner would appear on Tuesday's O'Reilly Factor. Fox News disputes Trump's version of events. The candidate sat down with Fox's Greta Van Susteren a week ago, then continued bashing several of her colleagues on Twitter. Fox News claims that they actually canceled his scheduled appearance on last Thursday's O'Reilly Factor shortly before Trump proclaimed he was cutting ties with the network.
Trump is set to sit down with Fox News chairman Roger Ailes sometime this week, and the meeting has reportedly not happened yet. Meanwhile, Megyn Kelly said on Monday, "I don't want to talk about Donald Trump any more, truly," when asked about their feud during an Advertising Week panel. We can't wait to hear Trump explain why he suddenly thinks Fox News is treating him fairly.