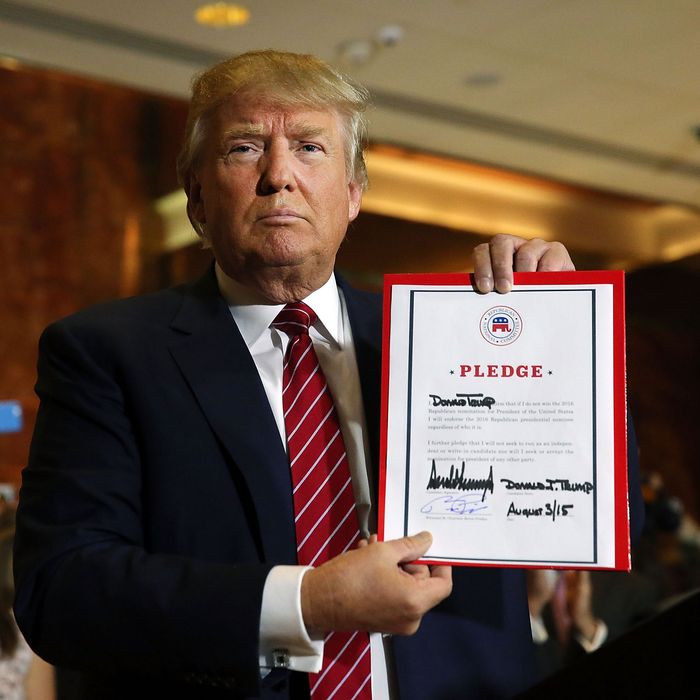 Photo: Spencer Platt/Getty Images
At least one element of the GOP's Donald Trump nightmare may have come to an end. On Thursday afternoon, Trump signed a pledge to back the eventual Republican nominee in the general election, removing his not-so-subtle threat to run as a vote-siphoning independent if he doesn't become the GOP candidate. The big moment took place at Trump Tower (with Republican National Committee chairman Reince Priebus looking on) and was followed by remarks by the man himself.
"I will be totally pledging my allegiance to the Republican Party and to the conservative principles for which it stands," announced Trump. Asked if his loyalty to the GOP came with any strings attached, he responded, "I got nothing other than the assurance that I would be treated fairly." He added, "I see no circumstances under which I would tear up that pledge."
Still, as you might expect, "Republicans familiar with Trump's decision" told the Washington Post that he "may have caveats or conditions upon signing that have not yet been shared beyond the businessman's tight-knit inner circle." Those sources added that Trump could rescind his promise should the GOP fail to show him "respect." Or maybe he just intends to exploit this potential loophole: 
This post has been updated throughout.