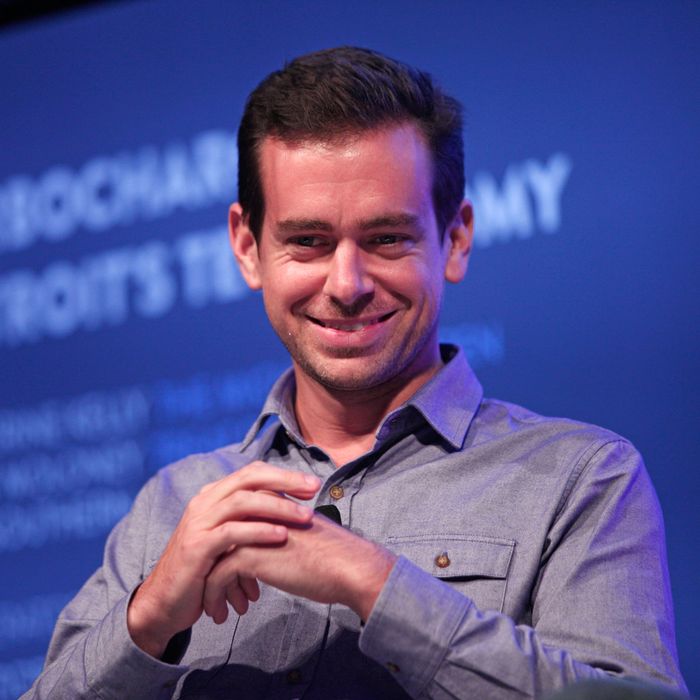 He's back.
Photo: Bill Pugliano/Getty Images
Update: It's now official — Jack Dorsey announced on Twitter Monday morning that he would become the permanent CEO at Twitter while remaining CEO of Square.
Adam Bain, another rumored CEO candidate, will become chief operating officer. He was previously Twitter's head of global revenue and partnership.
***
Apparently eager to return to the 16-hour days of managing two tech companies, Jack Dorsey will be named Twitter's permanent CEO tomorrow, according to Re/code. The move would mark the end of a stalemate on the company's board over whether company co-founder Dorsey was the right choice to replace Dick Costolo, who stepped down in June. A number of prominent investors, including billionaire investor bro Chris Sacca, have been agitating for interim CEO Dorsey to get the job.
"I get what I want," Sacca said during a USA Tech event last week. He described the board's inability to agree on Dorsey as "negligent" and predicted Dorsey's return as "inevitable." His Twitter feed has been a rolling sales pitch for Dorsey.
Venture capitalist Keith Rabois, a major backer of Dorsey's other company, Square, has endorsed the move: "Deion Sanders played in both the World Series and the Super Bowl," he said. "I don't see any reason why Jack can't do that."
Plenty of other people affiliated with Twitter have excitedly greeted the news, too.
Dorsey has been aggressive —  but not necessarily successful —  in both roles. Square has rolled out some innovative features, but it's a minnow in shark-infested waters, competing with Google Wallet and PayPal, which is now taking a bite out of Square's mobile card reader market. Dorsey at the helm of both companies may hint at a future moments of symbiosis between the two. For instance, Twitter recently unveiled an option to donate directly to a political candidate on the platform, using Square to process the contributions.
Overall, both companies have suffered over the past year. Square has yet to find a profitable business model. And despite rumors that the company was attempting to sell itself off during this downturn, Dorsey recently filed documents for a public offering, a strategy that has drawn plenty of skepticism.
Twitter's stock has been steadily dropping, down a third this year and now standing below its IPO price. But Dorsey seems to see it as a buying opportunity: He recently purchased another $875,000-worth of Twitter stock. He made the move public in the most @Jack way possible, simply tweeting a link to the SEC purchasing document. One of Twitter's main goals is to get new users — many who are intimidated by the immensity of content produced on the website — to become devoted tweeters. It's something the company hasn't had too much luck with so far. 
This post has been updated throughout.