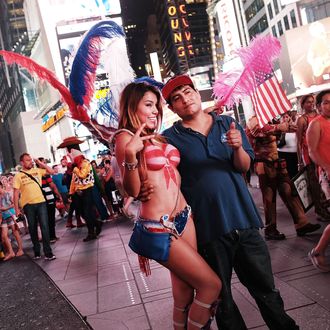 Photo: Spencer Platt/Getty Images
On Wednesday night, three "desnudas" — the topless, body-painted women who perform for tips in Times Square — wound up dealing with the new NYPD unit created to appease New York's supposedly scandalized residents and tourists.
In one incident, desnudas Lourdes Carrasquillo and Maria Ruiz were allegedly attacked by Mark Walters, a Bank of America executive visiting from Charleston. The New York Daily News reports that after accusing Carrasquillo of stealing his wallet as they posed for a photo together, Walters "[grabbed] her hair and [shoved] her to the ground." When Ruiz tried to intervene, Walters hit her on the head. An officer who witnessed the altercation initially detained all three of them, but, as CBS 2 reports, "it was determined [Carrasquillo] didn't take the wallet because she was only wearing a thong and had nowhere to put it." Carrasquillo was taken to a hospital to be treated for head and neck injuries, while Walters was charged with two counts of misdemeanor assault.
Meanwhile, in a separate incident, desnuda Destiny Romero and a man described by the Daily News as her "handler," Juan Perez, were arrested after they allegedly sold cocaine and molly to some undercover cops. Romero also allegedly agreed to a paid sex act with one of the officers. "Romero was charged with three counts of drug possession and one count of prostitution," according to the Daily News. "Perez was charged with promoting prostitution, sale and possession of a controlled substance and possession of marijuana."
Mayor de Blasio has formed a task force to address Times Square's signature cast of hustlers, which, in addition to the desnudas, includes Elmos, various superheroes, and the guys still out there trying to sell CDs. The panel is expected to deliver its recommendations on October 1.