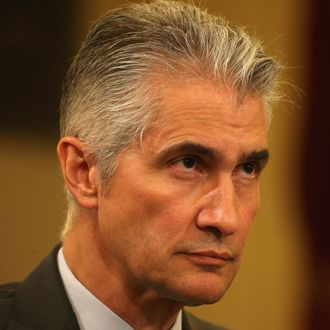 Jeff Smisek, former chairman, president and CEO of United Airlines.
Photo: Mark Wilson/Getty Images
The Bridgegate scandal has yet to take down New Jersey governor Chris Christie (though it probably hasn't helped his 2016 chances), but in an unexpected twist, it indirectly sparked the resignation of a handful of top United Airlines executives. Jeff Smisek, chairman and chief executive, Nene Foxhall, executive vice president for communications and government affairs, and Mark R. Anderson, senior vice president for corporate and government affairs, stepped down on Tuesday amid a federal corruption probe into whether the airline launched an unprofitable Newark to Columbia, South Carolina, flight solely for the benefit of the Port Authority of New York and New Jersey chairman, who used the flight for jaunts to his vacation home near Columbia.
The Port Authority chairman in question is close Christie ally David Samson, who was appointed by the governor in 2010 and stepped down in 2014 over his alleged role in the politically motivated lane closures on the George Washington Bridge. The federal probe initially focused on the bridge scandal, but the investigation has expanded into other forms of suspected corruption at the Port Authority, including the so-called "chairman's flight."
"The departures announced today are in connection with the company's previously disclosed internal investigation related to the federal investigation associated with the Port Authority of New York and New Jersey," United Airlines said in a statement. "The investigations are ongoing and the company continues to cooperate with the government."
According to the New York Times, the U.S. attorney for New Jersey is investigating whether United agreed to keep the Newark to Columbia flight in return for improvements at Newark Liberty International Airport, where it is the largest carrier. The direct flight was launched in 2011 shortly after Smisek and Samson had dinner in Manhattan, and it was canceled just days after the Port Authority chairman stepped down.
Smisek will be succeeded by Oscar Munoz, who is a United board member and the former CEO of the railroad company CSX. In a conference call on Tuesday, Munoz acknowledged, "[T]his news is unexpected." "It is certainly a new chapter for United," he continued. "[A]nd I hope to make you as optimistic as I am about our future here and the things we can accomplish at the airline. I'm ready to get to work."