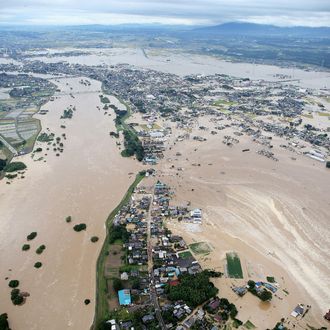 The overflowing Kinugawa River drenches houses and streets in eastern Japan.
Photo: Jiji Press/AFP/Getty Images
A tropical storm has caused severe flooding in eastern Japan, forcing more than 100,000 residents to evacuate. At least seven people were missing on Thursday, and at least 100 more were waiting to be rescued. Several injuries have been reported.
The chief forecaster at the Japan Meteorological Agency called the rain "unprecedented," according to the BBC. "We can say this is an abnormal situation and there is imminent serious danger."
Given the nearby mountains, many fear that more flooding and mudslides are unavoidable. At least 800,000 more residents were told to evacuate; warnings about continued rainfall were sent to at least 5 million people.
Joso, a city north of Tokyo with a population of about 65,000, was hit the hardest, as the Kinugawa River overflowed and drenched houses and cars, carrying them away. Tropical Storm Etau has dropped about two feet of rain in the region since Monday; before the storm hit, rain had been falling almost daily, leaving the ground already saturated before the worst of the weather began. Fukushima, infamously devastated by a 2011 tsunami that killed more than 15,000 people, saw the most rain it has seen in 50 years over the past few days. According to The Guardian, radioactive water has leaked from the Fukushima nuclear power plant and into the Pacific Ocean this week because of the flooding. 

The Japanese Self-Defense Forces have been flying over Joso in helicopters, plucking those waiting on rooftops and waving towels in the air. At least 100 have been rescued by the military so far. 
"The government will stand united and do its best to deal with the disaster, by putting its highest priority on people's lives," Prime Minister Shinzō Abe said. The rain is supposed to continue until Friday morning.