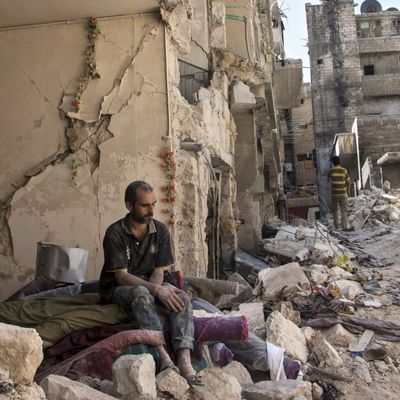 A Syrian sits in rubble a day after a barrel bomb attack on his rebel-held neighborhood in Aleppo.
Photo: Karam Al-Masri/AFP/Getty Images
Secretary of State John Kerry announced Sunday that in response to the ever-worsening international migrant crisis, the U.S. will raise the annual number of refugees it accepts over the next few years. The Wall Street Journal reports that under the new plan, the U.S. will take on 85,000 refugees in the fiscal year 2016, which starts in October, and 100,000 in 2017, up from a current annual total of 70,000. The 2016 total would include the 10,000 Syrian refugees the Obama administration has already said it would like to admit, and more Syrians in 2017 as well.
Anything would be better than the status quo, as the U.S. has issued refugee visas to only 1,500 Syrian refugees since the Syrian civil war began in 2011. (According to the New York Times, last year the largest groups admitted were from Iraq, Somalia, and Bhutan.) The backlog of Syrians is already substantial, as the U.N. has referred some 17,000 Syrians to the U.S. for asylum consideration, and next year's 10,000 will come out of that pool.
Speaking from Germany, a country where officials expect to receive some 800,000 refugees this year, Secretary Kerry said the quota boost would be in "keeping with America's best tradition as a land of second chances and a beacon of hope." In addition, on Monday, the White House announced that it will contribute an additional $414 million in aid for displaced Syrians, which according to White House spokesperson Josh Earnest, will bring total U.S. spending on Syrian relief efforts to $4.5 billion. Regardless, these latest moves by the U.S. are but a delayed drop in the bucket — particularly the increase in the refugee limit, which as Bloomberg's Josh Rogin points out, will take a long time to make a small difference:
The problem with the plan, no matter how quickly adopted, is how long it will take to have any effect. Migrants applying for refugee asylum in the United States now will not have their applications considered until at least 2017 because of a long backlog. And once an application begins to be considered, the asylum seekers can face a further 18 to 24 months before they are granted or denied asylum.
Rogin also spoke with the Washington director of Human Rights Watch, Sarah Margon, who added that "becoming a U.S. refugee is not an immediate protection option":
'These numbers are a good start, but they are woefully inadequate, unbelievably late, and not a substitute for a policy that would ensure better protection for Syrians.' Part of the problem, she said, is that the U.S. government has not addressed the growing refugee crisis for several years and is just now rushing to action.
Bloomberg's Justin Sink gives an overview of what the U.S. asylum process entails:
Only a select few of the estimated 4.1 million people who have fled Syria's war will be eligible for resettlement in the U.S.[…] Workers from the office of the United Nations High Commissioner for Refugees and non-governmental organizations such as the Red Cross evaluate Syrian refugees who have fled to camps in neighboring countries. To be considered for U.S. admission, refugees usually must be deemed 'vulnerable,' a designation that includes widowed women, unaccompanied children, political targets of Syrian President Bashar al-Assad's regime, and those with life-threatening medical conditions.

Interviews by United States Citizenship and Immigration Services officers aim at establishing whether Syrians meet the legal definition of refugee: a well-founded fear of persecution in their home country. Customs officers also help prepare documents and biographies for security officials who determine whether refugees have connections to terrorists or militants [or have criminal pasts].
But looking at America's recent record dealing with Iraqi and Afghani asylum seekers, the outlook for Syrians seems even less optimistic. As Foreign Policy's David Francis notes, out of 230,300 Iraqis who were referred to the U.S. for resettlement during a seven-year period in the last decade, and the 142,670 who were subsequently interviewed, only 84,902 ultimately made it to America. That's not the only issue: 
Even with its 16 percent denial rate, the United States was able to draw on Iraqi applicants' criminal records and other background information supplied by Baghdad, an ally, when vetting refugees. That's not the case in Syria, where President Bashar al-Assad has had a frosty relationship with the United States for more than a decade. […]

And that's not even counting the dismal acceptance rate for Iraqi and Afghan refugees who were allowed to resettle specifically because they helped the U.S. war effort — as either translators or advisors — in their two countries since the early 2000s.
There's also the cost of incorporating more refugees into the U.S., as Foreign Policy's Siobhán O'Grady explains:
The U.S. spent more than $1 billion to settle 70,000 refugees to the country during the 2014-2015 fiscal year. To add another 15,000 would likely cost the government at least another $200 million. The White House does not need congressional approval to expand the refugee quota, but it will depend on Congress for the funding necessary to accommodate those who seek asylum in the United States.
Those accommodations include extensive support from local agencies to help refugees resettle and adjust to life in the U.S., as well as five years of financial assistance. O'Grady goes on to note how unreceptive many in the GOP have been on the issue:
Some Republicans have voiced opposition to the acceptance of Syrian refugees, pointing to a case of two Iraqi refugees in Kentucky who in 2011 were found guilty of terrorism after their fingerprints were tracked to roadside bombs in Iraq. That case prompted legal changes to the U.S. refugee program, which has significantly slowed down the process for asylum-seekers desperate for Washington's approval for settlement status.
Many Republicans would prefer to assist Syrian refugees where they are rather than bringing them to the U.S. They have raised concerns about whether U.S. agencies could responsibly handle a higher quota, and the possibility that ISIS members could pose as refugees to infiltrate the U.S. The National Review's Ian Tuttle sums up the latter point, writing that "the Islamic State's ability to manipulate the migrant crisis to its ends is hardly negligible. Given the sheer magnitude of the migration, it is a virtual certainty that terrorist organizations are taking advantage of the crisis to insinuate themselves into Europe." Terrorist infiltrators aside, the Los Angeles Times notes that ISIS has been discouraging actual Syrian refugees from migrating to the West:
Islamic State propagandists seem to view the exodus to Europe as a blow to their plans to expand their self-proclaimed caliphate. The group already enforces strict controls on who may leave and enter its territory. Many of the Syrian migrants now arriving in Europe have been living outside Syria, especially in Turkey and Lebanon, for months or years. The fate of the multitudes of Europe-bound migrants, according to Islamic State, is to go to the 'Camps of Disappointment' and face a litany of woes, including humiliation, campaigns to convert them to Christianity, corruption and drowning.
Meanwhile, there's no consensus on either side of the 2016 presidential race. Democrats Martin O'Malley and Hillary Clinton have both called for the U.S. to accept as many as 65,000 new Syrian refugees (the same number the U.N. recommended), but Bernie Sanders has remained noncommittal on the subject. On the Republican side, as the Washington Post's Adam Taylor laments, the subject was almost entirely absent at last week's GOP debate — with the only related comments being criticism of President Obama's military decisions, not the existing crisis or what to do about it:
In the past, Republican presidential candidates have given a variety of answers when pressed on America's role in the refugee crisis. Some, such as Trump and Sen. Lindsey Graham (S.C.), have made vague statements in support of the United States accepting more refugees. Others, however, have pushed the other way: Louisiana Gov. Bobby Jindal said the idea was 'ridiculous,' while Carly Fiorina said the United States has already done its 'fair share.'
Elsewhere in the GOP field, John Kasich has come out in support of Obama's plan to accept 10,000 additional Syrians, while Marco Rubio said he would be "potentially open" to the idea. Speaking about the issue on Sunday, a terrorist-wary Rand Paul was more interested in Iran and Gulf countries taking the refugees, while last week Jeb Bush wanted to focus on accepting the Syrian and Iraqi Christians over anybody else.
A Reuters/Ipsos poll released last week indicated that Americans are themselves somewhat divided on whether or not to accept more Syrian refugees. About 35 percent of those surveyed said accepting 10,000 Syrians is too many, 23 percent felt that was about right, and 20 percent said the U.S. should take more. But The Atlantic's Russell Berman argues that regardless of their own ambivalence, this issue is one voters should pay close attention to in the 2016 election:
The urgency of the refugee question now also means that it could — hopefully — be moot by the time the next president takes office in 2017. But as hypotheticals go, pressing the candidates on how they'd handle a humanitarian immigration crisis in real time is probably more enlightening than asking them to debate mass deportation and border wall-construction. And at a moment when nativism appears to surging again among conservative voters, the Republican candidates in particular will have to weigh that restrictionist impulse against their simultaneous appeals to American exceptionalism, stronger leadership abroad, and a more muscular intervention in Syria and against ISIS. It's a complicated question, to be sure, but as the crisis escalates, it's one that is quickly gaining in importance.