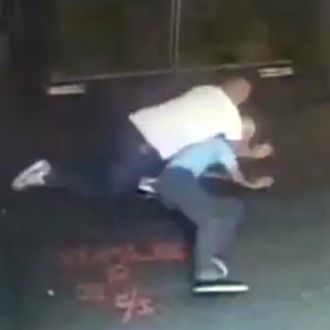 The NYPD has released surveillance footage of a plainclothes cop tackling and arresting retired tennis star James Blake, who was misidentified as a participant in a credit-card-fraud ring on Wednesday afternoon. Mayor de Blasio and Police Commissioner Bill Bratton both apologized for the incident on Thursday, with Bratton acknowledging the possible "inappropriateness of the amount of force that was used during the arrest."
The video shows Blake leaning against a pillar outside the 42nd Street Grand Hyatt, where he was waiting for a ride to an appearance at the U.S. Open. Suddenly, Officer James Frascatore runs over to Blake, drags the 35-year-old in front of the hotel's entryway, body-slams him into the sidewalk facedown, and grinds his knee into his back as he places him in handcuffs. At no point does Blake appear to resist. Frascatore then flips Blake over and leads him out of the frame.
In an interview with the New York Daily News, Blake said that Frascatore didn't say anything before grabbing him, nor did he identify himself as a cop during the arrest: "He just rushed me."
The New York Times reports that Frascatore and several other officers kept Blake handcuffed for 15 minutes. Eventually, the group realized they had the wrong guy, and Blake was released. An official told the Times that "it did not appear that Officer Frascatore ever explained things to Mr. Blake or apologized." The cops also failed to report the mistaken arrest, as they are required to do. Bratton said he first heard about what happened from the press.
Frascatore, who is now on desk duty and under an Internal Affairs investigation, has been accused of bad behavior in the past. The Daily News reports that the 38-year-old, a four-year veteran of the NYPD, is "a defendant in four ongoing civil cases that charge he and other officers used excessive force during false arrests." Frascatore has also had "at least five complaints lodged against him with the Civilian Complaint Review Board," though only one of those has been "partially substantiated" so far.