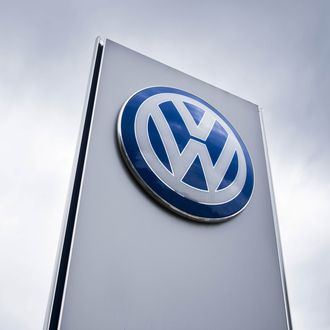 A Volkswagen dealer in Berlin on September 22, 2015.
Photo: Odd Andersen/AFP/GEtty Images
After an emergency meeting with Volkswagen executives on Wednesday, CEO Martin Winterkorn announced he was resigning. He said it was "in the interests of the company" for him to leave, "even though I am not aware of any wrongdoing on my part." At the end of last week, it became clear that many of the German car company's diesel vehicles had been cheating on emissions tests — and spewing pollutants into the air for years.
"I am shocked by the events of the past few days," Winterkorn added. "Above all, I am stunned that misconduct on such a scale was possible in the Volkswagen Group." A new CEO will probably be appointed on Friday, the day when his contract was up for renewal; it's not certain that Winterkorn will be the only person to leave the company in the next few weeks.
Winterkorn is also "convinced that the Volkswagen Group and its team will overcome this grave crisis." However, it might be a very long time before Winterkorn's predicted happy ending becomes a reality.
A day earlier, the Volkswagen scandal got a whole lot bigger when the company admitted that emissions-test-cheating software might have been installed in as many as 11 million cars worldwide. Regulators — who noticed that the company's diesel cars looked like they complied with Environmental Protection Agency rules regarding nitrogen oxide, but only when the vehicles were being tested — previously thought only about 500,000 cars were affected.
When the car wasn't being tested for air pollution, it produced as much as 40 times the nitrogen oxide allowed by the EPA, although the car also got better mileage. Nitrogen oxide is a pollutant that can lead to asthma and emphysema — and these cars were pumping it right into the atmosphere without anyone noticing. According to the Guardian, "The rigging of emissions tests may have added nearly a million tons of air pollution by VW cars annually – roughly the same as the UK's combined emissions for all power stations, vehicles, industry and agriculture."
The EPA first noticed that something was wrong last year, which means that Volkswagen knew they were being investigated for emissions problems for a long time before the scandal went international. And, as the EPA complained in a letter to the company last week, Volkswagen's initial response was "limited." That has changed significantly in the past few days.
"We have totally screwed up," Volkswagen's top executive in the U.S., Michael Horn, told the audience at a launch event for the 2015 Passat in Brooklyn on Monday, an event that was probably less exciting than usual thanks to context and despite the presence of German beer and Lenny Kravitz. 
Winterkorn said he was "endlessly sorry" in a video statement posted on Tuesday, before his resignation. "And, to be clear, manipulation and Volkswagen — this must never happen again.'' He conceded that "at this point, I don't have the answers to all the questions." 
Some have been skeptical that such a huge ruse could have happened without the CEO knowing – especially at a top-down organization known for micromanagement. One compliance and ethics consultant told the New York Times, "For something of this magnitude, one would expect that the C.E.O. would know, and if he doesn't know, then he's willfully ignorant."
The Justice Department is also opening a criminal inquiry into Volkswagen — the EPA already has its own investigation — and the House Oversight and Investigations Subcommittee plans on holding a hearing on this matter. The company is recalling all affected cars with Type EA 189 engines that may be equipped with the "defeat device," which, according to CNN, include the "VW Jetta, Beetle and Golf from 2009 through 2015, the Passat from 2014-2015 as well as the Audi A3." These cars — which were often marketed as "clean diesel" vehicles — are no longer available for purchase in the U.S. either. Fixing the cars to comply with EPA regulations may make them use up fuel more quickly or give their engines shorter lifespans, making it less likely that U.S. consumers will be compelled to buy them — although all of the bad press from the past few days may have condemned Volkswagen sales to suffer in the U.S. for the next few months anyway.
This definitely isn't the first time a car company has gotten in trouble with regulators, as the New York Times points out, "the automobile industry, Volkswagen included, had a well-known record of sidestepping regulation and even duping regulators."
For decades, car companies found ways to rig mileage and emissions testing data. In Europe, some automakers have taped up test cars' doors and grilles to bolster their aerodynamics. Others have used "superlubricants" to reduce friction in the car's engine to a degree that would be impossible in real-world driving conditions. Automakers have even been known to make test vehicles lighter by removing the back seats.
Meanwhile, shares in Volkswagen have continued to tumble. In two days, about a third of the company's value has disappeared. Earlier this summer, Volkswagen became the top car company in the world by global sales, stealing the crown from Toyota, which has dealt with its own recall scandal this past year.
The whole German auto industry — about 20 percent of the country's exports – is worried about this fiasco. Before the scandal, one in four of new cars sold in Europe were Volkswagens. On Tuesday, Chancellor Angela Merkel told reporters, "Given the difficult situation, this is about showing complete transparency, clearing up the entire case. … And I hope that the facts will be put on the table as quickly as possible." Other countries plan on investigating the "clean diesel" cars as well.
The company will set aside $7.3 billion, half a year of profits, to pay for the affected cars to be fixed, as well as all of the fines, civil-lawsuit settlements — nearly 50 have already been filed — and other expenses they might have to deal with soon.
In the far smaller market of random people selling used cars on Craiglist, selling Volkswagens might have already started to become a fool's errand. Marketwatch talked to a student trying to sell a 2002 Jetta. He hasn't received a single interested response yet. "Maybe there really is a smear on the brand," he told a reporter, before adding that he might be stuck with the poor, unloved car forever.
The post has been updated throughout.