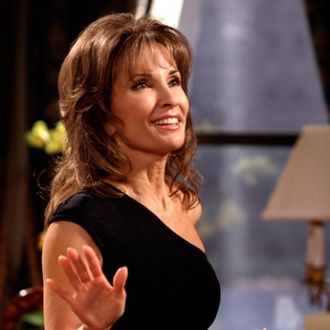 Clearly not doing enough to fix the economy.
Photo: ABC
Since people complain about Congress all the time — the legislative body's approval rating is around 13 percent — Jimmy Kimmel sent his Lie Witness News team into the field to see if unhappy citizens knew who to blame for their dissatisfaction. It was pretty easy for the show to find a handful of people who couldn't name a single member of Congress — voters who also seemed to be mostly unaware of pop culture, children's literature, and American history and could be easily convinced that their representative was in fact a well-known fictional character or soap-opera star.
A man from Queens wanted to tell Representative Susan Lucci — who may have finally won an Emmy, but has definitely never won an election —  to do a better job with education; one woman said that Representative (and wizard ) Neville Longbottom should work harder to bring jobs back to the U.S. One voter told Representative Grover Cleveland, who is in fact a dead president, that he was doing a great job — but that he should be in the press more. 
Another person wanted to tell Representative Ash Ketchum to vote for Donald Trump because America needs some change — evidently, the fact that a cartoon character had already been elected hasn't been change enough.