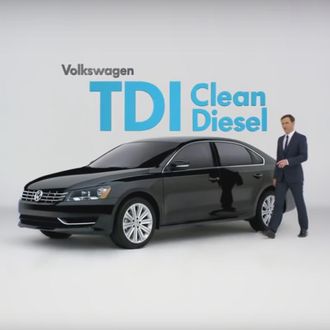 Volkswagen's "clean diesel" vehicles have been responsible for emitting more than just a fraudulently outsize helping of asthma-aggravating nitrogen oxide for the last six years: There's also the retrospectively toxic plume of their adorable, ukelele-scored, multimillion-dollar ad campaigns touting these supposedly extra-green vehicles. The company pulled the ads off YouTube, so we put together a selection for your wonderment at how advertising is not a truth-based form of communication.
They display, in retrospect, the sort of well-honed ecomendacity that now helps sell all sorts of products and corporations these days, when the green consumer wants to feel good while buying stuff. Spectral shots of clean skies; dirty, stained children (but clean cars, get it?); white teeth; and witty plots evidence how VW managed to help convince Americans to buy nearly half a million of these cars.
Spot one was produced by Crispin Porter + Bogusky; spot two by Venables, Bell & Partners; and spots four through six by Deustsch LA.  
1. Starting in 2009, Volkswagen embarked on a massive North American campaign to promote clean diesel. The "Truth & Dare" effort, as VW's VP of Marketing put it to AdWeek, was about "debunking the myths on clean diesel and fueling the passion of existing diesel owners."
2. Audi, which is also owned by VW and facing the same recall for emissions deceit, began their pitch for clean diesel in 2009, as well. "Diesel, no longer a dirty word." 
3. Being a mom is hard! Especially if your kids are slurpee-stained little devils rolling around in the back of "the no. 1 diesel car in America."
4. The 2014 and 2015 ads featuring the "old wives" who gab on about diesel and Italian deli meats were probably the most effective, in the sense that they are memorable. Here, they put their white linens against a Sportswagon's exhaust to prove its cleanliness.
5. This is the follow up to the VW's ground-breaking "Laughter" ad that ran sans car. The self-referential spot is a little cynical, like how we're feeling right now. AdWeek's goopy adoration of the spot:"Being able to laugh at a laugh. That's the power of German engineering.
6. "Door Thunk" drew more acclaim from AdWeek, who saliently reminded us what we think we already know, when we're not getting carried away by the plunk of ukeleles. "Whatever the reliability of the vehicles themselves, this is advertising you can always count on."
7. Then there's the presciently named U.K. spot, "Bollocks."