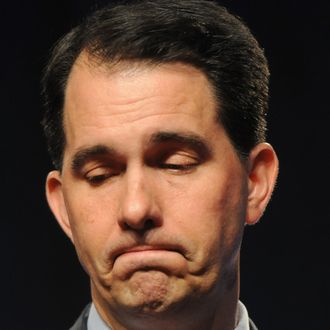 Scott Walker speaks at the Iowa state fair on September 19, 2015 in Des Moines.
Photo: Steve Pope/Getty Images
At a press conference in Madison, Wisconsin, Governor Scott Walker suspended his 2016 presidential campaign. Although he had been doing well in the polls in Iowa, his national poll numbers plummeted after last week's debate. The New York Times reported that money was the main cause for his unexpected decision to drop out, a decision that was apparently made in the past 24 hours. Although Walker supporters had dumped millions into a super-pac supporting the candidate, his campaign's fund-raising money was almost all gone. Walker canceled several events in the past week, which didn't seem like a good sign.
Walker did not say much at his last press conference as a 2016 hopeful, but he did make time to ask many of his former opponents to also drop out of the race if they didn't have a chance either, "so that voters can focus on a limited number of candidates who can offer a positive, conservative alternative to the current front-runner."
Although Walker is clearly trying to give his exit a higher purpose, it is worth noting that he often made an effort to avoid saying anything negative about Donald Trump while he still had a chance of winning a primary; Walker said in July, "Donald Trump can speak for himself. I'm going to answer questions about my positions, not Donald Trump's or Jeb Bush's or Marco Rubio's or anyone else's out there."
Donald Trump had only nice things to say about Walker. 
Richard Trumka, head of the AFL-CIO, did not.