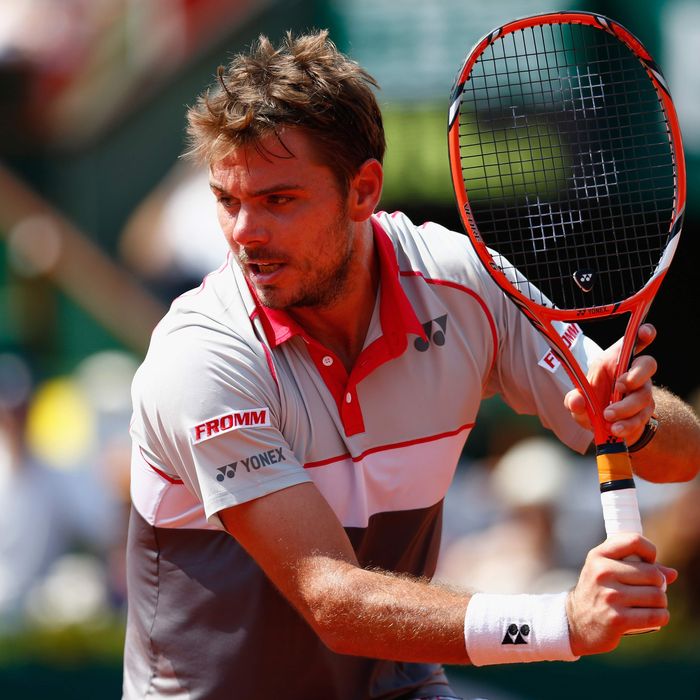 Stan Wawrinka at the 2015 French Open.
Photo: Julian Finney/Getty Images
Stanislas Wawrinka has always been known as that guy that nobody really knows in tennis. For years, he was most famously known as Roger Federer's doubles partner, growing up in the Swiss training program, and living in the shadow of modern tennis's ultimate maestro. But in recent years, Wawrinka has undergone a kind of personal uprising, reshuffling his team and his love life, winning two Grand Slams, and emerging as arguably the most potent threat to upset Novak Djokovic at the U.S. Open this year (so long as he can reclaim his groove heading towards the quarterfinals this week.)
As a pro, Wawrinka, now ranked No. 5, is reaching his tennis zenith, but he's in a constant state of trying to find balance, professionally and personally.
"Ups and downs," Wawrinka says, as we head back to his hotel after a match last week. "It's just my life. Some players find a way, but for me it's never easy."
Cruising along the Grand Central, Wawrinka talked about his upbringing in rural Switzerland, wearing a T-shirt with his name on it ("Stan the Man," it screamed), and his emergence as a public tennis commodity. His roller coaster started earlier this year, when he announced he and his wife were separating for a second time. He blamed his devotion to tennis for not being able to handle family life on tour. She didn't buy it, issuing a public statement blaming his "instability," "repeated fibs," and "emotional betrayals." Wawrinka followed the messy situation with his best performance, vanquishing Djokovic to win the French Open, the highlight of his tennis career, and another painful moment.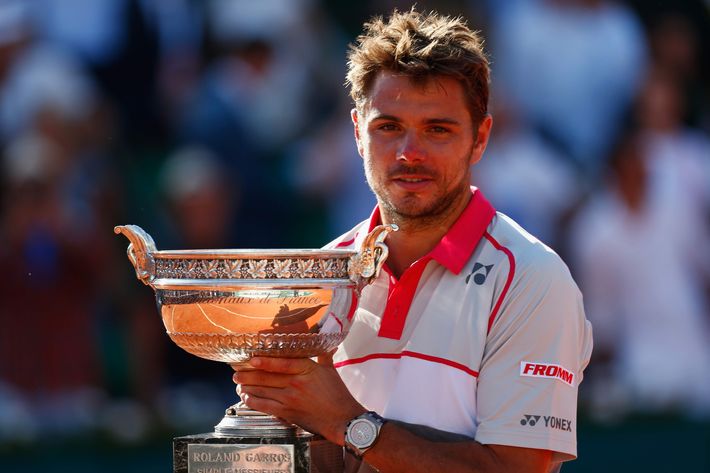 "The pressure, the pressure," he says. "Everybody is calling, everybody is watching, texting. You win the Grand Slam and the next day, nothing. All the pressure is out and everything goes down and the most you can have in your tennis life is zero. It's tough to deal with that kind of feeling. You feel depression."
Preparing for the U.S. Open, Wawrinka got tangled up in another messy flare-up that made headlines for days in the tennis press. In the middle of a match, young Australian phenom Nick Kyrgios taunted Wawrinka about women's circuit player Donna Vekić, Wawrinka's 18-year-old girlfriend. (Kyrgios noted — in cruder terms — that Vekić had dated a friend of his.) Wawrinka complained, fines were issued, and in the media Wawrinka became, yet again, the other guy.
Even with the distractions, Wawrinka is a dangerous opponent. There are few players on the tour who possess the kind of unrelenting power he can unleash from the baseline. His one-handed backhand is devastating, as is his forehand, and when he's focused there isn't a player on the tour he can't beat.
"My game is playing heavy strokes from both sides," he says, which gives him an advantage against Djokovic, who insists on playing along the baseline, and not deeper back in the court.
"That's just my game, to push him to the limit," he says.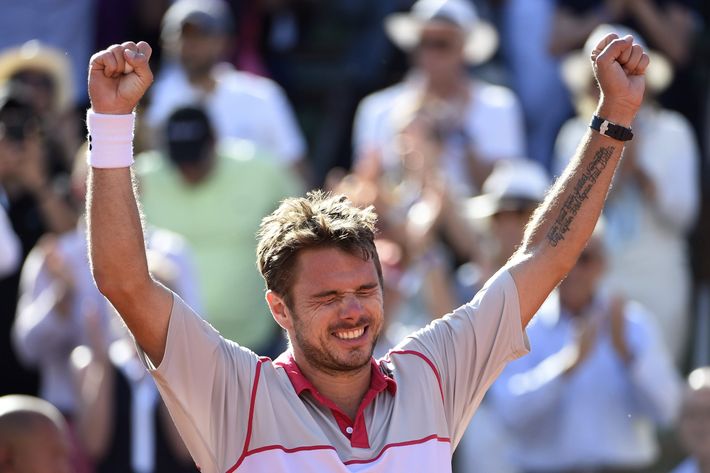 Wawrinka's challenge is not physical. It's mental focus and stability, learning to wear the kind of masks that Roger Federer and Rafael Nadal do on the court to prevent themselves from having emotional meltdowns.
In his first two U.S. Open matches, Wawrinka has not been playing all that well, beating — but not dominating — lower-ranked opponents from Spain and Korea and racking up unforced errors. At press conferences, he's still asked about the Kyrgios comment and ATP punishment. Was it fair? What should they have done? What does he think? For him, finally being at the center of attention feels like a distraction.
"Life is not always simple, especially when you come from a farm," he says.
The typical tennis origin story involves an overzealous parent and transferred dreams of grandeur. Wawrinka's parents were organic farmers and social workers. Outside Lausanne, in Switzerland, they looked after dozens of mentally handicapped patients, and gave them life outside an institution, living and working on the family farm. Along with his older brother John and two younger sisters, Wawrinka spent much his childhood with them.
"They are like kids because kids have no protection before they talk," he says. "They tell you what they really think. It's nice, you know, because so many people don't tell you what they really think."
On the farm, his parents never played sports, but encouraged him and John to trek down to the local tennis club and play with each other. Once a week, they played together. Wawrinka's older brother is a tennis coach in Switzerland. They no longer speak.
"[John] is three years older," Wawrinka says. "In the beginning it was better because he could beat me, and then I started to beat him."
Monday, Wawrinka is matched against Donald Young, the American talent who has become the underdog story of the tournament, rising from the brink of two-set-down matches and winning a pair of five setters. Young is playing his best tennis, and will surely have the support of a raucous crowd behind him. Once again, Wawrinka will become the focus of attention, this time cast as the foil to Young's fairytale tournament.
"I come from a farm, doing my own life, easy peasy — now I need to be careful, because everyone is always looking, watching, judging," he says. " I question myself all the time: What is the good thing to do?"
"Sometimes I lose some confidence in myself," he goes on. "As long as you balance it all, it's not too bad, but sometimes I think the balance is not in the middle."