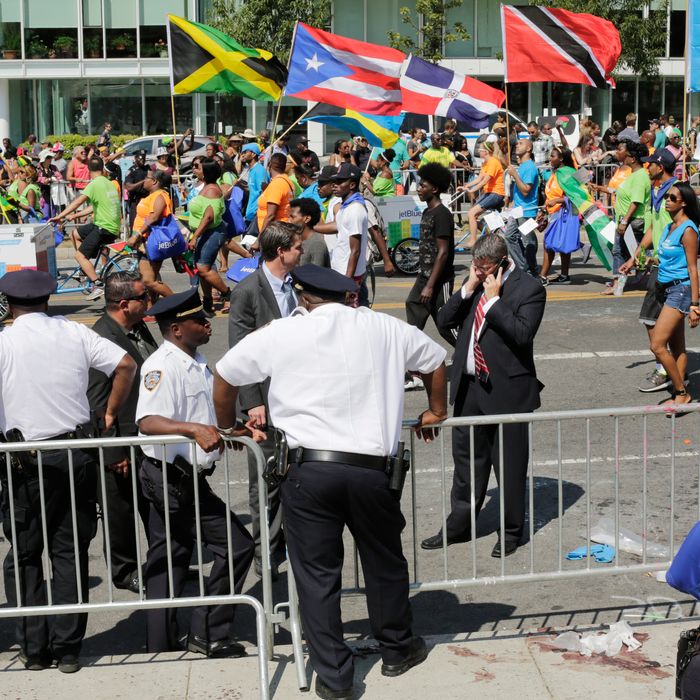 NYPD officers study the scene of a fatal stabbing as participants in the West Indian Day Parade pass behind them on September 7, 2015.
Photo: Mark Lennihan/AP/Corbis
Violence marred Brooklyn's West Indian Day Parade once again on Monday, with a fatal stabbing and shootings that left four injured. Carey Gabay, a 43-year-old lawyer who works in Governor Andrew Cuomo's administration, was shot in the head and critically wounded around 3:40 a.m., two blocks from Prospect Park, the New York Times reports. Gabay was attending the J'Ouvert Festival with his family when gunfire broke out at the predawn event the precedes the parade. Police said two groups were firing at each other on Empire Boulevard and Bedford Avenue, and Gabay was shot in the top of the head while trying to take cover in a parking lot.
"It was just totally random. Some guy walked up and was spraying bullets everywhere. I can't believe it. He was a good guy, he just didn't deserve this," Gabay's younger brother, Aaron McNaughton, told the New York Post. "If you asked for the shirt off his back, he'd also give you the shoes off his feet. There wasn't a bad bone in his body," McNaughton added.
Cuomo said after visiting Gabay's family in the hospital that he is "not doing well." Officials told The Wall Street Journal that Gabay is expected to die and doctors are preparing to harvest his organs. "I'm governor of New York and there's nothing I can say and there's nothing I can do," Cuomo said at a breakfast before the parade. "And sometimes it just hurts." He added, "I don't know what it's going to take this nation to come to its senses with gun violence. It's the same story almost weekly: tragedy after tragedy after tragedy."
Cuomo called Gabay "the American Dream," noting that he grew up in public housing in the Bronx, then graduated from Harvard College and Harvard Law School. He was appointed first deputy counsel for the Empire State Development Corporation in January and previously worked as an assistant counsel to the governor. "He could have been at any law firm he wanted to be, making multiples of what we paid him," Cuomo said. "He worked for the state because he wanted to give back and he wanted to do the right thing." Gabay lives in Brooklyn and he and his wife are expecting their first child.
Police said a semiautomatic weapon and 16 shell casings were recovered from the scene. About an hour and a half before Gabay was shot, a 24-year-old man was stabbed to death and a 21-year-old man was shot in the buttocks at Eastern Parkway and Plaza Street East, the Daily News reports. The 21-year-old is expected to survive. At about 4:20 a.m. on Martense Street and Nostrand Avenue, a 39-year-old man was shot twice in the torso, and is currently in stable condition. There have been no arrests in those incidents, but a man was taken into custody after a bullet grazed the hand of 20-year-old man on Empire Street and Bedford Avenue.
While thousands enjoyed a peaceful celebration later in the day, sadly violence has become a regular feature of the annual event. There were fatal shootings during the parade and related events in 2003, 2005, 2011, 2013, and 2014, and two people were fatally stabbed in 2012. Mayor Bill de Blasio, who marched in the parade, and NYPD commissioner Bill Bratton said the NYPD has been working with local leaders to improve safety at the parade, but they rejected the idea that festivities surrounding the event should be banned. Bratton said two of the incidents may be gang-related, and that is "unfortunately in this area [something] that we deal with all the time." He added, "That's no reason to not go forward with the events each year."