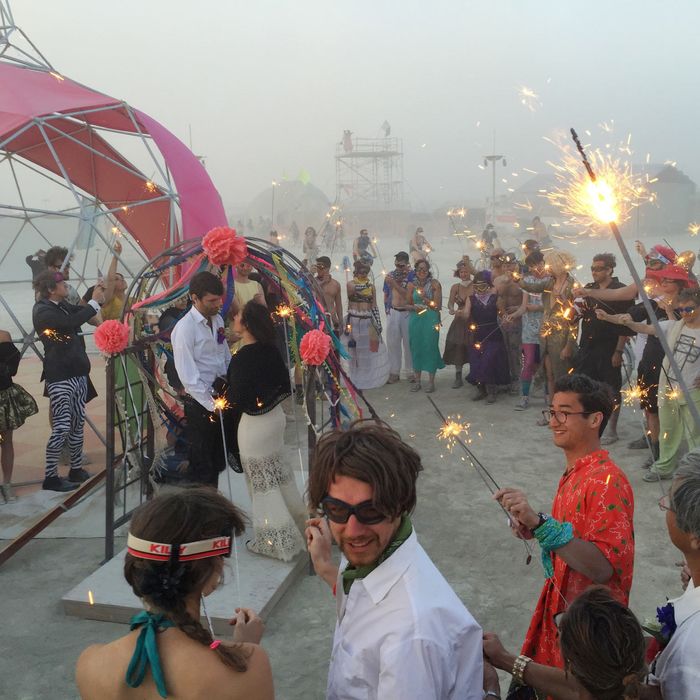 The bride and groom, their parents, one grandmother, and 200 guests gathered in finery and goggles. A violinist played "Here Comes the Sun" in an industrial mask. A dust storm hit the group hard, but their speaker system worked well, and over the din of wind and passing party buses, the groom's uncle officiated.
"We're gathered here in a long-dead lake bed. Our hair and teeth are filled with the powdered bones of prehistoric trout," he began. "We're dressed like crazy people. Tens of thousands of crazy people."
He continued: "Now, I don't know about you, but I suspect this is not like your everyday life. This is something a bit more rare. This is Burning Man. This is an industrious community of wild possibility. We're making fun out of a very difficult situation, which is sort of like a lifetime partnership."
The audience, in chairs they brought themselves, cheered. Strangers walking past joined in. And then, there on the playa, by the power vested in their officiant by the internet, the bride, who works at Apple, and the groom, who co-founded a digital health start-up, were married. The reception included fortune cookies, cupcakes, and Champagne drunk from the bottle and passed around.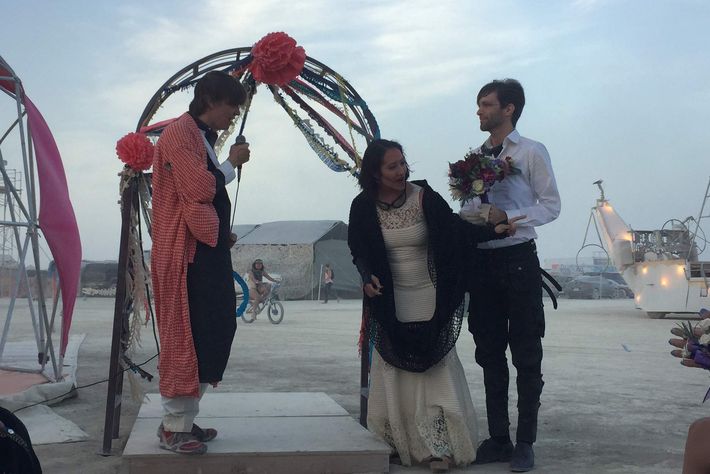 Long have Burners been marrying their friends, trinkets, and even themselves in goofy and symbolic "playa weddings." Dust-covered wedding dresses pop out of costume boxes here. A camp called Reno Housewives will provide campy bridesmaids. Temporary divorce ceremonies are also common (here, the saying goes, all relationships are open). But the last two years have brought a strange new arrival to the events circuit here: an enormous surge in traditional, legal weddings. Tiered cakes. Catering. Brides jostling for plum spots by the Temple, a large spiritual building erected and ceremonially burned at the end of the week. People who have never been to the festival before are trying to bring dozens in for wedding parties among the iconic neon and flame-throwing desert art. At Burning Man, the annual ten-day-long Nevada desert festival, a small cottage industry has sprung up. It includes a bakery run by a SpaceX engineer spinning out wedding cakes, overbooked officiants, and a wedding czar named Armadillo Puttanesca.
"The major change since I started in 2005 is the volume. It's amazing. Last year I helped 80 couples," Puttanesca said. "This year it's 115."
As Burning Man and Silicon Valley meld, as the art here gets more elaborate and the accommodations more comfortable, Burning Man is becoming huge for weddings.
The Baker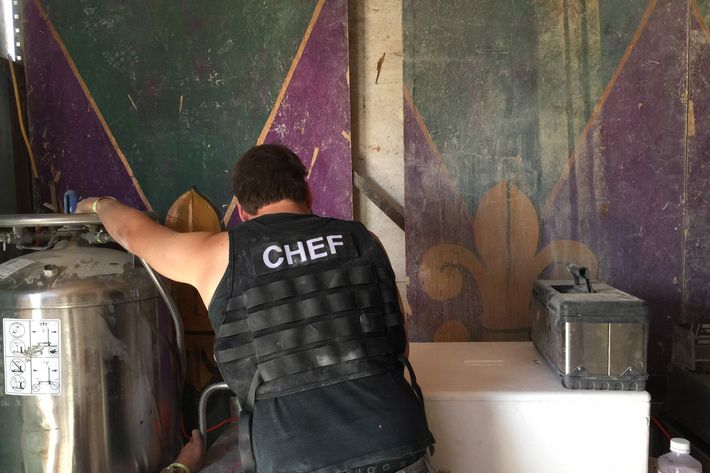 "All of a sudden now it's real as shit," said Michael Clive, a 31-year-old aerospace engineer, who runs the Black Rock Bakery. "People request a cake, and sometimes they send a pastry chef to come do the toppings. Stuff that could be on the cover of Saveur."
I found him rushing through his huge impromptu desert kitchen in green sunglasses, with a chef's apron made to look like a flak jacket. Clive has requests for about ten weddings, including one that asked for 200 wedding cupcakes. And he expects to get more orders throughout the week. "But if you look at my schedule," he said, "you can see that some things are marked as optional as fuck."
He'd trucked out 1,500 pounds of dry ingredients and 1,000 pounds of perishables. He'd hand-built a nitrogen-blast freezer and trucked in 540 liters of liquid nitrogen, paying for materials with a mix of camp dues ($300 total to pitch your tent near the bakery) and an Indiegogo campaign. He has two ovens — the lower one was a former Cinnabon oven, the upper an industrial heat treater for metallurgy — and a bunch of "junkyard aerospace shit."
His friend came to him with a cookbook made by IBM engineers called Chips and Chocolate with a recipe for frozen chocolate cake. He wanted to be sure that was the one Clive wanted.
"Yes, we're gonna blast-freeze it, blast-freeze everything," he said. "You can't frost a hot cake."
We head over to his encampment behind the bakery where his friends are drinking Stumptown cold brew and, they're happy to announce, Pedialyte.
"Yo, we got some Pedialyte!" one shouts as we sit down.
"Nectar from heaven," another concurs.
"Elixir, man," says Clive, smoking a menthol and gabbing a homemade macaron. "We've been going dry all day."
The Officiant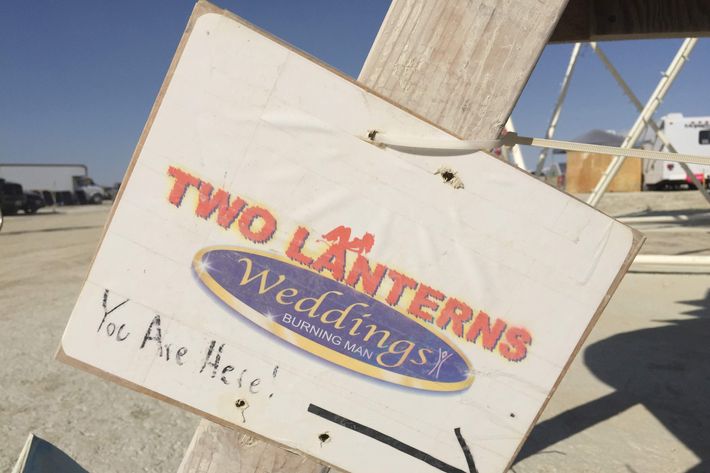 Weddings happen all around the playa, but some camps are specifically dedicated to hosting them. The Two Lanterns camp advertises weddings "for any beings, with all the trimmings, including rings, veils, top hat and certificate."
"When I started off I was just doing the playa weddings, and then somebody wanted a legal wedding, so I got hooked in with the county registrar," said longtime officiant Bob Oberg, who founded Two Lanterns. "And now I do a lot of legal weddings."
Oberg has a long, gray handlebar mustache and goatee, and was building his wedding chapel in the hot sun. He took a break, rustled through his trailer, and poured us two greyhounds.
Burning Man weddings first started getting serious with the gay community, said Ed Titus, whom Oberg calls his deacon: "They couldn't get married yet, and it was really important for them to have a ceremony."
Oberg considers himself on the more informal side of the Burning Man wedding spectrum: "I said I was only going to marry within the species, but I even went back on that," he admitted.
Some camps have nuptial schedules booked long in advance. Some officiants try to scam people into paying exorbitant fees. Which is not to say Two Lanterns doesn't take its preparations seriously: One of his campmates was polishing rings he'd made; another was setting up LED art for couples to pose in front of.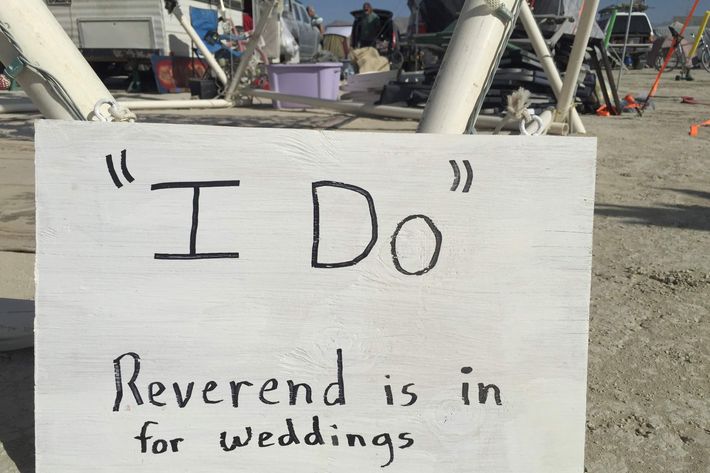 Per Nevada law, as an out-of-state officiant, he's limited to only five legal weddings a year, though does about 50 playa weddings on top of that.
"But even the playa weddings, their hands are shaking," he said.
Now the main issue is wedding overcrowding.
"A lot of people want to get married at the Temple. One year I had a request for a big steampunk-themed wedding, I was like, 'Okay,'" he said. "But I get out there and there's at least half a dozen weddings happening at once, and they're all steampunk."
His camp thought about building a honeymoon suite, but the laundry situation would be too difficult.
One woman serves as the wedding czar of sorts, he said: Armadillo Puttanesca. I'd have to find her. He gave me two potential addresses.
The Coordinator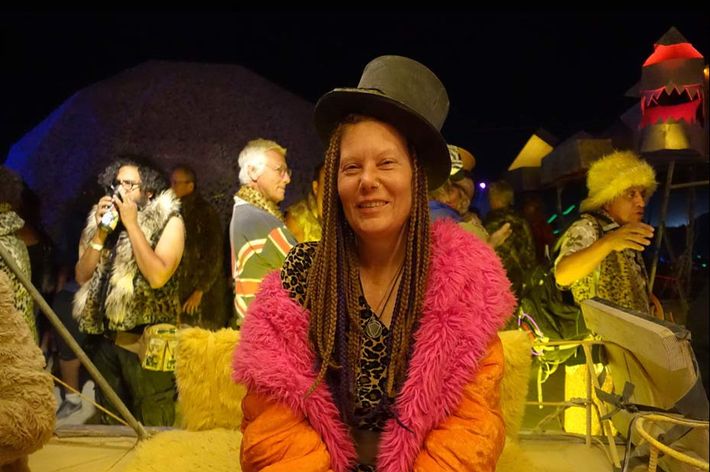 Armadillo Puttanesca, in a top hat and pink furry coat, was sitting in a red World War II drop tank attached to a disco-ball-covered golf cart. They were on their way to the deep playa for a drive, and I hopped in.
"People think [as a] wedding coordinator, I'm arranging flowers," she said, laughing. "No way."
Puttanesca's role is primarily to match couples with officiants, to help people understand what it takes to survive on the playa, and to make sure there aren't too many weddings in one spot.
"They might want a pagan officiant, for example. Or one couple wanted an officiant to look like Jerry Garcia. Or one year they wanted a female, nudist, Spanish-speaking Buddhist, and I was able to fulfill all those," she said. "But this year, the strangest thing I noticed were requests for male and traditional."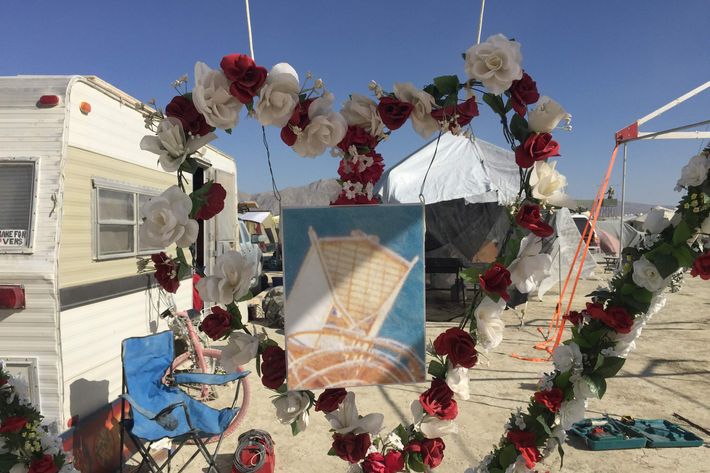 She often doesn't have officiants who want to do Christian ceremonies, but she keeps on call about half a dozen local Nevadan officiants who come to Burning Man every year.
Besides an uptick in legal weddings, she's noticed something alarming: wedding tourists who've never been to Burning Man but think it sounds beautiful, like Hawaii.
"It's not Hawaii! I try to tell them about the whiteout dust storms, about the culture here. I asked Bob Oberg why they want to get married here so badly, and he said it's romantic," she said, as we bounced along the sand. "To get married here, though, it's a sacrifice."
Last year, for example, many couples wanted to get married in front of a massive and popular sculpture called The Embrace, which featured two torsos locked in passion. But not many knew that the artist planned to burn it down on the playa a few days before the end of the week.
"Then one morning it burned, so," she said. "You have to be flexible."