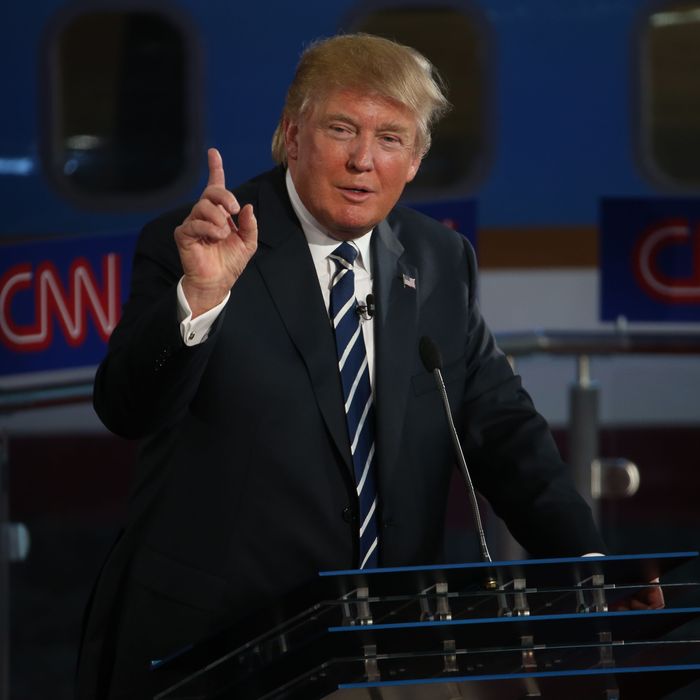 Here's how many things have gone right for Donald Trump this week.
Photo: Justin Sullivan/2015 Getty Images
No presidential candidate in recent memory has benefited from the kind of blind luck Donald Trump has enjoyed during this primary. Take last night's surprise announcement by Scott Walker that he was dropping out of the race. "He was expected to do very well, but that didn't work out," Trump told me shortly before Walker's press conference. "In the world of politics, you don't know what works and why."
Walker's decision to fire himself could not have come at a better moment for Trump. It instantly became the dominant story line of the week that had unquestionably been Trump's worst. It started with the CNN debate last Wednesday. While Carly Fiorina dazzled many pundits — despite her delivering fact-challenged answers — Trump's subdued performance, limited foreign-policy depth, and airing of strange vaccine conspiracies left many unimpressed. "I wasn't treated fairly by CNN," Trump told me. "And it shouldn't have been three hours long. It was too long. I can't imagine anyone enjoying watching three hours of a debate." Unfortunately for Trump, 23 million people tuned in.
On Thursday, things got a lot worse. At a New Hampshire town hall, Trump failed to correct a man sporting a Trump T-shirt who claimed Barack Obama is a Muslim and Islamic terrorists are building training camps all across America. "When can we get rid of them?" the man wanted to know. "We're going to be looking at a lot of different things," Trump responded.
The media backlash was fierce and seemed to catch the Trump campaign off-guard. At first, campaign manager Corey Lewandowski told reporters that Trump didn't even hear the question. On Friday, the campaign refused to comment as the controversy entered heavy rotation on the television networks. Later that afternoon, Trump canceled an appearance at a Heritage Action forum in South Carolina only hours before it was to begin, saying he had a "significant business transaction" to attend. But a prominent conservative who is plugged into the Trump campaign told me that the statement was "bogus." "There was no business deal," the source said. "He is just not doing well right now and was afraid of going down there and making another mistake." When I asked Trump about the business deal, he declined to provide any specifics.
Trump's last-minute cancellation created chaos on the ground. James Merrill, Trump's South Carolina state director, was in the middle of the three-hour drive from Greenville to Charleston when he got the call from Lewandowski that Trump wasn't showing up. "I was like, 'Well, you're still paying me for mileage,'" Merrill recalled. 
With the controversy continuing on Saturday, Trump realized he needed "to clarify" his position. He sent out a flurry of tweets, but the damage was done. The next day, CNN released its latest poll — the first since the debate — that saw Trump's support drop by eight points, to 24 percent. Although he remained in first place, Carly Fiorina surged a dozen points into second, with 15 percent. The prospect of a Trump collapse started to gain currency. "Trump: I Won't Panic Over Sliding Poll Numbers," blared one Politico headline. "I didn't even respond to the question," a frustrated-sounding Trump told me yesterday. "This is the only time I've ever started a controversy by not saying something."
When I asked Trump how he would get his campaign back on track, he vowed to stay the course. "The strategy is to continue doing very much as we've been doing," he said. "When you win the World Series, you don't want to change." He pointed out to me a pair of online surveys released by Zogby and NBC News that showed him gaining ground since the debate. But the political press knows that online polls carry less weight. Which is why the news that Walker was getting out came at such an opportune moment. If there's one thing that enhances the Trump brand, it's the image of someone being dismissed.