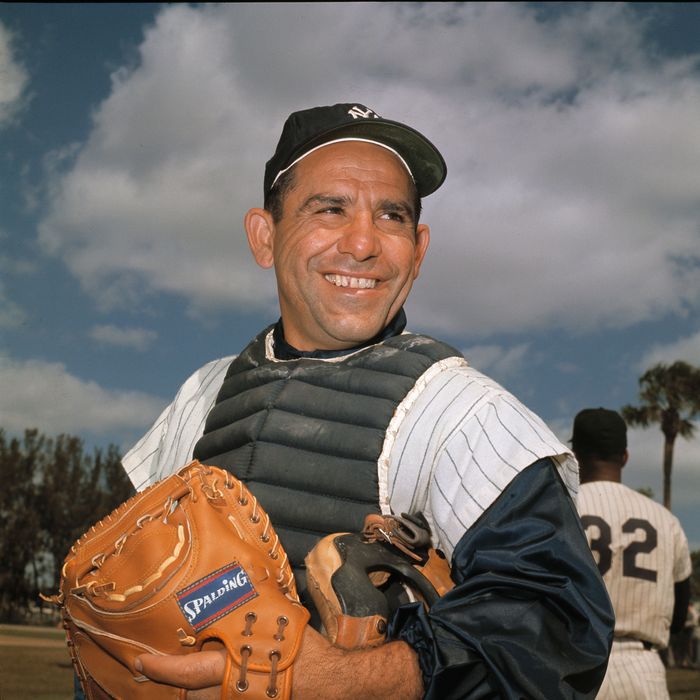 Yogi Berra.
Photo: Corbis
Yogi Berra, the Hall of Fame Yankees catcher whose famous "Yogi-isms" helped turn him into one of the most recognizable athletes of the 20th century, has died at 90. His death was announced by the Yogi Berra Museum and Learning Center in New Jersey.
Berra became an icon for sayings like "It's deja vu all over again," and "90 percent of the game is half mental." (In his 1998 book of quotes, subtitled "I Really Didn't Say Everything I Said," Berra writes, "This was a comment I made when someone asked me about quotes that I didn't think I said. Then again, I might have said 'em, but you never know.")
It was on the field, however, that Berra starred as one of the greatest players in Yankees history. A three-time American League MVP, Berra made 15 consecutive All-Star teams from 1948 through 1962, and played on ten World Series championship teams. Berra also managed parts of seven seasons with the Yankees and Mets in the 1960s, '70s, and '80s, and between 1946 and 1985, Berra appeared in 21 World Series as either a player, coach, or manager. Serving primarily as the Yankees' catcher during his prime, Berra ranks among the franchise leaders in many categories: He is fourth in games played, eighth in hits, fifth in home runs, and fifth in RBI. His career WAR — a single number used to determine a player's overall value — ranks fifth in team history, behind Babe Ruth, Lou Gehrig, Mickey Mantle, Joe DiMaggio, and Derek Jeter. He also holds the World Series record for games played and hits, and was behind the plate for Don Larsen's perfect game in the 1956 Series.
Lawrence Peter Berra was born in 1925 in St. Louis, and began his professional baseball career in 1943 with the Class B Norfolk Tars, but Berra put his playing career on hold to join the Navy during World War II. He took part in the invasion of Normandy, and was awarded a Purple Heart after being wounded in Operation Dragoon, an Allied assault on Marseilles.
The popular Berra had his number 8 retired by the Yankees in 1972, but tributes to him started much earlier. In 1947, Sportsman's Park in his hometown of St. Louis held a Yogi Berra Day in his honor, at which he famously told the crowd, "I want to thank everyone for making this night necessary." In 1950, Yankee Stadium held a day in his honor while he was still playing (as was customary at the time). Berra was given gifts including a station wagon, a color TV, and dancing lessons. He was elected to the Hall of Fame in 1972.
For many years, a feud with George Steinbrenner, stemming from Berra's 1985 firing as manager, kept Yogi away from Yankee Stadium. The two made amends in 1999, and in the years since Berra was given the honor of being introduced last at the team's annual Old-Timers' Day when he was healthy enough to attend.
Since the announcement of Berra's death, Major League Baseball, as well as many teams and players, have offered up tributes.
Berra's wife, Carmen, whom he married in 1949, died last year. He's survived by their three sons: Tim, Dale, and Lawrence Jr.