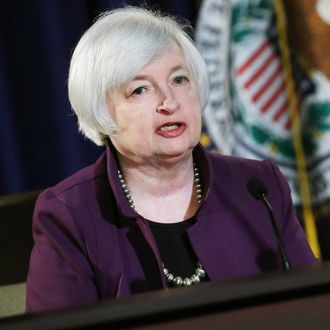 Janet Yellen.
Photo: Chip Somodevilla/Getty Images
Federal Reserve chair Janet Yellen, one of the most influential people in the world economy, had trouble finishing a speech at the University of Massachusetts, Amherst, on Thursday and was attended to by emergency medical workers there. According to Fed spokesperson Michelle Smith, Yellen "felt dehydrated at the end of a long speech under bright lights," but was fine afterward and continued with her normal schedule Thursday evening.
Before her minor health scare, Yellen told her audience in Amherst that she expects the Fed to raise interest rates by the end of this year, assuming a stable rate of inflation and an economy strong enough to support full employment.
This statement came just a week after the Federal Open Market Committee, which sets the Fed's interest-rate policies, declined to raise the benchmark rate, although a hike had been long anticipated. Many investors took last week's decision as a sign that the current low rates would remain unchanged into next year.
Still, Yellen stressed that the central bank is unlikely to tighten policy too sharply. "The more prudent strategy is to begin tightening in a timely fashion and at a gradual pace, adjusting policy as needed in light of incoming data," she said.
She also cautioned that the Fed's stance might change if the inflation rate were to rise at a greater or lesser rate than expected, but noted that recent developments in the global economy and financial markets were unlikely to have a significant impact on policy.
It's too early to tell how markets will react to this news. Asian shares were up slightly in Friday morning trading, but maybe that's just Asia's way of telling Yellen that they're glad she's okay.