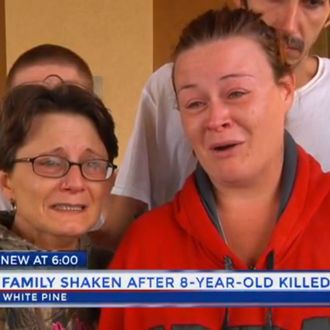 On Saturday, an 11-year-old boy in White Pine, Tennessee, asked an 8-year-old girl if he could see her new puppy. When she said he could not, the boy grabbed his father's gun and shot the girl dead, according to authorities in Jefferson County, Tennessee.
He has been charged with first-degree murder, according to local channel WATE. While authorities have not officially named the victim, Latasha Dyer told the channel that her daughter MaKayla was killed. 
"She was a precious little girl, she was a mommy's girl, no matter how bad of a mood you were in she could always make you smile," Dyer told WATE. 
According to Chastity Arwood, the manager of the White Pine mobile-home park, MaKayla was giggling with another girl outside the boy's window shortly before the incident.
"He asked the little girl to see her puppies," Arwood told WBIR. "She said no and laughed and then turned around, looked at her friend and said, 'Let's go get the –' and never got 'puppies' out."
Jefferson County sheriff Bud McCoig told the Washington Post that first responders found the victim "lying on the ground with a gunshot to the chest." She was rushed to a local hospital, where she died. 
The boy who killed her is being held in a juvenile facility until his next court hearing on October 28, McCoig added.
MaKayla's mother told WATE that Saturday's tragedy wasn't the first time the boy had caused her daughter trouble.
"When we first moved White Pine, the little boy was bullying MaKayla. He was making fun of her, calling her names, just being mean to her," Dyer said. "I had to go to the principal about him, and then he quit for a while. And then all of a sudden yesterday, he shot her."
MaKayla's funeral will be held this Wednesday at the Cooke-Campbell Mortuary in Maynardville, Tennessee. Her family has requested that, in lieu of flowers, guests donate toward the ceremony's expenses.
Up to 100 children under the age of 14 were accidentally killed by firearms in 2014, according to a report from the gun-control advocacy groups Everytown and Moms Demand Action for Gun Sense in America.