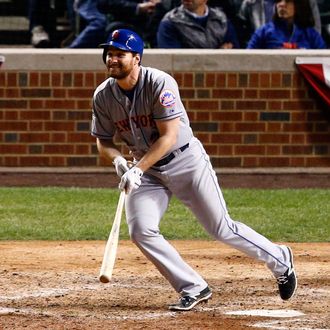 Daniel Murphy.
Photo: David Banks/Getty Images
The Mets weren't expected to even make the playoffs this year, let alone advance all the way to the World Series. But tomorrow night in Kansas City, they'll play the Royals in Game 1, kicking off the fifth Fall Classic in franchise history. The Mets' pitching has been a strength all year, but since the trade deadline, they've also had a potent offense — one that's only been bolstered by Daniel Murphy's unlikely postseason heroics. Here, 12 stats that explain the Mets' run to the World Series.
1. Daniel Murphy turned into Barry Bonds …
Daniel Murphy's .436 on-base percentage and 1.026 slugging percentage adds up to an OPS of 1.462 in 39 plate appearances over nine games. That's the fourth-highest single-season OPS of all time among players with at least 39 plate appearances. The three players ahead of him? Barry Bonds (1.559 in 2002), Carlos Beltran (1.557 in 2004), and Rickey Henderson (1.509 in 1989).
2. … which was incredibly unlikely …
Bonds, Beltran, and Henderson are elite ballplayers — but Murphy's OPS over the past five seasons has been just 9 percent above league average. How surprising has his postseason been? According to FiveThirtyEight, if you were to randomly pick any nine games from Murphy's 2015 season, the odds of getting nine games where his total OPS was as high as 1.462 are approximately 4 in 10,000.
3. … really, really, really unlikely.
In particular, Murphy's postseason-record six-game home-run streak is one of the most unlikely streaks of all time. According to Baseball Reference, only once did Murphy have a streak of even two straight games with a homer. And via Fangraphs, Murphy has homered in just 3.64 percent of his plate appearances this season, counting both the regular season and playoffs. Since 1914, 28 players have had regular-season home-run streaks of at least six games, and just two players on that list had lower home-run rates than Murphy in the season of their streak: Kevin Mench in 2006 and George "Highpockets" Kelly in 1924.
4. Their starting pitchers throw serious heat …
The Mets' rotation has some of the hardest throwers in baseball. This season, Matt Harvey ranked second among National League pitchers by throwing 1,546 pitches of at least 94 miles per hour. Jacob deGrom ranked fourth with 1,462 pitches of at least 94, and Noah Syndergaard was fifth with 1,455. As a team, the Mets threw 5,002 pitches of at least 95 miles per hour, by far the most in the majors. (Kansas City was second, with 3,503.)
5. … especially when it counts.
Power pitching is considered an advantage in the postseason, and even compared to other recent power rotations, the Mets' pitchers are flamethrowers. So far in the playoffs, the fastballs of the four members of the Mets rotation (de Grom, Syndergaard, Harvey, and Steven Matz) average 96 miles an hour — the highest average for a postseason rotation since 2009 (which is as far back as ESPN has data).
6. Yoenis Céspedes was the perfect trade …
Via the Mets and the Elias Sports Bureau, he was just the second player since 1920 to switch teams mid-season and record 15 home runs and 40 RBI in his first 40 games with his new club.
7. … and the Mets offense took off when he arrived.
It wasn't just Céspedes who hit well over the final two months of the season. The Mets' offense had been a major weakness, but around the time of the trade deadline, that changed dramatically: After July 25, they led the National League in runs scored (352) and home runs (100).
8. Jeurys Familia had maybe the best season ever for a Mets closer.
Familia, who tied the single-season franchise record with 43 saves, had an ERA+ of 200 this year, the best in franchise history for a full-season closer. (ERA+ factors in a player's ballpark as well as the league's average ERA in a given season, making it a useful tool in comparing players across eras.)
9. In fact, Familia is so good, opponents can't hit him hard.
Since the end of July, opponents have had trouble even making solid contact against Familia, who tied the single-season franchise record with 43 saves and has been outstanding in the postseason. Via ESPN, through July 30, opposing batters had 18 "hard hit" balls against Familia (as classified by Inside Edge's video-review service) in 177 at-bats — a rate of 10.2 percent. Since then he's allowed just 7 in 139 at-bats, for a rate of 5.0 percent.
10. They totally dominated Chicago in the NLCS.
The Mets were able to rest and set up their rotation in advance of the World Series thanks to their NLCS sweep. There are many ways to show how thoroughly the Mets dominated the Cubs in that series: Terry Collins's club didn't trail at any point, and led following 32 of the series' 36 innings. (The score was tied after the other four.) And they outscored the Cubs by 13 runs — the second-best run differential in a series in franchise history, trailing only the 1973 NLCS. But perhaps the most fun way is this: The Cubs' series win expectancy peaked at just 53 percent in the top of the fifth inning of Game 1. By the end of the bottom of the inning, it had already dropped to 43 percent, and would plummet from there. Here's the Mets' series win expectancy visualized, via Fangraphs: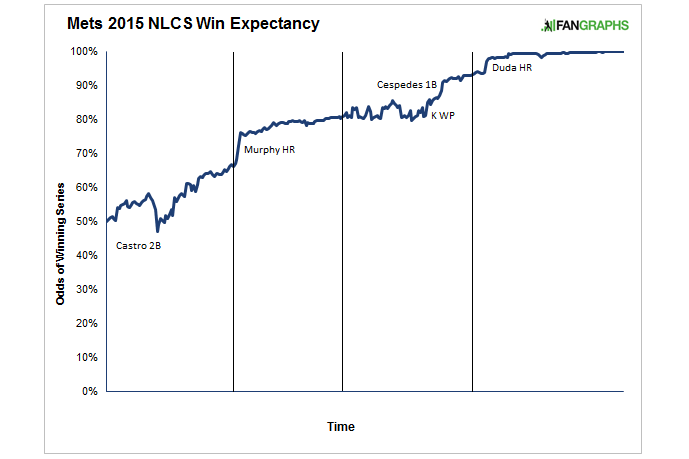 11. They dominated their own division, too.
Their .618 winning percentage this season against the National League East was the best of any team against its own division.
12. And the hot streaks kept coming.
Via Fangraphs, the Mets had four separate winning streaks of at least seven games this season, the third time in franchise history they've done that. The other two times? The 1969 and 1986 seasons, when they won their only two World Series titles.